Thursday, December 3rd, 2009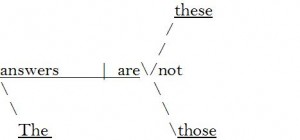 The answers to the other night's grammar challenge appear haphazardly throughout that post's comments section, but it seems like people are still taking it, so I thought I'd hide the answers here under the fold for ease of checking.
Here is the essay "Tense Present: Democracy, English, and the Wars over Usage" that Wallace published in Harper's in 2001. Those of you who give knowing the rules a bad name by correcting other people's spoken and casual English really need to read this. So do those of you who think fiction writers and poets don't need to know the rules. Both groups are lazy. It's lazy to learn some rule in elementary school and continue to lord it over people while failing to pay attention to shifts in usage. And it's lazy to distract readers unnecessarily because you don't realize that your misplaced adverb causes ambiguity. Every writer would do well to invest in a copy of Garner's Modern American Usage. I took quite the browbeating from Wallace  before I bought mine for putting "over all" (should be one word) in a story. And yes, the shakedown took place in Footnote 7 in his letter of critique.
But Wallace would recommend another, older essay–the one that inspired his own subtitle, George Orwell's "Politics and the English Language." Read that here.
Answers to worksheet, once you're ready, are below. (more…)