Warrant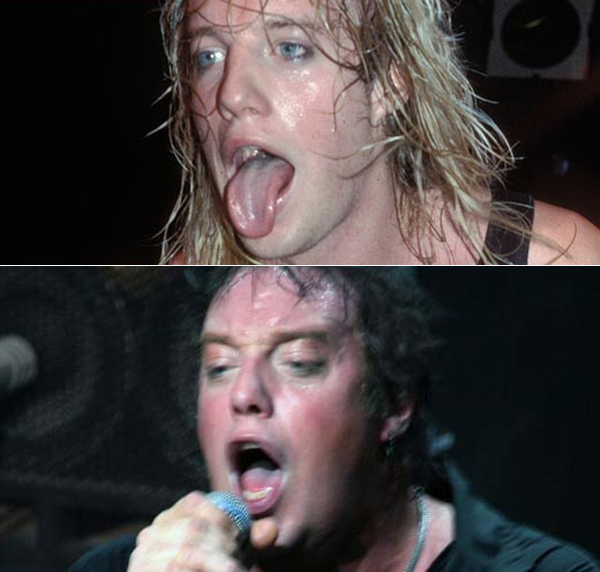 1990
Jani Lane, the lead singer of Warrant, was found dead from acute alcohol poisoning at the Comfort Inn in Woodland Hills, California on Thursday August 11, 2011. He, to those who would bother Google imaging him, would seem visibly more and more depressed in correlation with his age, perceived failure, and weight gain. Warrant's sophomore effort Cherry Pie (1990) topped at No. 7 on the The Billboard 200, though their biggest hit was off their debut album "Heaven," a place which Lane promised his groupies wasn't too far away. The titular first single "Cherry Pie" featured model Bobbie Brown, who was dating one of the Nelson brothers (of Nelson, the band) at the time, with whom she broke up in order to be with Lane. One suspects Brown cheated on Nelson with Lane, and laconically dealt with relationship logistics later. Starfucking has always been cosmic-like, explosions of gas in a black universe. Subsequent facial surgeries have rendered Brown severe looking, which makes me, this petty memoirist, happy. In an interview with VH1, Lane said, in regards to "Cherry Pie" being his legacy, "I could shoot myself in the fucking head for writing that song." You can see a tear well up in his eye.
Chloe Caldwell, Elizabeth Ellen, Mary Miller, Brandi Wells and Donora Hillard are getting in a rental van and sailing the South.
I'm really excited about this. The Southern part of the US needs as much love as we can get. It's hot down here, and we've got mosquitos and no gay marriage.
If you live in one of these cities (Austin, Houston, New Orleans, Oxford, Tuscaloosa or Atlanta), or if you are feeling generous, you can donate money on the tour's Kickstarter page here.
If you catch me in Houston, I'll buy you a beer and we can talk for a long time about racism/sexism/Tao Lin.
Here are the tour dates:
July 11th – Austin, TX – Domy Books, 7pm
July 12th – Houston, TX – Domy Books, 7pm
July 13th – New Orleans, LA
July 14th – Oxford, MS – Square Books, 6pm
July 16th – Tuscaloosa, AL
July 17th – Atlanta, GA – Beep Beep, 8pm