HTMLGIANT / why should we read YOUR book???
Rauan Klassnik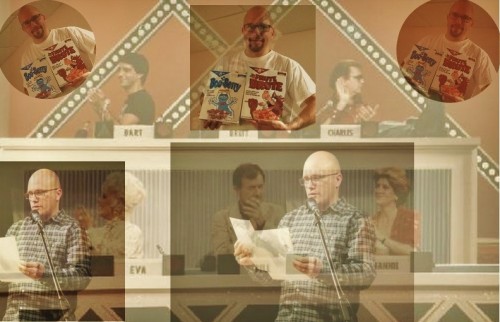 ok, Daniel, so why should we read YOUR book ???
Why should you read my book? Until recently, I might not have known, but after the death of Robin Williams, something happened: A number of people took to Facebook and Twitter, and some debated the role of popular culture in our society. One person asked, "Why are we so sad about a celebrity when there are more substantial things to worry about?" Another wrote, "I can't believe this. I remember watching him on 'Mork and Mindy.' I was supposed to be in bed, but I would sneak downstairs to the console TV," etc. Somebody reminded us to talk to someone when we're depressed, and another chastised that person for suggesting depression could be cured via hotline.
Like my Facebook friends, my recent book of poems, How the Potato Chip Was Invented, wrestles with the concept of fame. Its audience may include people who are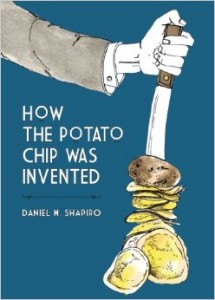 obsessed with celebrities, sometimes to the point of emotional fragility, anger, confusion, self-righteousness, elitism, or many more options. Even people who claim to hate celebrities are obsessed with them, too, taking time to criticize others for their celebrity worship. My poems are about this worship, but they don't take part in it. Some of the poems are imagined scenarios that humanize celebrities more than we're used to seeing them humanized. Others attack celebrities who have become a nuisance.
I like pop culture poems that are observational. They're often written in the third person, the way a journalist would write. Poems can use pop culture as a shield or filter from self-referential expressions of feeling. They can be allegories. They may tell universal stories about depression by telling Williams' story.
Anyhow, when everyone was writing about Williams—and criticizing others for doing so—they seemed to be proving the point of my book, which you should buy.
Author Spotlight
/
No Comments
October 19th, 2014 / 1:11 am
Rauan Klassnik
ok, Russell, so why should we read YOUR book ???
You should read MY book because it's the official (offal) sequel (squeak) to Cynthia, how spells your name?. The difference is seeding.
Cynthia was about all the feelings I didn't feel while playing an online match of Call of Duty. I didn't feel angry; I didn't feel fanous; I didn't feel frozen.
Look, for example at what Daniel Bosch has to say in praise of my groundpounding efforts:
Russell Bennetts' lab coat is pristine. In his "Reflections on Taboo-breakng" he has constructed a totem which inscribes precisely, syllogistically, that form of wildness to which we obsessional neurotics feel we are most entitled. Bennetts knows well the savage truth that poems — even "Untitled" poems — have both titles and bodies. He knows that a title personifies that body — it's a poem's name — and that the use and abuse of any poem's name may be pyscho-emotionally freighted. Bennetts knows how often we over-rationalize and abuse poems' names in transactions that cheapen the energy which animates their bodies — that poems' titles must be subject to the strictures of taboo.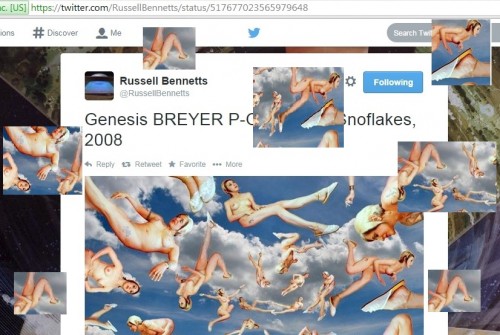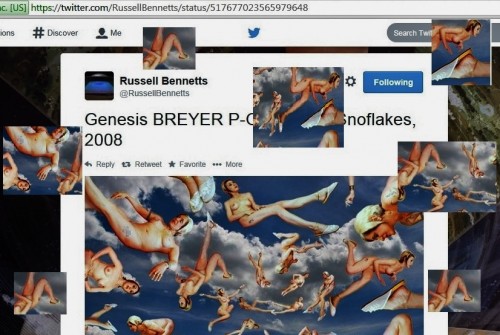 and if that's not enough for you American raisin heads then how about:
If Bennetts' "Reflections on Taboo-breaking," were not the quintessential poem of the long 20thcentury, we might reduce it to a belated Oulipoesis, the holding of a mirror to the blank page which has discovers it as an ideal form: the lipogram in A, B, C, D, E, F, G, H, I, J, K, L, M, N, O, P, Q, R, S, T, U, V, W, X, Y and Z. But his poem's suppression of the entire alphabet is neither incomprehensible savagery nor empty post-modern gesture. In its silence and stillness, Bennett's poem stands at the edge of taboo — as we all must — and does not go there.
Those doors, it opened opens where Cynthia opened in its closing scenes. Fanously, Taylor Swift has legs and knows how to use them.
Cynthia dived into the pool feeling 22. Twenty-two years later she (mights) finds herself living in a block of expensive flats. Read on to discover as to the soulless rating of the block of expensive flats.
 (Russell Ron Bennetts, Kentish Town 10/2014)
Author Spotlight
/
No Comments
October 7th, 2014 / 10:32 am
Rauan Klassnik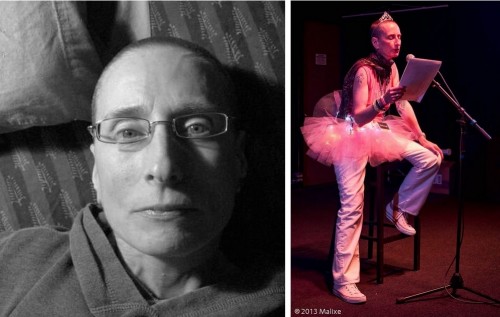 ok, Lydia, so why should we read YOUR book ???
Reasons to read Shufflepoems, forthcoming from Minor Arcana Press. Shuffle & read them in any order:
It's not a book. It's a deck of poems. Which you shuffle, so.
It's the same temperature as your flesh, unless you're a zombie.
If I go back to writing about pain, you will be sorry.
Can you follow a recipe? Does that necessarily mean you have to?
You're blocked up like a constipated rooster. Pull a card. Then write/paint/dance about it.
Sometimes you read sitting down. Sometimes you read standing up or lying down. Sometimes you read walking. Or in the tub. Or in a moving vehicle.
Have you checked out the Minor Arcana Press staff? Cuu-uuuute!
I know where you live, possibly.
My ass was never my fortune, but my tits aren't bad. READ MORE >
Author Spotlight
/
1 Comment
October 6th, 2014 / 10:45 am
Rauan Klassnik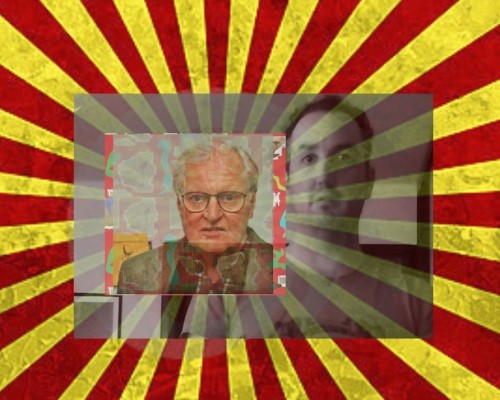 ok, Judson, so why should we read YOUR book ???
Let me answer your question by way of analogy, I had a dream recently, in which I asked Ashbery to look after my two kids and when I came back they were parked in front of the TV in the living room, seemingly unharmed. I looked around and found Ashbery clad only in a pair of tidy whities rolling around laughing on the bed, deep in conversation with a woman in her 70s, an old friend apparently. They were lost in reminiscence, they're faces lit up with the joy of nostalgia, and I didn't have the heart to be angry with him.
Then he jumped up and joyfully began to pop lock, like in some shitty kid's video,with electric cutout arms blinking blue, red, yellow and that pretty much sums up how I feel about this book. It's surprising, delightful and absurd.
To answer your question by way of digression, about 6/7 years ago I started receiving emails that looked as though somebody had fed the better portion of the western canon through a shredder and then affixed it to emails, I assume to bypass the spam filter. I liked some of the initial juxtapositions that turned up and began playing around with the text, and while I was doing that, a narrative emerged from the depths in the form of: a Speed-hearing Judge, his brother the Duke of Marmalade and, Morel and Valentine, the two servants trying to overthrow them.
Look, I know Syria's been forgotten and the Congo's a mess and let's be honest who needs another book-length absurdist narrative on their bookshelf, am I right? But we're all doing what we can and together we can right this ship…. that and the e-book version shouldn't cost you more than a trip to the taco truck, so what've you got to lose?
(Judson Hamilton 9/2014, Poland)
Author Spotlight
/
1 Comment
September 25th, 2014 / 5:19 pm
Rauan Klassnik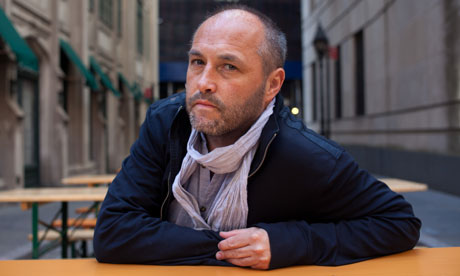 ok, Colum, so why should we read YOUR book ???
I'm going to answer this question, Rauan, because
1) you come well recommended

2) I am assuming, here, that you are behaving in good faith

&

3) I'm assuming this interview will get better
But, that being said:
You should read my book because it's masterful and absorbing. Have you read the insightful blurbs on the handsome back? Or how about the glowing reviews and testimonials that precede the brilliant text? Quotes excerpted from places, you know, like the New York Times, Time Magazine and Bookslut.
Also, do you realize I've been translated into over 75 languages and that my books are available in airports and minimarts all across the world? Even in America I'm adored by the young, the old and the handicapped. And on top of that my books have been described as "page turners," "psychologically immaculate," and "structurally, marvels of audacity rivaling Clare and Spenser." My books, you might know, have garnered tens of thousands of favourable ratings on Goodreads. (Aren't you even a little jealous, Rauan? I just checked you out on Goodreads. ha. ha.)
My prose stylings, anyways, to be sure, are the joy of book clubs everywhere and have been heralded "as smooth as butter. . .and just as important." But I've always been a low-key kinda guy and rather than trot out, spin, dazzle and spout all sorts of garbage and vanity I'll finish you, and my answer, off with this anecdote the meaning of which I think's crystal clear—
The other day I was lunching in The Village with Kishi Bashi, Junot Diaz and Dan Brown. The food was some kind of casual, fusion Thai, I believe, and the conversation was light and amiable. You might even say "breezy."
Kishi mused, I think, about repotting what he called a "really aggressive avocado." Junot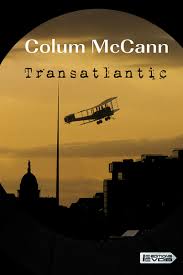 told about some glitzy navel ring he couldn't keep his eyes off one night at AWP in a sordid bedroom with a married woman, trying to unleash nearly a decade's worth of seething, organic frustration. O, it was a gorgeous day! Junot was insatiably tweeting merrily away (I think he's "Ted Hash-Berryman"), while Dan, on the other hand, just stared off into thrilling space– and we drank (and we drank!) so much cheap, slippery wine and the selfies with the buff young waiter were like an astonished adjective, timeless, incandescent, but fringed also with a kind of predatory nimbus head. And I'm not sure exactly how it happened (O, the Braille of our dreamy lives!!) but suddenly we were talking about the "the relevancy and future of Wisdom Literature in the Western World."
Junot claimed he could describe "Wisdom Literature" in less than five words. And with no hesitation Kishi claimed he could it under four!! The atmosphere was electric, like a a tiny red umbrella. Or a candle. I could hear violins. I even thought I detected a tired old code in Brown's stone eyes. They all looked at me. A long silence ensued. I dabbed at the corner of my mouth with a temple-and-elephant embroidered serviette, then stood up, made a small bow, and began:
"Gents, when I was a mere wee lad lurching about on the streets of Killarney I was hijacked once by a dusty, old lad who dragged me into an alleyway, grabbed my crotch and whispered:
FUCK YOU, RAUAN!   FUCK YOU!    FUCK YOU!   FUCK YOU!!
I think Kishi paid the bill that day. with a grin like a neon, rotating skull.
(Rauan Klassnik, 9/2014,  Kirkland, WA)
HTMLGIANT Features
/
3 Comments
September 16th, 2014 / 9:00 am
Rauan Klassnik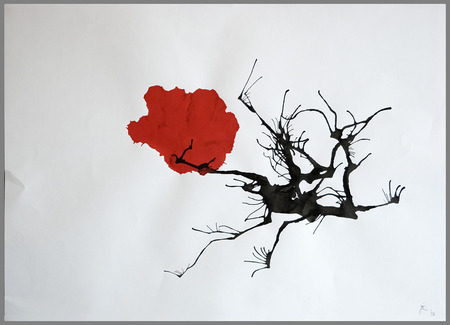 ok, Judah, so why should we read YOUR book ???
Why you or anyone should read my book? What a question! …Wait, is this coy?–or cute (you know, cute in that slanted way)? Or too eager, perhaps? I don't want to muff this.
I won't start off by mentioning how Rise and Shine (my book) was written during one of the worst stretches of my life, in sickness and in anger, and how I worked my nerves murderously to keep patience with it and then thinned myself to barely more than a front and back cover stripping everything down to sharpness and…and…what's the antimorph to blurtiness?–I won't, as buckets of blood don't much matter to the literate consumer unless they're dumped ministerially from time to time in the plot.
That was a long sentence. Sorry. There are not many in my book. Maybe that'll recommend it. It's handsomely broken up. Form, as well as the content. It's a first-person narrative. And a first-person narrative that obeys verisimilitude.
There are no words like "verisimilitude" in my book; so no one should feel hightalked. Not to say what's inside will turn away intellectuals, real or imagined. No. It is turned away from clunkiness. Or holds it to effect when the finely patterned sensibleness of the world collapses. You'll see what I mean. When you read my book.
It is fiction. It is novella. It hews closest to the tradition of what Mark Twain called the "humorous story." It–
It sure has some cover, doesn't it? It tells you right off about the writing inside. The plot? You get what is depicted about a third of the way through. It resonates throughout; I'll say that much. Although you might not know it until you come to the end. Of my book. Read it.
As it happens, there's not much blood. It stands a chance you'll think that funny once you've read my book. I'm not going to tell you here why, of course. A lot of the work I was hooting above was done so the reader would enter and wade the story as though entering and wading quicksand. While sleepwalking. It is that finicky. Sorry. But those of you who do read my book will appreciate this, and I'll appreciate this, and we'll all be appreciated together on some appreciable bed of daisies. Oxeye daisies. There's oxeye daisies in my book. An invasive species in some parts of the world…                        (Judah Hardwick, 8/2014, Buffalo)
Author Spotlight
/
No Comments
August 26th, 2014 / 1:21 pm
Rauan Klassnik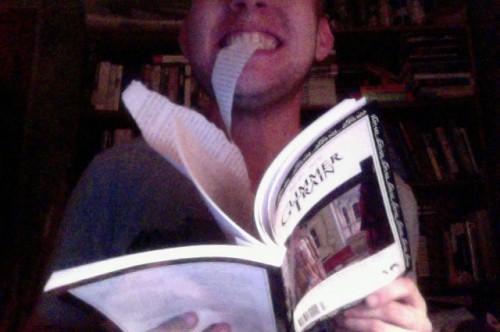 ok, Paul, so why should we read YOUR journal ???
I genuinely enjoy seeing someone's bogus sense of self-entitlement completely disrupted by the words or opinions of a Deluge contributor. I cannot help that this disrupted person is almost always a white heterosexual male.
I'm obviously not doing any of this for approval from others. I don't care if anyone disapproves of the kind of writing I'm distributing. I'm doing this to challenge readers. I'm doing this so people who are pissed off about a specific experience or situation have an outlet other than Facebook. I've been doing this since 2009 and I plan to continue doing this.
All joking aside, I think everyone should read Deluge because it is a celebration of bodies in the sense that I frequently choose to publish work by writers opposed to phobic violence against all bodies. I am sharing stories of bodies engaged with the resistance of corporate bodies.
And here let me quote myself:
The contents of an issue of Deluge is so many things at once. It might involve a critique of whiteness or the regulations that exist within sociality. It might contain work that is belligerently orgiastic and, at the same time, it might even contain work that is anti- male orgasm. Deluge is a bookshelf on which Solanas's SCUM Manifesto and Warhol's Blue Movie transcript both rest. Deluge is when Kim Vodicka writes, "Yes, I am a big 'ol bitch, and you best / stand behind me. / Feminist is next to godliness." It is when Roberto Montes writes, "I hear an October voice / Telling me to fuck / Is this racist / The white boys ask / When they grab my butt / Really wondering / How anyone could be different / Or turned like a gasket out." When Monica McClure writes, "But all I really want / is to live a good life / paid for by someone who feels / illiterate in symbolic systems of manhood / For him I will fill a bathtub / with expensive rosewater / that I got for free in swag bags / I'll stuff holes with pure sugar cane / bought with the IMF budget of countries / who failed to understand the compromising / nature of relationships." It is when you and Gary write lines like, "the wilderness knows i am a real fucking pig, and apples my mouth, over and over / i let myself get frosted by all the men dressed as trees."
Shit happens. Poetry happens. "Same shit, different bidet," READ MORE >
Behind the Scenes
/
4 Comments
August 20th, 2014 / 5:35 pm
Rauan Klassnik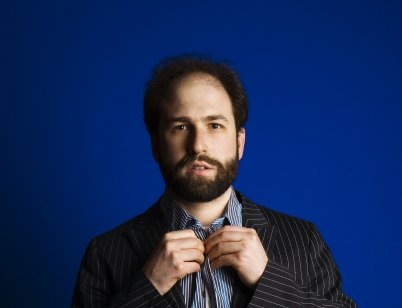 ok, Justin, so why should we read YOUR book ???
Why should you read my book? I have no fucking clue. I don't even know why I wrote it, except that doing so was part of a compulsion I have to make things, and the only means I have for doing that, the "talent" I have, is writing. Writing in general, poetry in particular. If it were different, I would have written a novel or a memoir or a scholarly book or something YA.
My book is none of those things. There is some narrative, but it's pretty fractured, as they say. There are characters, but not the kind you really get to know. I present them from my point of view only. It's poetry, for Chrissakes! The lyric "I."
The book is about me and my life, but also other lives I wish I'd had. Or think I wish I had. It is about struggle, though is decidedly not "My Struggle."
Overall, it's pretty adult. By which I don't mean porn, though there is a fair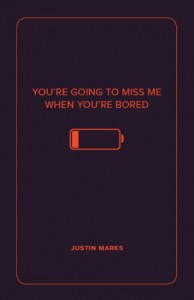 amount of sex (not) happening in the book. It's about trying to be a grown up and how much that fucking sucks. It's about choosing a life and then having to actually live it (auto correct tried to change "live" to "love"). It's about making decisions and having to live with them, which also fucking sucks.
It's about broken bones. And booze.
Life, death, love and (un)happiness. Kids.
And then, by the end, it's about realizing what a sick piece of shit you are and having to live with that. Having to figure out a way to be a better person, behave responsibly because, really, the way things are going, it's just not going to end well.
Or maybe it's not. Maybe it's about something else entirely. I don't know. You tell me.                         (Justin Marks, 8/2014, NYC)
Author Spotlight
/
4 Comments
August 16th, 2014 / 10:00 am