Lily Hoang
In Real Life
Last week, Blake was in town to give a reading. The first iteration of my intro for him detailed our friendship, how virtual it is, and all this hoop-la reminds me – again – of the fucked up nature of the intersection of our virtual writer-avatar selves v. real personhood. Most of the writers I have relationships with, I barely know. Most of the writers I know, I've spent less than a day with in real life. Most of the writers I have friendships with, we met online, interact online, and I know very very little about who they are, what they do everyday, what they care about aside from what they post online. We may interact regularly – daily, weekly, whatever – but they're still not real, not until we meet face to face, and still, it's within the artificial space of a conference or a reading, so it's not really real. And yet, they must be real people with real cares. I know almost nothing about them.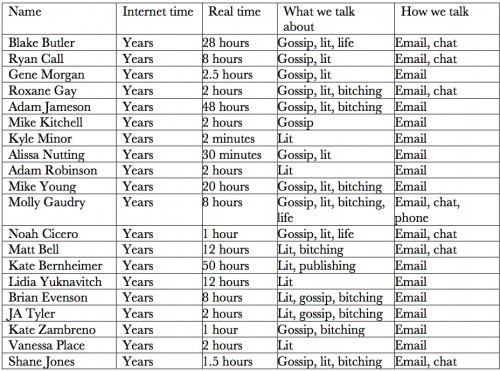 What the chart above shows – lest you fail to see the obvious point – is that almost everything I know about these people is tied up in lit and writing and their avatars. And it's easy for me to conflate avatars with people. How you portray yourself online, in print, the stories and books you publish, they're just one facet, a big facet, absolutely, but a mere facet nonetheless. And yet, here we are. The past few days, we've seen personal attacks, based solely on avatars.
When we see each other at conferences – or, in rarer circumstances, when we give readings, which accounts for the longer stretches of real time – all we have time for is gossip and some talk about literature. Not to mention that during most of this "real time," people are majorly not sober. Maybe two or three of the people listed above know anything about my personal life, and vice versa. Are these people friends? Sure, yes, some of them. If I were in a crisis, I could easily call any number of people in the chart above, which is by no means exhaustive or indicative of the writer-people I communicate with most regularly. I can't pretend to know much about most of these people, just what I read online and in print. And I think it's a mistake to conflate what someone writes with the person they are, it removes the possibility of change, it assumes that when we blog or social network or email, we are being our honest and authentic selves (when the reality is that we communicate with other writers through the lens of the solidarity of our identity as writers), etc. Also, writers are the best (worst) fucking liars.
In Blake's intro, the real one, the one I read out loud, I talked about Blake's role in creating HTML Giant and what Giant has offered the lit community: a space to discuss lit in honest and thoughtful ways AND a space for gossip and bitching. I think both of these facets to Giant are important, equally important. If we only wrote about lit seriously, readers would get bored. If we only wrote gossip, well, writers just aren't that interesting. We'd run out of gossip.
But then, all this Marie Calloway shit broke, and I'm reminded of exactly why I hate the Internet. I'm reminded of all the ways Giant is problematic and shitty, how misogynistic and hateful and intentionally hurtful people can be, and for no other reason than Giant is virtual. We have no investment in people as people, or at least many of the commenters don't. Most of the contributors, we know each other on some level, we have respect for each other. And usually, I try not to treat my friends like they're morons, I try not to treat my friends like shit – in real life or online.
But it seems like within the virtual space of Giant, avatars are no longer people. And this, non-friends, incites fear in me.
68 Comments