Matthew Simmons
On (Fake) Steve Buscemi's Twitter Feed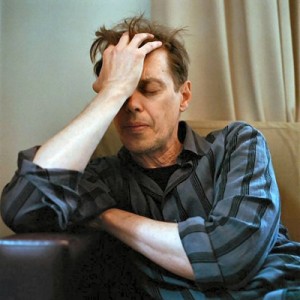 Sure, Twitter is kind of dull in the hands of most. (See my Twitter feed for an example.) I accept that.
Additionally, lots of 'celebrities' (single quote trademarked by Tao Lin, used without permission) have adopted Twitter so as to keep their fans updated on the dull minutiae of their ordinary lives.

See:
httpv://www.youtube.com/watch?v=I27J39oQUaw
Anyway.
So, some guy was pretending to be Steve Buscemi, and he had a Twitter feed, and two or three times a day he updated with these very funny, very strange statements.
And much like the wonderful fake Christopher Walken feed (now here; see also this), the issue of co-opting a famous identity, of control of identity, has ended the Twitter career of one of the truly interesting things happening on Twitter.
This all happened yesterday. I watched it happen. Apparently, Kirstie Alley (whose Twitter feed is updated by the ACTUAL Kirstie Alley), in a righteous display of "how dare you dupe people into believing that you are a famous person" pique contacted the proper Twitter-related and Buscemi-related authorities and had the account closed.
Sure, see it her way. From a brand perspective, having someone else controlling your identity is an unacceptable variable. Fake Twitter Steve Buscemi could snap at any moment, say something inappropriate, and seriously damage your brand. A faltering brand like the Kirstie Alley brand is sure to understand the implications of a variable having some sort of control over your brand like that. She contends with, and has to deal with, the consequences of her own variables (see "personality," and "weight fluctuations" re Alley for clarification). So there she is, out there, fighting for someone else's brand.
(Ironically, the fake Steve Buscemi feed increased my positive feelings about the Steve Buscemi brand immeasurably, while the ending of the Steve Buscemi feed by Alley has furthered lowered my estimation of her brand. See this.
I guess it's perfectly reasonable to get fake Steve Buscemi's account shut down from a certain perspective. No crime there. Heck, Buscemi may well have hated the thing. What has happened, though, is that we have replaced something interesting—and I wish I could give you some Steve Buscemi examples, but when Twitter shuts down a feed, they eliminate ALL traces—with this:
"JEEZ some o u peeps on crack..not many just a few…kick yo crack to the curb freeky fridays..ease on the rock…yo crazy fo riz.."
A triumph of the dull. The incredibly dull. (That's Alley, by the way. 'Dropping' it like it's 'hot.' 'You go, girl.')(TL TM, used again without permission.)
Whereas, what fake Steve Buscemi (and fake Christopher Walken) were doing was something really interesting. They were producing—and the new Walken feeds continue to produce—is a kind of cross between the zen koan and the persona poem.
It's constraint writing. The few very good Twitter feeds are. It was the adoption of the persona that made the statements more interesting, not in that they traded on the persona's fame—though, clearly they did that—but on the persona's perceived personality.
Sort of questionable, ethically speaking? I suppose. A hell of a lot more interesting than:
"THE HATER SITES ARE BEGINNING TO FLY!! Some peeps really pissedI outed the FAKE Steve Buscemi…nasty threats..oh my!"
Tags: Steve Buscemi, twitter
52 Comments