Melissa Broder
The Day the Comments Died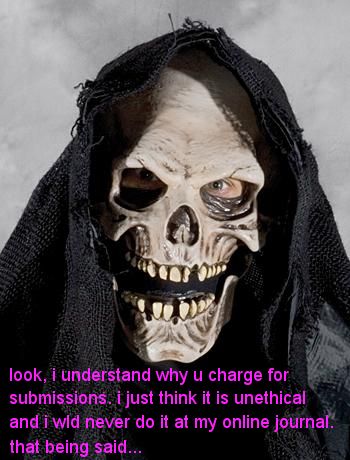 Deadgod writes a memoir.
Bookslut starts talking about rap.
The openended snippets eat their young.
Poets have sex.
You try to "like" a Denver omelet.
The omelet gets an MFA.
Jimmy Chen starts juxtaposing billboards on a highway.
Some of the drivers are menstrual.
Big Other blows up.
Montevidayo blows up.
Submishmash combusts.
Ploughshares raises their submission fee to $400 a word.
Obama hits a kill switch.
There's no one left worth killing.
Brandon Gorrell adds the "Scott" back to his name.
Everyone else is still named Jonathan.
AWP is MLA.
Syllabi are lonely.
Experimental literature is words.
People "like" their own reflections.
The reflections unsubscribe.
Shame dies.
Fear lives.
22 Comments