A D Jameson
A Brief Report on Denver Coffee Shops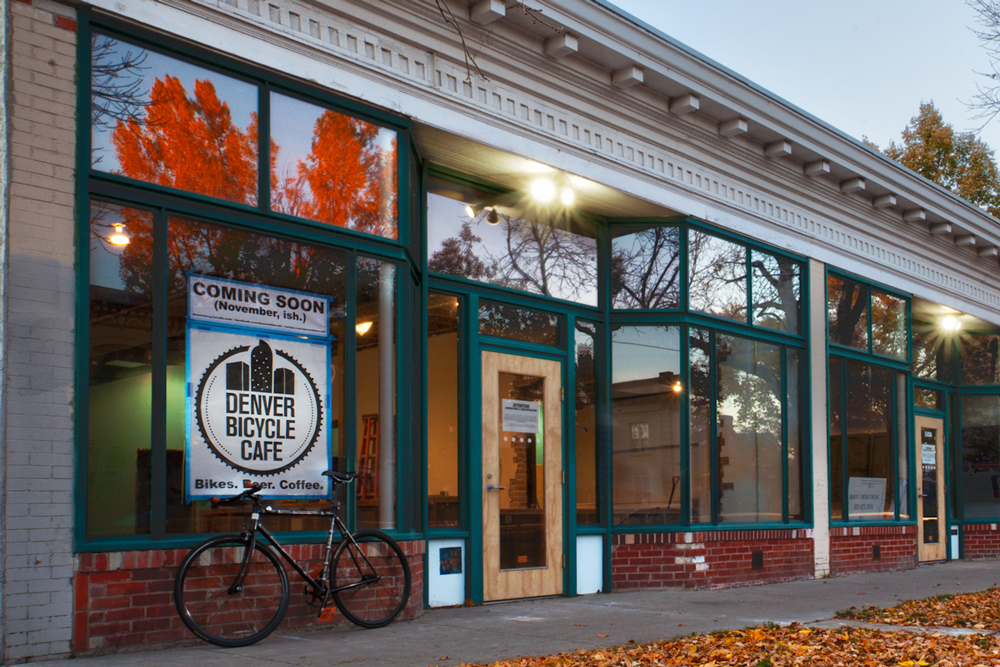 I sometimes joke that I became a writer so I could justify spending all my time in coffee shops (despite what Tom Waits said about them). When traveling, I always seek out new ones where I can do some writing. I've been in Denver since Xmas Day, during which time I've managed to sample about half a dozen places.
The nicest one I've found, by far, has been the Denver Bicycle Cafe (which is where I wrote this, on my second visit there). If I lived in town, this would definitely be one of my writing hangouts.
The place is a cafe, craft-beer/wine bar, and bike shop, all in one. I can't speak to the quality of the last two categories, but it's an extraordinary cafe. The coffee I had was fantastic and inexpensive. I was happy to see they had almond milk on hand for espresso drinks, in addition to soy milk.
The whole place is brightly sunlit (but with northern exposure, so it isn't too sunlit). There's a wide range of seating options, from private tables (which are large and sturdy) to picnic-style group seating, to chairs and sofas. There's also the aforementioned bar.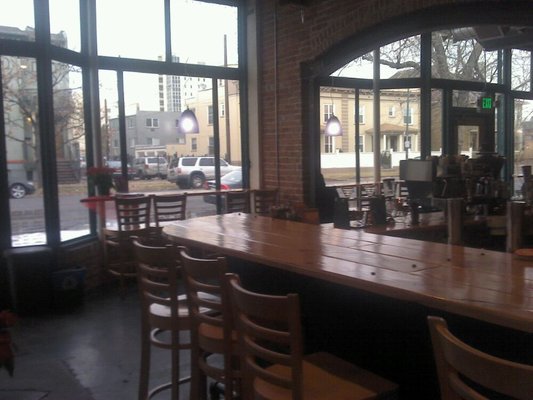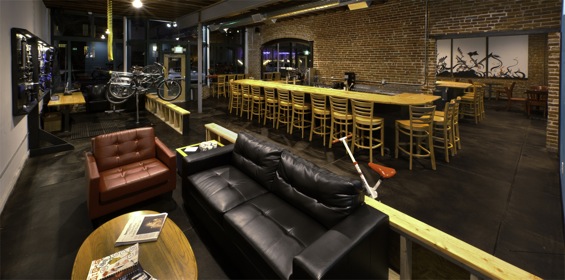 They let you start tabs. They have food (which I didn't try), but also encourage you to bring your own. They have free wifi that isn't time-limited or password-protected. Everyone I spoke with there was extremely friendly, despite the fact they were working on New Year's Eve and New Year's Day. They also sponsor events, including game nights and bike clinics.
The place really is perfection.
~
Another place I liked is the Weathervane Cafe, just a couple blocks east of DBC. They've been open only five weeks. They serve French press coffee and espresso and have a nice-looking seasonal menu, ranging from stuff like ham sandwiches to wheat berry salads. The barista/owner I spoke with was very friendly. (I asked her so many questions about the place, and about other local cafes, that she asked whether I was reviewing coffee shops—which is what gave me the idea for this post.)
The building itself is an old house, with seating upstairs and downstairs; it's cozy.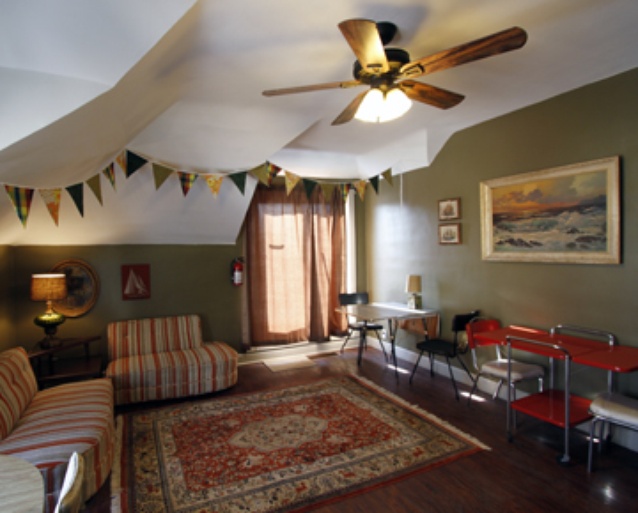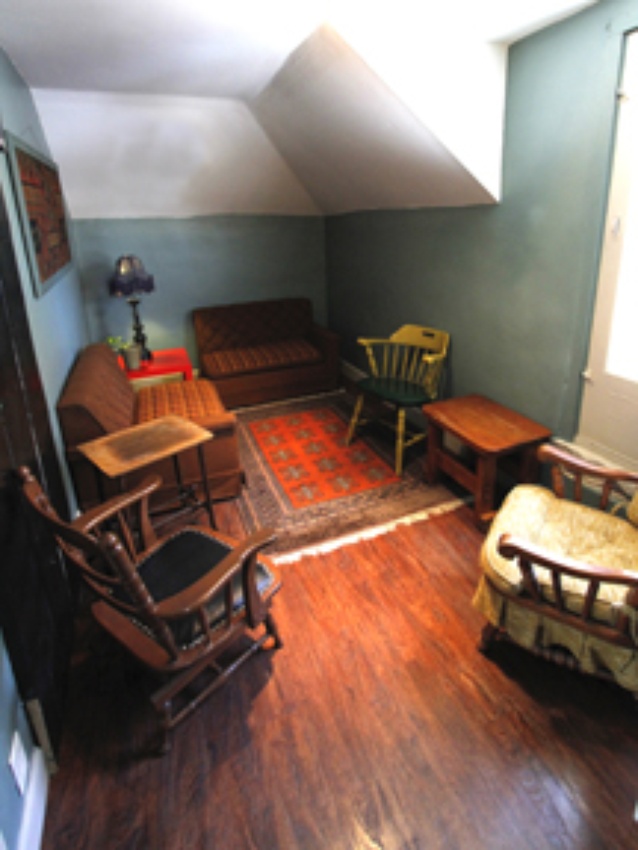 I sat at a table by the front window (southern exposure but with lace curtains), and found it a pleasant place to work.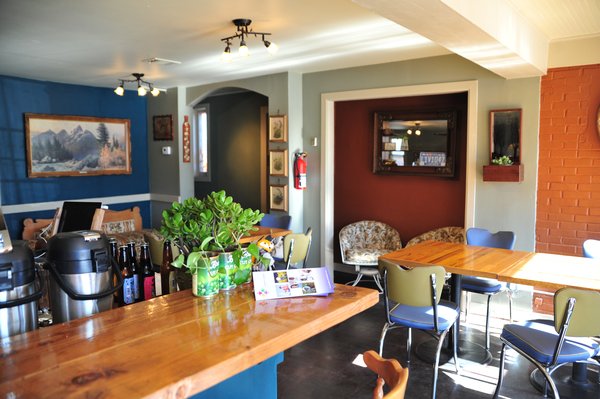 I found them by walking down 17th street; they're not listed on Google Maps yet (though they told me they've applied). I'd definitely go back.
~
Another decent spot was Fluid Coffee Bar, located more in the downtown area (at the corner of 19th and Pennsylvania). Their tables weren't the most comfortable, however (the chairs were too low for the tables, and made from a weird flimsy plastic), plus their main seating arrangement is a bit crowded, with sporadic outlet access. Another section had easy chairs and sofas, but it was packed with people talking on cell phones. The overall aesthetic struck me as very early 90s: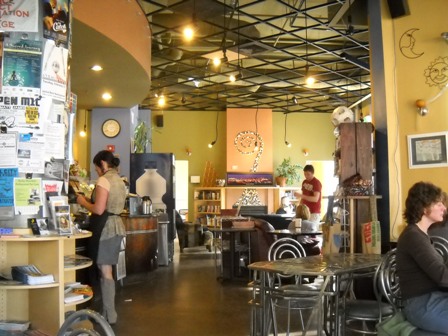 The place does provide free wifi, though, and the French press coffee I had was decent. They also encourage people to meet and work there, and have a back meeting room you can reserve time/space in (for free, I think), which is kinda interesting. (There's more about that at their website.) I have to say, though, that they played really terrible music the whole time I was there, and did so loudly. Still, it's an admirably idiosyncratic place for a downtown area.
~
The worst cafe I visited was easily Coffee at the Point, in the Five Points neighborhood. Simply put, everything that the Denver Bike Cafe does right, these guys do wrong. The space is cavernous and cold, and done in a generic 2000s style, reminding me primarily of a convention center:
There are large windows, but due to the surrounding buildings, little sunlight was coming in. The seating was mostly small metallic tables, arranged in crowded fashion, and with sporadic outlet access.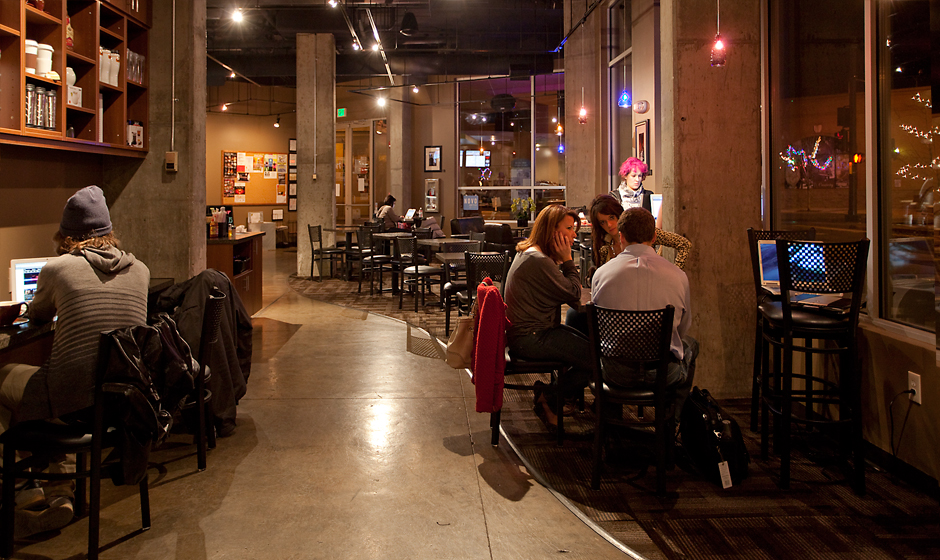 Internet access is WEBbeams (I despise WEBbeams), and limited to 90 minutes (and requires a coffee/food purchase, which is reasonable). The coffee I ordered was so watery and weak I couldn't finish it. I left after twenty minutes, striking out for elsewhere.
~
I also peeked in at a few other places, like the Dazbog chain, which seems like it might suffice in a pinch. And there were other places I also wanted to try—St. Mark's Coffee House and Illegal Grounds, both on 17th near Weathervane and the Denver Bicycle Cafe. (17th Street is the place for cafes, apparently). But I have to say, the Denver Bicycle Cafe set the bar pretty high. (And in all fairness, I should note that I'm evaluating these places primarily from the viewpoint of a writer who likes sitting in cafes and getting some work done—which is of course only one way of enjoying a coffee shop.)
If you know other places I should try, please let me know! Obviously I'm only forming my first impressions, but I'll be visiting Denver semi-regularly in the coming years, and looking to explore the coffee scene more thoroughly. Also, feel free to recommend bookstores, lit events, etc. I made it to the Tattered Cover on 17th, where I had a nice Americano. (It wasn't a place where I'd try writing, though, due to its being too busy/cramped.)
Tags: cafes, coffee, Coffee at the Point, coffee houses, coffee shops, Denver, Denver Bicycle Cafe, Fluid Coffee Bar, Weathervane Cafe
9 Comments