Blake Butler
A deal from Dzanc: Suzanne Burns's 'Misfits & Other Heroes'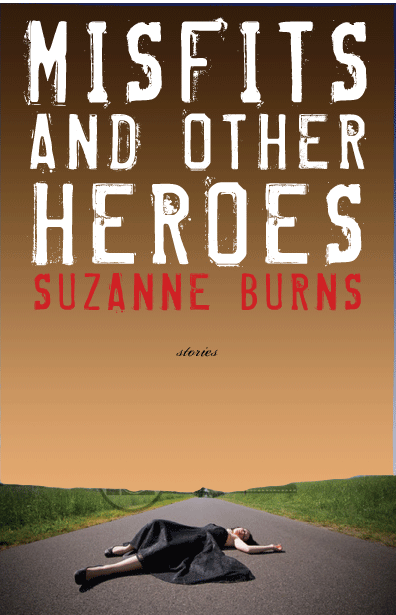 Dzanc Books is happy to offer the readers of HTMLGiant.com a special deal on our latest title.  We've read some really nice things about Dzanc over here, and really feel that Suzanne Burns and her story collection, Misfits and Other Heroes, is one you'll all enjoy.
Suzanne Burns' Misfits and Other Heroes is a wickedly insightful, brilliantly constructed collection of 14 stories which are at once fearless and full of hope. In tales of the familiar turned on their heads, Burns introduces us to lovers and travelers, dreamers and daredevils, a man the size of a drinking straw and a magician with a masochistic streak. Acts of murder and mayhem run alongside a middle-aged woman dreaming of a different life. In each tale Burns consistently hits the perfect chord. The stories do not just present the strange, but use the bizarre to accent what is human in all of us. Mixing the best of Palahniuk with the keen clever humor of Aimee Bender, Burns is a writer of unique wit and wisdom. Misfits and Other Heroes is a debut not to be missed.

Here is what some others have said about Suzanne's collection:
"A collection of winningly perverse pleasures. Misfits & Other Heroes is the literary equivalent of Todd Browning's classic film Freaks, which is – in this achingly dull age of worthy fictions – a wonderful and daring thing to be."
—Pinckney Benedict
"This is no ordinary collection. In Misfits and Other Heroes Burns writes of disproportion, excess, reinvention, and lack as a means of magnifying outward physical irregularities to better reveal the inner irregularities of her characters. Burns is unafraid to explore the dark territory of human heart where love and hate are twins for desire and dread. The many brilliant moments of character, language, and startling observations indicate Burns is a keen observer of the wretched and wonderful human creature. In Burns' capable hands the grotesque becomes achingly familiar: the misfits she writes about are us."
—Gina Oschner
"Suzanne Burns's "heroes" in Misfits and Other Heroes may at first seem just the other side of real, but in their obsessions with food and love and their stories' perfectly odd specificity, they're as real and credible as Americans can be, whether they're a tiny husband carried around in a bird cage by his wife or a woman who prefers to eat glass rather than dumplings or a couple attached to a dollhouse. Who would have thought that Oregon 's misfits could be as deluded and cruel as Flannery O'Connor's Southerners and even more bizarre?"
—Tom Whalen
"Suzanne Burns is the ringleader of a magical, quixotic, flea circus of words. Magisterial, she sings.  I love this collection-its sadness and wonder, its acrobatics, its nerve."
–Kate Bernheimer
"Misfits and Other Heroes shows what happens when relationships get downright weird between adorably flawed and familiar characters. Take a good, long look into Burns' funhouse mirror and find yourself anew."
—Trevor Dodge
"Misfits (what an understatement!) and Other Heroes (ditto!) brings out the squarest of society's pegs and their tragic, funny, and ultimately moving attempts to find each other and carve out some space among the roundest of society's holes. They are as matched as America 's tiniest man and the woman who understands his need to be kept in a birdcage, or as mismatched as sweet-toothed men who long for anorexic women. They are magicians and firefighters, chefs and the other characters able to "contemplate eternity over an empty pie plate." Burns writes that "the world remembers giants" but her stories recall to us the misfit in everyone: a very humane if not out and out heroic, work of fiction."

–Steve Tomasula
"Adventures in the material world, enigmas of flood, flesh and fate of names, Suzanne Burns's words remark their downfall, know gravity. Not her lightest ploy but feels its weight, not even this now suffers time. Writing sentences love to death, but if these fictions be believed, Burns will have it no other way."
—R.M. Berry
"Misfits and Other Heroes invites the reader into a looking-glassy world of the hyperbolic and perverse, where metaphors materialize, bodies dematerialize, and the rigors of heterosexuality drive women looking for men to fondle their own hysteria to comic effect."
—Alexandra Chasin
The book lists for $16.95.  We would like to make the book available to readers of this website for that same $16.95, shipped to your door (all copies will be shipped priority, to arrive in 2-3 days time).  The link below is only being noted here in this post.  We would greatly appreciate it not being posted anywhere else, or this particular post being linked to anywhere on your own individual blogs, or Facebook, MySpace, Twitter, etc. We believe this book is one the readers of this site will enjoy and have enjoyed enough nice commentary here that we want to save you from having to a) pay shipping at another online site, or b) have to go out to a bookstore and track it down, or have it ordered for you.  It truly is intended for HTMLGiant readers only (even note the link name).
The following link has the book available via PayPal at the special price, as well as having some more commentary about the title, a photo of Suzanne Burns herself, and via ISSUU, the early pages of the book on up through the completion of the first story, the fantastic "Tiny Ron."
http://dzancbooks.org/BurnsHTML.html
We hope you'll take a peek, love the first story, and take advantage of this offer.
Dan and Steve
Dzanc Books
www.dzancbooks.org
Tags: misfits and other heroes, suzanne burns
4 Comments