Ryan Call
HTMLGIANT is Secret Santa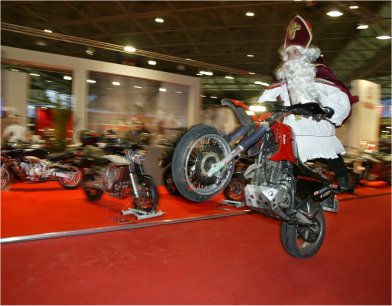 Dear Readers,
We are pleased to announce our First Annual Secret Santa Gift Exchange to support independent literature.
Here's how it works:
1) If you want to participate, email your name and mailing address to htmlgiant@gmail.com with the subject line: SECRET SANTA. The due date for this is Midnight on Friday, December 5th.
2) As soon as possible, we email you the name and address of your assigned gift recipient.
3) We assign your name and address to another Secret Santa.
4) By Christmas, you purchase for your gift recipient a wonderful gift and email us to let us know what you got him or her.
5) You simultaneously enjoy the gift that you receive from your own Secret Santa.
Frequently Asked Questions:
So why a Secret Santa gift exchange?
We at HTMLGIANT enjoy two things: promoting independent literature and surprising people. We figured a Secret Santa thing might allow us to do both. We hope that by doing this we can get independent literature into everyone's faces, but in a way that would expose those faces to new, unheard of things. That's the surprise part.
So what should I buy for my gift recipient?
Well sure, we have some suggestions. Buy a subscription to your favorite independent journal. Or buy a subscription to an independent journal you've heard good things about. Buy a book from one of the many small presses around the scene. Buy a book by an independent author. Buy a book in translation. Buy an anthology of work published by one of the many online literary journals. We can't make you do any of this, really, but you should know that we certainly hope you'll consider something of the sort. That was our intention. Maybe we'll come up with a list of suggestions?
When should I buy and send my gift?
We don't really know. We're not very good at logistical problems. If you're buying a subscription online, you could technically wait until Christmas Eve to pull out the credit card. But then your gift recipient wouldn't have anything in hand to read and enjoy that morning. In this case, it might be worthwhile to send him or her an email and say, "Hey, guess what? I'm your Secret Santa and I just bought you a year's subscription to such and such magazine." If you're buying him or her a book, maybe you should purchase it a week or two ahead and have the press/journal mail it directly. If you're planning to mail it on your own, don't wait until the last minute. There's really no excuse not to. You have all you need to send the gift: a name and a mailing address. And remember, a late gift is better than no gift at all.
How do I learn the identity of my Secret Santa so that I can thank him or her?
Because HTMLGIANT will know who is paired with whom and what gifts everyone received, we will post a massive list on Christmas morning of all of the exchanges that occurred. Then you can comment on the list and post your thanks. Ultimately, we'd like to give everyone an idea as to how much cool stuff was received, how many independent presses and journals and authors benefited from your goodwill, how many people are into reading independent literature.
What if I already own what my Secret Santa purchased for me?
If you find out that you already own the gift, we encourage you to regift it to someone else. You might also consider commenting on our massive post to say how happy you are to receive such a wonderful gift, but that you already own it and would be willing to set up a trade with someone else. The idea here is to create some chaotic sort of gift exchange. In order to do that, we ask that you embrace the giving spirit of the holidays.
How can I avoid giving someone a gift that they already own?
Good question. We struggled over this one and came up with this: we recommend that you get people things they'd likely not have, such as a subscription to a small magazine you think you've discovered on your own, or a book just released by a small press. Check out catalogues to see what books have just come out.
So, that's all. We really do hope you'll consider participating. And spread the word. The more people, the better. If you have any other questions, please email us.
Tags: Secret Santa, support indie lit
120 Comments