Secret Santa
The kid in this video (via Harriet) feels like I do. Unless it's htmlgiant's Secret Santa thing, don't ever give books for Christmas.
The wtf-est book I ever received was Kurt Warner's bio. What gives, Pop?
I've tried to gather after the jump as many holiday sales as I could find over the weekend. Secret Santas, pay attention; some of these sales go above the $20 limit, but you can always keep some books, send other books, or bust the limit knowing you might not get the same in return. Any editors/publishers who'd like to drop their special on our internet, do so in the comments or email me and I'll add the sales here. For those not in Secret Santa, many of these will still apply to you, though some are only for Secret Santa participants. If you haven't, please consider signing up to participate in the exchange.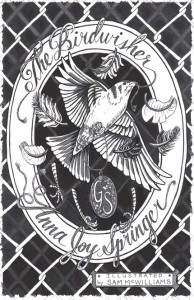 At Montevidayo, Megan Milks wrote about Anna Joy Springer's The Birdwisher from Birds of Lace Press. She received The Birdwisher from her HTMLGIANT Secret Santa last year. If you haven't signed up yet, you have less than two weeks to make sure you get a cool gift like Megan did.
Last year I participated in the HTML Giant holiday gift exchange and Birds of Lace Press was my secret giftgiver, sending me among other things Anna Joy Springer's The Birdwisher. Because I was focusing on my qualifying exams all year, I couldn't crack it open…until now………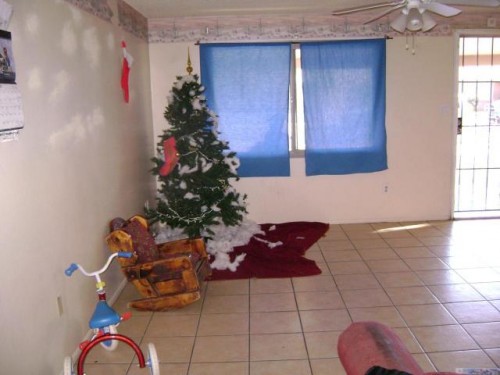 From now until December 14th, you can sign up to participate in our annual Indie Lit Secret Santa Gift Exchange. We are again using Elfster this year to handle the exchange, so if you'd like to sign up, head over to our gift exchange page and join.
When you click on the link, it will take you to the exchange page with an RSVP field. Add comments if you want, click 'Yes' in the left top corner of the field, and then click the green RSVP button. If you haven't joined Elfster before, then you will be prompted to join.
If you're unfamiliar with the exchange, it's pretty simple. We'd like everyone to exchange gifts related to indie lit presses and publications. We're thinking that $20 is a solid gift value. We'll draw names the 15th, the day after the exchange closes, and then participants will have about a week and a half to buy and ship out their gifts.
If you have any questions about the exchange, let me know. Email me, comment here or at the Elfster page, and we'll figure it out.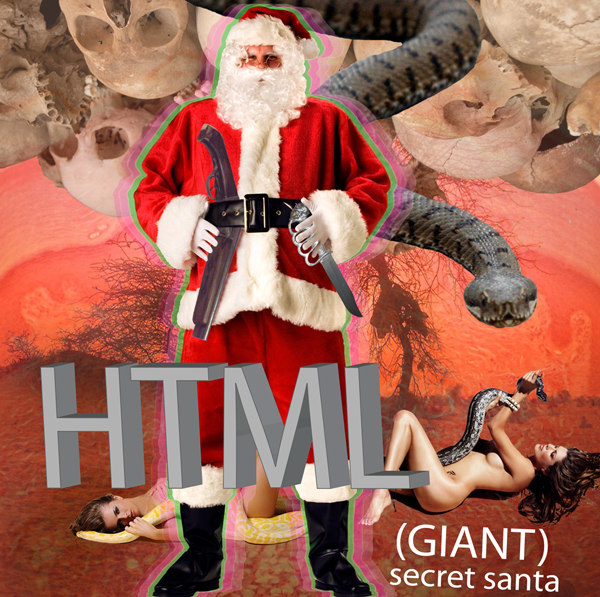 Sign up here by next Tuesday (more than 100 in so far). More info here.
[Big thanks to the excellent and wise-eyed Justin Sirois (Editor at Narrow House, author of the wonderful MLKNG SICKLS) for the Santa Image Magic.]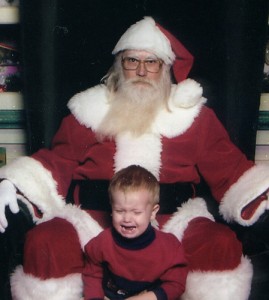 From now till December 15, sign up to play Secret Santa at HTMLGiant. It's easy! On the sign-deadline, you will find out your recipient and her or his address, and by Christmas (it's December 25, this year, I think), send them a book from an indie press or a subscription to an indie mag. And you get one too! Sounds like it was a great success last year, and it's sure to be this year, too.
Also, let us know if you'd like to donate a discount or an inscription or anything else that'll sweeten the deal. The point, after all, is to support independent literature, so let's help ourselves help ourselves!
More details can be found on the post from last year, here. It's really all pretty simple. Spend $10-$20. SIGN UP HERE TO PLAY! ****UPDATE: IMPORTANT NOTE: WHEN YOU SIGN UP, YOU WON"T AUTOMATICALLY BE ASKED FOR YOUR MAILING ADDRESS, WHICH ADDRESS IS ESSENTIAL IF YOU WANT TO RECEIVE A GIFT. AFTER SIGNING UP, CLICK ON THE "YOU" TAB, THEN CLICK ON "UPDATE YOUR PROFILE," AND THEN ENTER AND SAVE YOUR ADDRESS.****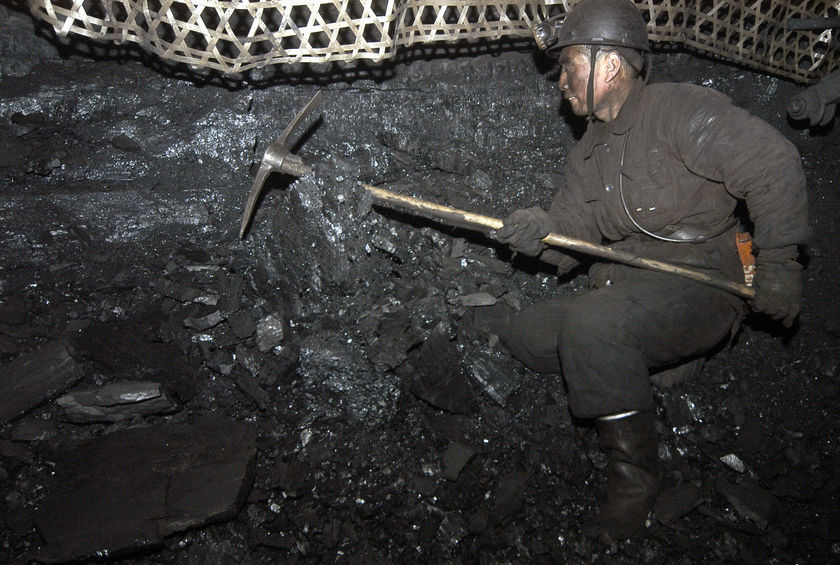 The other night at Poison Girl, I met a poet named Christian, an aquaintance of Gene Morgan. Christian was out for the reading and also celebrating his having been accepted to the program at The New School. During a hiccup in the conversation, Christian asked about HTMLGIANT, saying he hadn't read it since Secret Santa. I asked him why, and he said something like, "Well, I feel ashamed of myself. I never sent off a Secret Santa gift. I couldn't figure out what to get her."
So I told him he should still do it, he had time, why not send off a gift? It's okay if you can't figure out what to get her, I said. The idea is to send a surprise, something you admire and want to share with someone else.
Yes, he said. I understand, he said. Yes, I should, he said. He said he was sorry, and he wrote this on the back of a receipt to show his sorrow. He said that I should post it for everyone to see: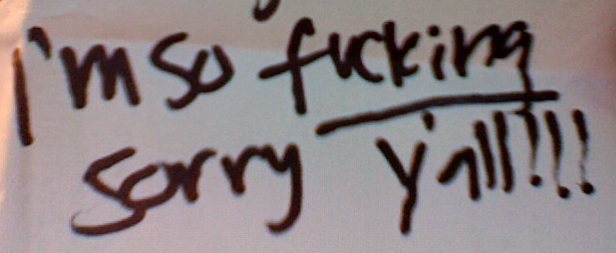 Despite this apology (is it sincere? can it be sincere with three exclamation points? the underlining? the 'ya'll'? the cursing? I don't know), I sadly doubt he will ever send off the gift, though I hope he will prove me wrong.
Regardless, I'd like to present him with HTMLGIANT's first ever Coal In Your Stocking award.
Christian, for your lack of effort, I say congratulations! Good luck next year in school, and while I hope the best for you, I also have to say this: may you receive lots of coal in your stocking during the holidays.
Now I throw you to the wolves.
I know all of this happened a while ago, but I can't help but post this last bit: those of you who still haven't received gifts, I'm sorry. Those who took part, but didn't send off a gift, please please do that.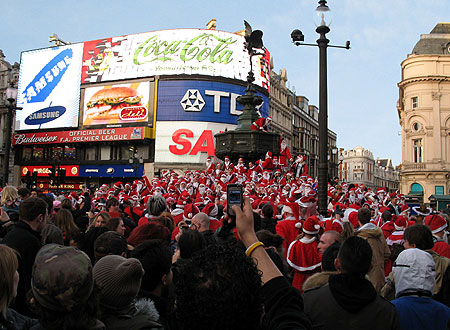 Thanks to everyone who participated in this year's Secret Santa Gift Exchange for Indie Lit. One hundred and forty people took part in the exchange, and if everyone followed our suggested $15-$25 gift range, I feel like saying that we exchanged around somewhere between $2,100 and $3,500 worth of gifts – so that is exciting, I think, for everyone. Also, several participants kindly donated their own work to others, as did editors of various presses, which is another fine way to spread word about new writing.
Below I've posted the Santa pairs and the gifts that I know were sent, and as far as I can tell, everyone played fair – for those who haven't emailed me what you purchased, please let us know what you sent/received in the comments. Please email me if you have had any trouble with the exchange, but keep in mind that some gifts may arrive after today, some are subscriptions that will also take time to kick in, etc. Pretty soon we'll have an HTMLGIANT sort of marketplace to trade gifts around if you'd like.
Also, if you still haven't received your gift and don't want to know because you're waiting for the surprise, be aware that spoilers come after the break.
Thanks again to everyone who participated; I think this was good fun.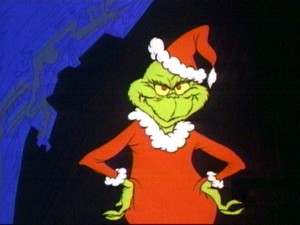 There are so many cool gifts coming through. I sort of wish now that I had somehow rigged this to make everyone send the gifts to me so I could pretend to send the gifts to everyone else.
Oh, Mean Monday…
Anyhow, last minute reminder: you have a few more days to send out your Secret Santa gifts (I am also late on this; I am not setting a good example here).
Another participant, Bernadette Geyer, posted a thank you at her blog.
The pop flotsam and cultural jetsam never ceases. Good thing Barrelhouse is around to clean up the mess.
Two things of note from those crazy bastards:
1) Barrelhouse is now reading for their Office Life Invitational. What do they want? Well, it's pretty simple:
The Office is a TV show that has earned commercial and critical success. It is also the setting of your miserable life for at least 40 hours a week, and no one can take that away from you. Unfortunately. But doesn't art flourish through misery?

Barrelhouse has decided to test that theory by inviting you cubicle drones to submit your fiction, essays, and poems about the highest highs and lowest lows of the disproportionate amount of time you spend in an Office Of Some Sort.
They even have a memo and a powerpoint presentation to clarify a few things for you.
2) In my Facebook inbox was the following Barrelhouse-y holiday guide (for those of you wanting to support indie lit this Christmas):
Hey Barrelhouse People, 

We know you've been thinking, "I wonder what that one internet group that I joined, the one from the weird literary magazine that's obsessed with Patrick Swayze, I wonder what they think I should buy my smart, smartass literary friends this year?"

Well, you, facebook friend, are in luck. Here's your shopping list for this year. Amaze your friends at your literary awesomeness! Marvel at Mary Miller's ability to put out two books of short stories at once! Buy stuff or download it for free! Whatever you do, here's a great list of stuff from Barrelhouse friends and contributors (sorry if we missed some of you; we're sure we did).