Guest Post: Eva Talmadge
In case the first tattoo book wasn't enough for you, here's your second chance.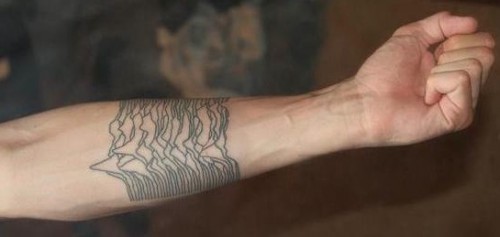 THE WORDS TO EVERY SONG: Band Tattoos from Music Lovers Worldwide, edited by Eva Talmadge
IT'S ANOTHER CALL FOR SUBMISSIONS! As with THE WORD MADE FLESH, edited by Justin Taylor and yours truly and launched from this very blog last summer, here's another announcement for a tattoo book. This time around we (the royal we; I'm doing this as a solo project while Justin devotes his time to writing) want to see your band tattoos. Song lyrics, band logos, record labels, musician portraits, you name it. If you've ever loved a song or a musician or a band so much you went to the tattoo shop and made your devotion permanent, we want to see it.
We're looking for high-quality images of tattoos inspired by a wide range of genres and eras–from classical to rock'n'roll to hip hop, punk rock, indie and soul. And as with THE WORD MADE FLESH, we don't want just the photos. We also want a few words from you about why you got your tattoo, and what the music means to you or used to mean, or how it's changed for you over time.
And of course please do provide us with tattoo artist/shop credit, photographer credit, your name or pseudonym, the city and state or country where you live, and the name of the band or song or composer your tattoo refers to (even if it's obvious).
Please send clear digital images to tattoolit@gmail.com. We're aiming for large files–2000 pixels across, or a minimum 300 dpi at 5 inches wide–but if you're not sure about all the technical stuff just set your camera to its highest resolution and take the best photo you can.
And finally, Justin and I are indeed still collecting literary tattoos for THE WORD MADE FLESH tumblr blog at tattoolit.com. If you have a literary tattoo and want the world to see it, send it to tattoolit at gmail or the tumblr page directly, and we'll post it there.
Tags: eva talmadge, tattoolit, The Word Made Flesh: Literary Tattoos from Bookworms Worldwide
13 Comments