Ryan Call
Secret Santa Results and Thank You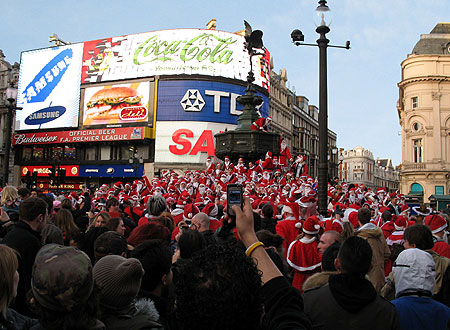 Thanks to everyone who participated in this year's Secret Santa Gift Exchange for Indie Lit. One hundred and forty people took part in the exchange, and if everyone followed our suggested $15-$25 gift range, I feel like saying that we exchanged around somewhere between $2,100 and $3,500 worth of gifts – so that is exciting, I think, for everyone. Also, several participants kindly donated their own work to others, as did editors of various presses, which is another fine way to spread word about new writing.
Below I've posted the Santa pairs and the gifts that I know were sent, and as far as I can tell, everyone played fair – for those who haven't emailed me what you purchased, please let us know what you sent/received in the comments. Please email me if you have had any trouble with the exchange, but keep in mind that some gifts may arrive after today, some are subscriptions that will also take time to kick in, etc. Pretty soon we'll have an HTMLGIANT sort of marketplace to trade gifts around if you'd like.
Also, if you still haven't received your gift and don't want to know because you're waiting for the surprise, be aware that spoilers come after the break.
Thanks again to everyone who participated; I think this was good fun.
Secret Santa
Gift Recipient
Gift Purchased for Recipient
Aaron Burch
Reb Livingston
 
Aaron Burch
Mike Lindgren
 
Aaron Gilbreath
Shya Scanlon
Subscription to Black Warrior Review
Adam Coates
Alan Trotter
Something from this http://www.timetravelopps.co.uk/
Adam Peterson
Gene Morgan
Creation Myths by Mathias Svalina (New Michigan Press), As in Every Deafness by Graham Foust (Flood Editions), Michael Martone by Michael Martone (FC2)
Adam Robinson
DanielLichtenberg
 
Aden Pennington
Eva Gordon
 
Aimee Lynne-Hirschowitz
Michael Kimball
Where are the Rebels? by Joseph Ridgewell, The Happy Birthday Book; Disillusionment You Can Buy by Aimee Lynne-Hirschowitz, Tapping Ashes in the Dark by Rob Plath
Alan Trotter
Crispin Best
 
Alicia Pernell
Molly Gaudry
Moths Mail the House by Michael Kriesel, For All These Wretched, Beautiful, & Insignificant Things So Uselessly & Carelessly Destroyed… by Hosho McCreesh, and "The President, a criminal and a chimpanzee walk into a bar…." by justin.barrett; artwork by David Woodson (Sunnyoutside)
Amanda Nazario
Daniel Bailey
Lost Positives by John Cotrona, Echo Detained by Joshua Cochran, Reticent by Jesse Weston, [sic] 1 and 2, Jesus totebag, and Your Holiday Gift by Amanda Nazario
Amanda Oaks
William Walsh
 Fossil Fuels by Jessica Dawson and Breaking it Down by Rusty Barnes
Ana-Maria Medina
Erica Barmash
 
April Choi
Noah Falck
 
Bernadette Geyer
Josh Kleinberg
The Possibility of Music by Stephen-Paul Martin, FC2
Blake Butler
Claire Donato
Nylund the Sarcographer and Fog&Car
Brad Green
Blake Butler
A few books from Open Letter Press
Bryan Coffelt
Christy Call
All Over But The Shouting by Kesey
Camille Bernstein
Amanda Nazario
Handmade journal from Magpie Molly 
Cari Luna
Brad Green
Subscription to One Story
Carolyn Kellogg
Mike Young
 
Chelsea Martin
Chris Williams
J&L Illustrated #2 and Don't Wake Up It's Just Me by Mike Young
Chris Higgs
Cari Luna
Shane Jone's Lightboxes
Chris Williams
Zach Dodson
2008 Chapbook Series Subscription form NMP/DIAGRAM
Christian Ochoa
Mercedes Castillo Hanvey
 
Christy Call
Signe Cluiss
BobOrManOnBoat, BestofTheWeb
Claire Donato
Bernadette Geyer
Ceci n'est pas Keith Ceci n'est pas Rosmarie by Keith & Rosemarie Waldrop

 

and Out of Light by Joe Massey
Cliff Garstang
Lydia Gwyn
Temporary People by Steve Gillis and BobOrManOnBoat by Peter Markus
Crispin Best
Matthew Savoca
Yippee Magazine, The Origin of Paranoia as a Heated Mole Suit.
Cynthia Arrieu-King
Kevin Watson
 
Cynthia Shannon
Grant Barber
Subscription to BOMB
Dan Wickett
Ryan Call
Two books of poetry
Daniel Bailey
Shann Palmer
 
DanielLichtenberg
Lily Hoang
Two Issues of 14Hills
Darby Larson
Mairead Case
 
Darcie Dennigan
Rozalia Jovanovic
Copper Nickel, film by Aaron Balkan
Dave Housley
Scott Sanford
 
Dave Madden
Peter Cole
 
David Barringer
Shellie Zacharia
 
David Gutowski
Tobias Carrol
 
David
Bryan Coffelt
Brick, Unsaid, The Poet Assassinated, by Guillaume Apollinaire.
David McNamara
Dave Housely
Wee Hour Martydom by Jason Tandon, For All These Wretched, Beautiful, And Insignificant Things by Hosho McCreesh, and And the weary Are At Rest by Andrew Taylor
Eileen Tabios
Jereme Dean
Astronomy Orgonon by Mark Lamoureux, The Hay(na)ku Anthology VOL II – Meritage Press, and Fragile Replacements by William Allegrezza
EJ Van Lanen
Leslie Miller
Subscription to One Story
Emily Pullen
Lakin Khan
Mopus by Oisin Curran
Emily Tedrowe
Monica Welker
A Stranger Among Us edited by Stacy Bierlein OV Books
Erica Barmash
Ken Baumann
Black Flies by Shannon Burke
Erik Johnson
Lana Ayers
The Hippos Were Boiled in Their Tanks by Kerouac & Burroughs, Grove Press
Eva Gordon
Gregg Barrios
 
Gallagher Lawson
Sidebrow Editors
5month subscription to ml Press
Gena Abelkop
James Schiller
stranger things happen by kelly link, comic by brazillianoir, issue 5 of finery 
Gene Morgan
Cynthia Shannon
6month subscription to ml press
Giancarlo DiTrapano
Paula Rockwell
Venus Drive, The First Hurt, Actual Air from Open City
Grant Barber
Rachel Cantor
Eleganceofthe Hedghog and White by ben zucker
Gregg Barrios
Giancarlo DiTrapano
mint edition of Tracy Letts' play August: Osage County
Gwen Dawson
Mary Agner
Zach Dodson's boring and Paris Review Fall2008
JA Tyler
Dan Wickett
Lightboxes, The Origin of Paranoia as a Heated Mole Suit, I Will Unfold You With My Hairy Hands, one year subscription to The Cupboard
Jackie Corley
David
 
James Schiller
Rachel Mallino
 
James Yeh
Gena Abelkop
Subscription to Hobart, debut issue of Gigantic
Jamie Gaughran-Perez
David Gutowski
 
Jeff Parker
Ronnie Scott
Subscription to Hobart (w/ Mary Miller minibook)
Jensen Whelan
Jerry Allison
Subscription to Hobart and Quick Fiction 
Jereme Dean
Jensen Whelan
Down and Out on Murder Mile, Digging the Vein, Songs from the Shooting Gallery by Tony O'Neill
Jeremy Schmall
Christian Ochoa
Agriculture Reader #2, issue of ForkliftOhio, 1 drawering.
Jeremy Spencer
Emily Pullen
 
Jerry Allison
Scott Esposito
 
Jessica Bomarito
Melissa Walker
 
Jodi Chromey
Matt Bell
All About Lulu by Jonathan Evison and My Sister's Continent by Gina Frangello
John Lingan
Rachel Maizes
 
Josh Kleinberg
Aaron Burch
Temporary People by Gillis and BobOrManOnBoat by Markus
Josh Maday
Gwen Dawson
Publishing Genius Press: all PDF chaps (except ric royer's) all the books, and Light Boxes
Juliette Kelley
Aden Pennington
 
Justin Sirois
Michelle Panik
Secondary Sound by Justin S., Verb Sap by Magus Magnus, There Were One and It Was Two audioCD
Katie Colvin
Aimee Lynne-Hirschowitz
 
Kelli Agodon
Nick Antosca
Subscription to Crab Creek Review and Sign by David Mutschlecner (Ahsahta Press) and small broadside
Ken Baumann
Josh Maday
Midnight Picnic, lifetime Subscription to NO COLONY
Kevin Watson
Shawn Rohrbach
 
Kim Gek Lin Short
Jamie Gaughran-Perez
Cadaver Dogs by Loudon, Mosquito by Lemon
Kimberly Wong
zara
 
Lakin Khan
Leigh Stein
Subscription to One Story
Lana Ayers
Justin Sirois
Subscription to Crab Creek Review
Leigh Stein
Sara Kearns
Oneiromance by Kathleen Rooney
Leslie Miller
Matt Kirkpatrick
Dear Everybody by Kimball
Lily Hoang
EJ Van Lanen
 
Lincoln Michel
Camille Bernstein
Subscription to Fence
Lydia Gwyn
Amanda Oaks
 
Mairead Case
April Choi
Book of Changes: A collection of Interviews by Kristine McKenna (Fantagraphics)
Mark Maxwell
Cynthia Arrieu-King
Every Way Oakly by Steve McCaffrey
Mary Agner
Jeremy Spencer
 Murmuration of Starlings by York and Star-Spangled Banner by Duhamel
Matt Bell
David Barringer
Keyhole #5 and 1 Year Subscription
Matt Debenedictis
Aaron Gilbreath
How the Broken Lead the Blind, Caketrain06, Subscription to Quick Fiction
Matt Kirkpatrick
Juliette Kelley
 
Matthew Savoca
Adam Coates
3 month subscription to ml Press
Melissa Walker
Cliff Garstang
 
Mercedes Castillo Hanvey
Dave Madden
 
Michael Harrison
Chris Higgs
Dzanc Books novelist bundle
Michael Kimball
Emily Tedrowe
In the Devil's Territory, In a Bear's Eye, Bob, or Man On Boat
Michelle Panik
Kelli Agodon
Subscription to Hobart, The Sicily Papers, Best New Poets 2008
Mike Lindgren
Erik Johnson
 
Mike Young
Jodi Chromey
 
Molly Gaudry
Eileen Tabios
Carla Harryman's Adorno's Noise from Essay Press and Thomas Glave's Whose Song? And Other Stories from City Lights Books
Monica Welker
Adam Peterson
 
Nick Antosca
Mark Maxwell
Stephen Dixon's I
Noah Falck
Lincoln Michel
3 Handheld Edition Chaps and Measuring Tape Chap
Paula Rockwell
Matt Debenedictis
 
Peter Cole
Chelsea Martin
 
Rachel Cantor
Roberta Romero
Unending Rooms by Daniel Chacon and Things that Pass For Love by Allison Amend
Rachel Maizes
Jessica Bomarito
Subscription to Missouri Review
Rachel Mallino
Stephen Berger
Subscription to Tilt Press Chapbook series (5chaps to be released by Feb 09)
Reb Livingston
Ana-Maria Medina
 
Rion Amilcar Scott
Susan Rich
3 year subscription to Bellevue Literary Review
Roberta Romero
Aaron Burch
Dawn by Phil Elverum
Ronnie Scott
Kimberly Wong
Torpedo #3
Rozalia Jovanovic
Carolyn Kellogg
Two issues of Wolphin
Ryan Call
Alicia Pernell
Forklift, Ohio Number 12, Summer 2003, 6×6 13, Spring 2007 from Ugly Duckling Presse, Tuesday; An Art Project, Second Issue, Fall 2007, Oh Baby by Kim Chinquee, Subscription to 6×6
Sara Kearns
David McNamara
 
Scott Esposito
Gallagher Lawson
The Children's Hospital by Chris Adrian
Scott Sanford
Rion Amilcar Scott
Interpreter of Maladies, Click, Created in Darkness by Troubled Americans
Shann Palmer
James Yeh
Hugh Behm-Steinberg's Shy Green Fields
Shawn Rohrbach
John Lingan
A copy of his (Rohrbach's) novel 
Shellie Zacharia
Michael Harrison
Subscription to Keyhole
Shya Scanlon
Jeremy Schmall
Two year Subscription to JUBILAT
Sidebrow Editors
Adam Robinson
 
Signe Cluiss
Katie Colvin
Vacation by DebOUnferth, Wolf at the Door by Travis Jeppesen and The Condemned by Noah Cicero
Stephen Berger
Kim Gek Lin Short
The Dart League King by Keith Lee Morris
Susan Rich
Jackie Corley
 
Suzy Devere
Darby Larson
Where are the Rebels by Joseph Ridgwell, Pet Milk Project, Tapping Ashes in the Dark by Rob Plath
Tobias Carrol
Darcie Dennigan
boring by Zach Plague and Yeti #6 and THE2NDHAND
William Walsh
Suzy Devere
Without Wax by William Walsh
Zach Dodson
JA Tyler
Sons of Rapture and boring boring boring boring boring boring boring
Zara
Jeff Parker
Subscription to Fence
Miette Elm
Lorraine Martindale
Locos by Felipe Alfau (Dalkey Archive)
Lorraine Martindale
Timmy Waldron
 
Timmy Waldron
Meagan Bass
 
Meagan Bass
Miette Elm
Demons in the Spring by Joe Meno
JRT
Rachel Maizes
Stefan Kiesbye or Joyelle McSweeney and Subscription to Barrelhouse or Hobart, throw in some mp3s, be awesome
Catherine Lacey
Kevin O'Neill
Chris Killen's The Bird Room
Kevin O'Neill
Catherine Lacey
 
Didi Menendez
JRT
 
Tags: gifts, Secret Santa
59 Comments