Adam Robinson
The Lit Pub, WTF is it?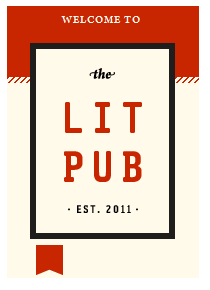 The Lit Pub came out today, so I asked Molly Gaudry, it's pioneer, what the fuck it is. Take a look at the website, then read our interview.
Can you explain what The Lit Pub is in 25 words or less?
Book publicity company / online bookstore.
Okay, how about in six words or more. What do you mean by publicity company?

This is hard to answer. What we (Chris Newgent and I) are trying to do, I think, is new and not quite like traditional publicity. It's actually Matt Bell who helped make it all come together by suggesting focused, month-long discussion, to take place on TLP's website, about individual books. Kind of like an online book of the month club, with individual publicists focusing on books they've selected. Actually, Matt once put it into this context: TLP is a bookstore, and for an entire month it will hold front-table events on its home page for three lucky authors/publishers.
Can I hire you to manage publicity for Sean Lovelace's amazing book, Fog Gorgeous Stag?
Maybe. It depends on if I also think it's amazing, and if you can afford me. If you can't afford me, you can try Chris who has micropress-friendly rates, and hopefully he will think it's amazing. If he doesn't, or if you can't afford him, then you can still be a guest publisher, which at this point is just a matter of securing a spot, and right now we're booked through March 2012.
And when you say "online bookstore," do you mean it as in Amazon, where anyone can get their books listed for sale, or is it more of a curated thing? Like, what will go into the "Community Bookstore" tab?
Right now, we are only selling our Featured Books. This means that for the month of June we're only selling The Chronology of Water, Cut Through the Bone, and Today & Tomorrow. In July, we'll add three more titles. In August, three more. As soon as we know we can afford and manage this with our current order fulfillment methods, then we'll expand and begin selling our Library recommendations as well.
What is that?
Library recommendations are indie books that we love and want others to check out. Currently we're working with Powell's to fulfill those orders. Once we're comfortable fulfilling those orders ourselves, we'll expand again and allow all the independent presses to sell their titles in our Community Bookstore.

Do you refer to it as "The Lit Pub" or the "Lit Pub" or just "Lit Pub"?
I tend to go with TLP or "The Lit Pub," but I have no problem with the "Lit Pub" or just "Lit Pub." (Um, funny story? Chris and I were brainstorming about what to call TLP. We tried to think of associations that might deter us from "The Lit Pub," and we came up with "clit pubes." Do not call us clit pubes. I will cry.)
I remember in January you asked me, "Why can't all these publishers get together on things, share resources, grow together"? How did that seed grow into the business that you're launching today?
Oh man, yeah, that's a good question. That little seed inspired a lot of great ideas, and then only as a result of hearing (negative) feedback from others was it possible to whittle down an actual plan that we can actually do.
Did you hear a lot of (negative) feedback?
What I mean by "negative" is actually positive. For example, I remember talking to Josh Spilker and John Madera very early on. I asked them if TLP could send press releases to their sites about books we're representing, and both guys said they didn't want to be spammed with more press releases and that it would be better for their sites to feature original content rather than post a press release that other sites are also posting. I asked if it would be OK to contact their bloggers in advance, if I could find a way to pay the bloggers for their time. Ultimately, both guys made it clear that this wasn't ideal. So now, instead of trying to generate publicity out on these other sites, TLP has its own website where it will feature its own original content and pay its publicists for their time. So it was feedback like this — helpful conversations, really — that allowed me to rethink what TLP could actually be.
(One thing I'm still bummed about is I wanted TLP to buy 1,000 ISBNs and to sell them super cheap, but Bowker won't let us. So that part of the plan got cut. If anyone has any ideas about this, let me know!)
I know in the beginning you were just blasting out emails with your plans, but then that tapered off. What happened there?
Matt Bell! He was like, Seriously! You're bombarding everyone with every single little update and you're confusing people! So I stopped. Smart guy, Matt! I owe him a big hug for that one! The plan really did change, a lot, over time. But I am pleased with what we are now, and I am excited for it. Excited about the very idea of possibility, I think. If that's not too cheesy a thing to say.
So as I look at the site, what I'm seeing, I think, is the three featured libraries — yours, Christopher Newgent's, and then a rotating one which is currently filled by Mike Young's awesome Magic Helicopter Press, right?
OK, sort of. You're seeing "Featured BOOKS," which are the books we're going to be talking about for a month (or more). And you also see our Library Recommendations. Kind of like, Hey, if you like my Featured Book, you might like these other books too. And yep, there's me and Chris, and Mike is awesomely helping us launch by being our inaugural guest publisher. He'll be featuring Ofelia Hunt's Today & Tomorrow. In July, Roxane Gay will be featuring a Tiny Hardcore title.
What else is going on at the website, apart from that?
Well, we've got a VIP Room. This is where you'll find our mission, vision, and history; our list of services; and a working database of indie presses and publishers, reading venues, indie bookstores, litmags (print and online), news and reviews outlets, artists and designers for book cover art and interior book design, and filmmakers and resources for book trailers, short films, and documentaries.
That database sounds pretty ambitious and like it could be really helpful.
I hope the database grows and more and more artists let us link them. Eventually, when TLP pays off its loans and has some money in the bank, I want to start funding film projects. I think it would be cool to get filmmakers involved with our community in an effort to collaborate on (good) book trailers and short films. How great would it be if every Featured Book, for instance, got its own TLP-produced trailer and if our indie books started to get made into short films that debut at indie film festivals? I feel like there's no reason not to reach out to the young filmmakers (and musicians, and visual artists, etc.) and get them involved in cross-discipline collaborations.
Facebook and Twitter have very different goals. Should I talk about those?
Are you doing something special with them?
Really, Erika Moya (erika@thelitpub.com) and Elizabeth Taddonio (elizabeth@thelitpub.com) are going to be running the show in those areas. Elizabeth will be managing our Facebook site, which is our community fanbase. And Erika will be managing Twitter, which is where we're going to do our best to keep TLP, well, relevant. We thought a long time about Twitter and we weren't sure exactly how to use it in a way that would serve a different function than Facebook status updates. In the end, we've decided to try to link news articles that have to do with the themes of the books we're talking about at TLP.
Also, in terms of social networking, how do you see TLP's function? What I mean is, how much of its success do you think will rely on commenter response to the featured book?
Oh man, you kinda nailed it there. It's oddly terrifying to admit/confirm/acknowledge that here. But really, if people don't come to our site and comment, then why would an author want to work with us? Part of the whole concept is that we can build energy around an author's book in a way that she or he can't.
A lot depends on our being able to bring readers to the site–and not just readers from our community but readers like my mom and my godmother, readers like their Pilates instructor and people I work with. We need to find ways to attract readers of all kinds, engage them to the best of our ability so that they always feel welcome to join our ongoing discussions, and then retain them by convincing them to come back every month for more.
Do you think this is even possible, Adam?
I don't know. It seems like you've got your hands full, but I still can't envision what TLP is going to look like after the first month is over. I'm glad you're throwing your dart at the board. I think the universe is open to small press culture, and I admire the way you're approaching this. You seem very structured and above-board, like with lawyers and accountants and stuff. Can you talk a little bit about the business end of TLP?
Well, basically, I just do what the lawyers and accountants tell me to do. But The Lit Pub is registered and has an EIN and paperwork has been filed and there are contracts and things. I'm glad it's properly protected and has been set up entirely by-the-book. It's a relief. There's security there, at least. Early on, one of the senior partners at the corporate law firm I'm working with asked if I'd seen the Facebook movie. He was like, If this thing takes off kiddo you do not want to be dealing with lawsuits like that. We've got you covered there. You're protected. That was the same day Fuzzco told me our website "has good bones." I think that's the best way I can answer this question. The Lit Pub has good bones. We've got a solid foundation and won't fall apart when and if the time comes to expand, or when and if someone ever came along and tried to take it away.
Yeah, the website is really good looking. Your situation with TLP reminds me of Field of Dreams. You've built this great site based on a loose idea. Will they come?
I bet the farm on it.
Tags: Molly Gaudry, the lit pub
42 Comments