Ryan Call
Word Spaces (13): Elizabeth Ellen
Elizabeth Ellen is the author of Before You She Was A Pitbull (Future Tense Books 2006), and has work featured in two chapbook collectives: A Peculiar Feeling Of Restlessness (Rose Metal Press 2008) and Fox Force 5 (forthcoming from Paper Hero Press). She is a Deputy Editor at Hobart and edits Short Flight/Long Drive, Hobart's books division. Stories/poems of hers can be found in print issues of Hobart, Sleepingfish, Keyhole, Opium, and online in Waccamaw, Dogzplot, ActionYes, Juked, and 3AM.
I wish I had met Elizabeth at AWP. I think I spoke to her once, but I never found the courage to introduce myself. I don't really have a rational explanation for my being timid, and I realize how silly of me it was to worry about that sort of thing. I think, though, it had to do with my feeling awe, maybe, in her presence. Elizabeth Ellen's was one of the first names I remember seeing everywhere when I began to discover that writers had made their way onto the internet.
So it makes me really happy to post Elizabeth Ellen's word space/essay for you.
___________________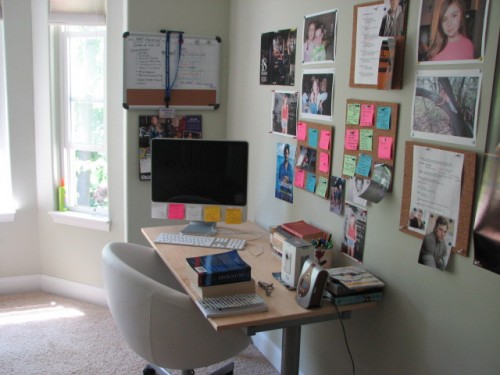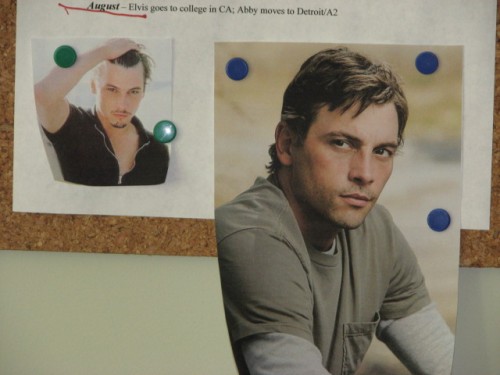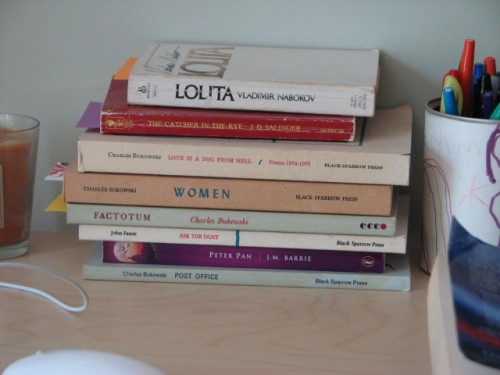 When I'm working on my novel, which I'm supposed to be doing two hours every morning, I write at the desk in my bedroom (photo 1). The novel's a fictionalized account of the two years my daughter and I spent in a shitty little apartment in a small town in Michigan after my divorce so there are photos of us from that time along with some of Skeet Ulrich (photo 2) who's sort of the visual inspiration for the 17 year old neighbor Elvis in the novel (originally I had photos of Milo Ventimiglia up because my daughter and I were watching a lot of Gilmore Girls a year ago but then I realized Elvis was more the football playing type and (no offense, Milo) Milo just didn't seem like the type to throw a football). I keep these books (photo 3) on my desk because they're the ones I've read more times than any other and when I'm stuck in my writing I open one of them and read a little and hope for inspiration, though usually I just end up sprawled out on my bed reading, so maybe they only really help with procrastinating and making me realize that by comparison my writing is shit and I'll probably never write a decent novel, but, whatever. I still like having them there.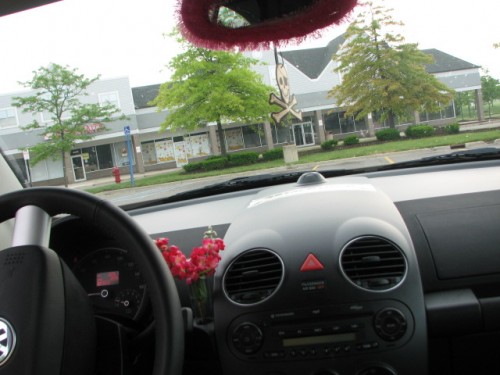 Occasionally, when I can't work at home, I drive across town to this little strip mall parking lot and sit there and write in my car (photo 4). I got this idea from one of my favorite films, American Movie. The guy in the movie parks at the airport to write when he's stuck on one of his screenplays. It seems to work. One time when I was writing in my car a dude in a security car pulled up to ask me what I was doing and I had to explain I was writing and then what I was writing because he still didn't seem to get it. I'm not sure what he thought I was doing in my car at ten in the morning. I should have asked because I've been curious ever since. I'm worried about this strip mall. There used to be a Hollywood video and a Chinese restaurant and some other shops and now the only thing still open is an Asian grocery store. I'm not really sure what happens to strip malls after they die but I guess I'll find out soon.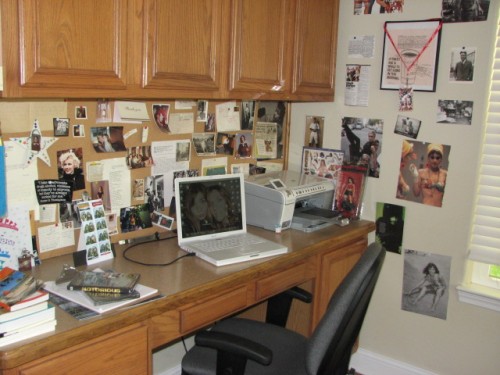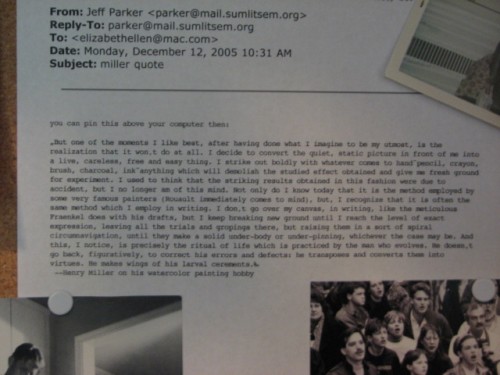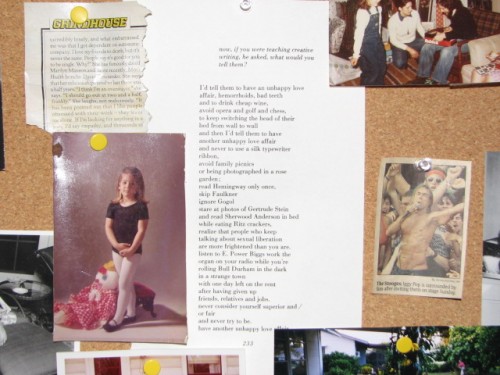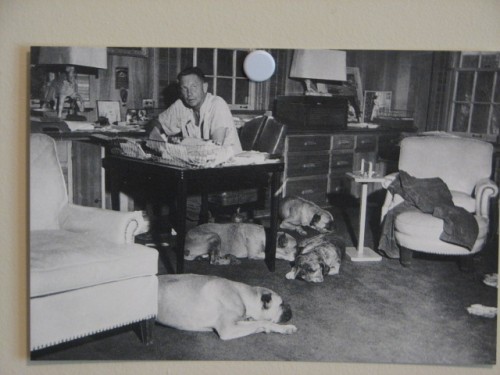 The other desk (photo 5) I work at is a built in off the kitchen and usually when I'm working here it's on stories on my laptop or I'm editing stories for Hobart or emailing people or whatever. There's a corkboard wall here and I've filled it with pictures and quotes over the last couple years. One of them (photo 6) is a quote from Henry Miller on his watercolor painting hobby sent to me by my good friend Jeff Parker. Another, probably my favorite quote, is from Bukowski (photo 7). It's actually a poem he wrote in response to someone asking him what he would tell his students if he taught creative writing and the first line is "I'd tell them to have an unhappy love affair." And it ends the same way, "have another unhappy love affair." And right next to that is a quote from Rose McGowan on how she always stays too long in a relationship, which for some reason I think is kind of funny (the fact that I thought enough of the quote at the time to hang it up, I mean, not that she stays too long in relationships, though, yeah, that too.).  Finally, I have a postcard of Louis Bromfield (photo eight) who is a writer from my hometown Mansfield, Ohio. He won a Pulitzer in 1927 and lived in France and was part of the whole "Lost Generation" scene with Hemingway and Fitzgerald and Stein for ten years and then returned to Mansfield to farm and write books on farming and now he's virtually forgotten. But whenever I go home I go to his house, Malabar Farm, and take the tour. He had a lot of boxers and you can still see where they scratched up all the doors.
_____________________
Thanks, Elizabeth, for this. Everyone, thanks for reading. Please check out Elizabeth's stories/poems if you haven't already, maybe order a book?
Tags: elizabeth ellen
44 Comments