Matthew Simmons
Classic Word Spaces: Leo Tolstoy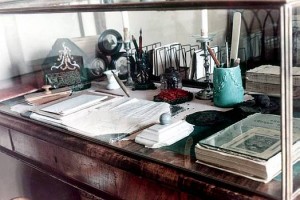 That's Tolstoy's desk. I'm not sure where he put his laptop, though. Maybe on top of the blotter. He probably moved all the stuff and put his laptop on the blotter.
He probably also had wi-fi and didn't have to plug it into his DSL line.
Also—is that a tongue depressor in the cup? Why did he keep a tongue depressor in a pen cup on his writing desk? Do you think he was always pulling out a mirror and checking his uvula for swelling?
Tags: Canker Sores, Leo Tolstoy
10 Comments