Mike Young
El Lit: An HTMLGIANT AWP Reading
There will be plenty to eat, tear, and ram at AWP. But will there be a train to ride on which you can listen to people read/shout things, a train you can ride in a state of listening all the way to a reading at the Book Cellar?
Yes. Yes there will be.
Here's how it works:
(1) On Friday, Feb 13, we meet at the Library Brown El Line Station (1 W Van Buren St), Northbound to Kimball Platform @ 8:45 pm. Look for the SIGN and the CROWD.
(2) We ride and read and ride to the Book Cellar (4736-38 North Lincoln Avenue), arriving around 9:30 PM, where we read and laugh and see and read and see and yes.
Come! Yes! Come! Spread the Word!
Featuring:
Craig Griffin, Mary Miller, Heather Christle, Blake Butler, Mike Young, Shane Jones, Sam Pink, Joseph Young, Elizabeth Ellen, Leigh Stein, Ryan Call, Daniel Bailey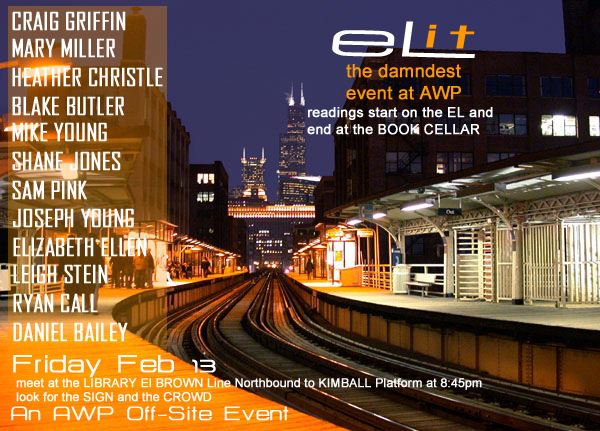 Tags: AWP, book cellar, el train