Adam Robinson
"Mystery and Mortality," Paula Bomer's book of essays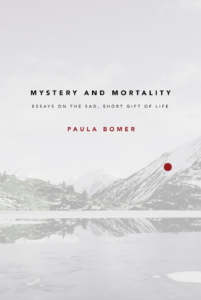 Mystery and Mortality: Essays on the Sad, Short Gift of Life is, as the title says, a collection of essays. In this book, Paula Bomer (author of the powerful and unflinching books Nine Months and Inside Madeline from Soho, and Baby from Word Riot) looks at the work of writers ranging from Tolstoy to Ferrante and Kathy Acker to Brian Allen Carr. She combines her reflections about this literature with her mother's dementia and her father's suicide and, through this, she runs some painful thought experiments about why we are what we are and do what we do.
It's very generous, for a writer to expose so much. It's humbling to publish it.
Here's the first paragraph:
Yesterday, I walked by a mirror and I stopped and looked into it and thought, or maybe said out loud, as I'm prone to talking to myself, being one of those writers who spends far too much time alone, "I am not my mother," repeatedly. Then I walked away.
A few of the 15 essays originally appeared here at HTMLGiant before the turn of the decade, when Paula was a contributor here known as "pr." Some readers might remember her being lauded for all that scholarship on Flannery O'Connor.
There's an introduction by Meg Tuite where she says there's:
no milquetoast in … anything she's written. Straight on ferocity that doesn't reek of the formaldehyde of sodden decorum and martyr-esque, flushed vaginas that pop out babies with a smile and a song. Bomer's work rakes through brutality.
Plus, check out this cool spine:

The book is available now from Publishing Genius, and right now it's still just $10 (+ $3 shipping) through this week.
Tags: paula bomer, Publishing Genius
2 Comments
April 12th, 2017 / 5:01 pm Vol. 1 Brooklyn | Afternoon Bites: Steph Post and Alex Segura on Florida, David Joy's Playlist, Kamasi Washington, and More—

[…] At HTML Giant, a glimpse inside Paula Bomer's forthcoming essay collection. […]

April 13th, 2017 / 4:53 am Brooks Sterritt—