A D Jameson
R.I.P. Christine Brooke-Rose
I just heard that Christine Brooke-Rose passed away.
I first came across her work thanks to Brian McHale's Postmodernist Fiction (1987), where he wrote about her 1975 novel Thru.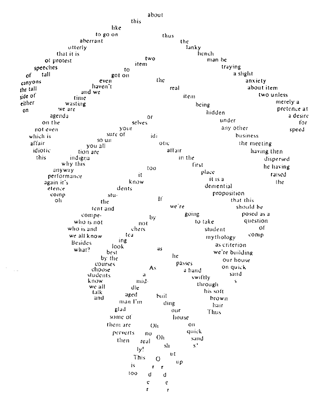 At the time, I was deeply into concrete poetry, in particular novelists who used concrete poetry techniques (Kenneth Patchen, B.S. Johnson, Ann Quin). So I was hooked. I picked up the 1986 Christine Brooke-Rose Omnibus, which contains Thru as well as its three "companion" novels: Out (1964), Such (1966), and Between (1968). All of them are decidedly unusual; like Johnson and Quin, Brooke-Rose was heavily inspired by the French New Novel of Alain Robbe-Grillet, Marguerite Duras, and Nathalie Sarraute. (She translated Robbe-Grillet's In the Labyrinth.) Like all of those authors, Brooke-Rose was a brilliant maker of contemporary fiction who deserves to be more widely read.
The Omnibus is a good place to start (it was reprinted in 2007.) Out is a political fable set in Africa after a nuclear war, in which whites have become subservient to blacks. Such relates the internal monologue of an astrophysicist in his last few minutes of life. Between describes a professional translator whose marriage is collapsing; the novel freely alternates between English, French, and German, as well as present-moment monologue and idealized love letters. Thru presents itself as the product of a group narrator, a creative writing class whose members keep interrupting and erasing one another as they work to assemble a story:
Her hair is fair or dark, it doesn't matter except in gothic romanesque now that there are such subtle dyes even within the text. She is pale and sits
Where?
On the campus
Can on sit on a campus?
She sits on a castle terrace in Spain.
Caramba not picaresque that's as dead as the dread-letter novel.
In Slovenia, talking to the count
Titles have been abolished in Slovenia
turning her back to you. It is a warm summer evening.
As you can see, mostly the class argues over language and its politics. (The book also neatly satirizes writing workshops; more than once its members stop for majority votes.) (As you can also see, Brooke-Rose's work was, above all, lots of fun.)
Brooke-Rose returned to the hybrid narrator again, in her 1986 novel Xorandor, which rather awesomely was printed by Avon as a mass-market sci-fi paperback: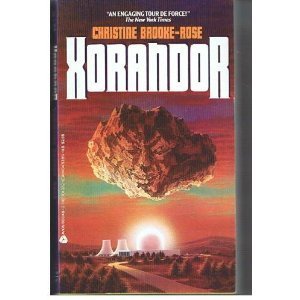 The book's twin narrators, Jip and Zab, construct the story in real-time on their computer, recounting how they discovered an alien stone (Xorandor) that turned out to be a kind of natural computer processor, and whose monstrous progeny posed an existential threat to England. The book reads like a time capsule of the 80s, playing freely with programming languages (its title is in binary, xor-and-or) and fears of nuclear crises. (Not to mention that book format!)
The only other novel I've read by Brooke-Rose (she wrote very many) is Amalgamemnon (1984), which was reprinted in the mid-90s by Dalkey Archive Press. (It just got reprinted again, with a new cover.) It, too, is a monologue, this time delivered by an insomniac literature and history professor who's about to be fired. She spends a long night lost in a desperately clever tirade against new media and information technologies, as well as the then-current Culture Wars. (The novel's pleasure in punning, and amalgamating classical myths, had a definite influence on my own writing, in particular Giant Slugs.)
Christine Brooke-Rose wrote a tremendous amount, including other novels and works of criticism, as well as collections of stories, poems, drawings, and essays. Plus two autobiographical novels—I've lots to catch up on!
Meanwhile, godspeed, Ms. Brooke-Rose. You were great. You will be missed.
Tags: alain robbe-grillet, Ann Quin, Avon Books, b.s. johnson, Brian McHale, Christine Brooke-Rose, Dalkey Archive Press, French New Novel, Nathalie Sarraute
20 Comments