Guest Posts
Boudinot! An Appreciation by Aaron Burch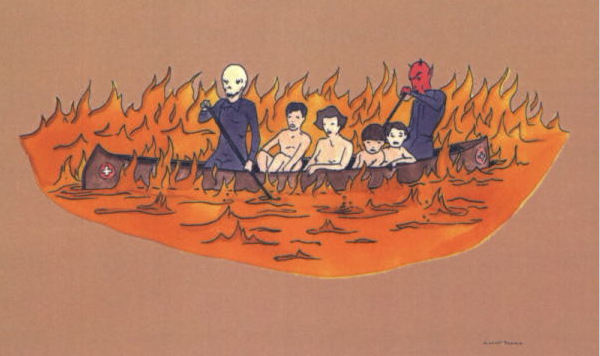 [Massive Novel Alert #2! Here's a Boudinot appreciation, a little bit of online journal history, and a "This Is Your Life," sort of piece by Mr. Aaron Burch, the man behind the unstoppable Hobart journal. The occasion for this appreciation? The publication of Ryan Boudinot's stellar new novel, Blueprints of the Afterlife.]
In 2003, I think it was, I still lived in Seattle. I'd moved away, and then moved back, and had been doing Hobart for a couple of years. I'd just put out #3, a joint issue with Monkeybicycle, because they (Steven Seighman and Shya Scanlon) were also on their third issue, and we were all in Seattle, and none of us really knew what we were doing, but we were figuring it out and everything seemed new and exciting. And readings! Steven and Shya started a Monkeybike reading series and brought together people in and around the northwest (Kevin Sampsell! Matthew Simmons! Ed Page! Sean Carman! Matthew Stadler! Adam Voith!) and we formed something of a lit community, reading with each other, hanging out and drinking, seeing one another at other readings – at Elliott Bay or University Bookstore or various cafes and bars and even a makeshift garage or warehouse or someone's living room.
I can't remember how or when I first met Ryan Boudinot, but it was around this time. He lived in Seattle, too; was a writer. He was actually in Hobart #2, a kickass story about a serial killer at his son's kindergarten, "Father's Day." Easily one of my favorite stories in the issue, and it seemed to hit the exact tone that I was looking for, though I didn't yet know it. Another story, "The Littlest Hitler," was one of the best things I'd ever read, and had just been anthologized in Best American Nonrequired Reading 2003. It was the first thing published by someone I knew (either as author or editor/publisher, and this was both). He had stories cropping up all over the place— eyeshot, The Mississippi Review, Bullfight Review, BlackBook, McSweeney's. He was in the Monkey half of Hobart/Monkeybicycle #3 and that story went on to be anthologized in Best American Nonrequired Reading 2005.
And whenever I saw Ryan, it seemed like he was nudging himself toward starting a lit journal. We'd grab coffee and he'd ask about Hobart's creation. I'd see him at a reading and he'd ask about the logistics of working with printers. You could see him daydreaming about soliciting his favorite writers, or finding a gem in a slush pile and being the person who got to introduce it to the world. Thing was, I wasn't really writing anything myself at the time. I was working on Hobart. I was seeing Steven and Shya writing less, when at all, because of working on Monkeybicycle. The spark of editing dreams I could see in Ryan's eyes led to my own nightmares of not getting to read any more Boudinot stories.
My memory is of trying to talk him out of it, but making no progress. Whether or not that actually happened, I did end up giving him a pitch: guest edit an issue of Hobart and get it out of your system. You an have complete control of the issue—choose the stories, solicit whoever you want, pick whatever you want from what comes in, choose the cover art if you want, etc. And thus was Hobart #4 created. Looking back at the issue, the fact that I hadn't really yet figured out how to do book layout glaringly jumps out at me, but so does the strength of the issue. He introduced me to Laird Hunt and J Robert Lennon and Ray Vukcevich. The story opens and closes with pieces by Aimee Bender that were inspired by a painting by Marcel Dzama featured on the cover. There's one of (I think?) Tao Lin's first stories in print. There's Stephen Elliott and Robert Lopez and Rick Moody. There's three amazing short pieces by the very Matthew Simmons that asked me to write this, and a story by Elizabeth Ellen, before she started helping with Hobart, before Short Flight / Long Drive Books, before I left the Seattle where I got to hang out with Ryan (and Steven, and Shya, and Simmons) and moved to Ann Arbor.
After (I think? I'm not great with memory or chronology) Hobart #4, Ryan was a web editor at Pindeldyboz for some time, and then he left the world of editing (or he's just doing it on the sly?), which is something of a shame considering the strength of Ho4 but is really probably for the best, given the writing he's given us instead.
Tags: blueprints of the afterlife, hobart, Ryan Boudinot
6 Comments