HTMLGIANT / hobart
Mike Young
—
"I'm not sorry, it was the kind of year I would have raised all of hell to keep him around." — raging hard as a hungry stomach noise on "How We Killed Whitney Houston" by Eric Tran at Hobart
Guest Posts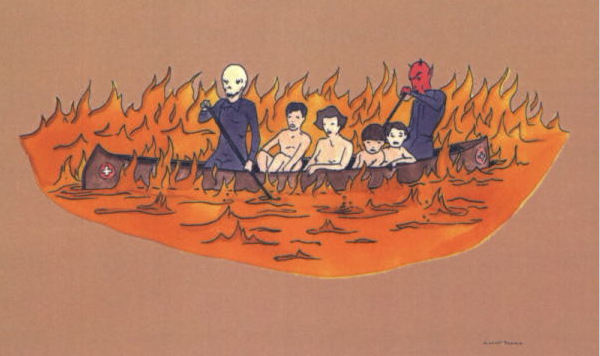 [Massive Novel Alert #2! Here's a Boudinot appreciation, a little bit of online journal history, and a "This Is Your Life," sort of piece by Mr. Aaron Burch, the man behind the unstoppable Hobart journal. The occasion for this appreciation? The publication of Ryan Boudinot's stellar new novel, Blueprints of the Afterlife.]
In 2003, I think it was, I still lived in Seattle. I'd moved away, and then moved back, and had been doing Hobart for a couple of years. I'd just put out #3, a joint issue with Monkeybicycle, because they (Steven Seighman and Shya Scanlon) were also on their third issue, and we were all in Seattle, and none of us really knew what we were doing, but we were figuring it out and everything seemed new and exciting. And readings! Steven and Shya started a Monkeybike reading series and brought together people in and around the northwest (Kevin Sampsell! Matthew Simmons! Ed Page! Sean Carman! Matthew Stadler! Adam Voith!) and we formed something of a lit community, reading with each other, hanging out and drinking, seeing one another at other readings – at Elliott Bay or University Bookstore or various cafes and bars and even a makeshift garage or warehouse or someone's living room. READ MORE >
Author Spotlight
/
6 Comments
January 4th, 2012 / 7:30 pm
Adam Robinson
Big whoa to Hobart for this amazing addition to their Short Flight/Long Drive series — it's Karl Taro Greenfeld's collection of short stories, NowTrends, and it's officially released today.
The book in total neatness features three different covers, and it's designed to resemble a travel guide.
I had a chance to travel with Karl this weekend, as he read in Baltimore and DC. Here's the dirt: He ate pizza with chicken on it. Then, at the Baltimore reading he read a story about a guy who had to come up with a propaganda cartoon for the Japanese during WWII. He prefers whiskey to beer. In the morning he turned away the wrong Eggs Benedict, the ones with crabmeat. Later he didn't eat pizza but did eat a few wings and stood several rounds while we watched the Bills play the Cowboys. There, he told me about an article he'd recently written about Scott Norwood. Norwood is the guy who shanked the Superbowl-losing fieldgoal for the Bills back in the time that I lived for Andre Reed and Don Beebe. Then at the DC reading he plied me with more beer and read part of a story about a boss who joins a soccer team with his underlings. Both stories that he read in these two nights worked for me. Then he took a train back to NYC.
At the DC reading he said he thinks his publishers are playing a joke on him, making him read in rooms that are constantly getting smaller. That's because the reading for the Three Tents series in DC is held in a small room. Coincidentally or not, in that room he read with Megan Boyle, whose book also just came out today (as Blake noted).
In conclusion, Karl Taro Greenfeld is a good guy and his book is an impressive addition to the Hobart catalog (and if you buy it directly, you can get the ebook versions free).
Author News
/
4 Comments
November 15th, 2011 / 8:09 pm
Sean Lovelace
Enormous snowflakes stirred, shifting the Wednesday reek. A lumpy yellow package arrived at my door. Inside were a flask and a one short story, "Diner" by Mary Miller. I dabbed at the folded pages. An enormous fox squirrel appeared at the window and whined. I filled the flask and finished the story and opened the oven door and dumped in tortillas from the pantry and sat back down again and hit the flask and emailed Mary Miller with some questions:
(Exciting spoiler! This interview debuts an awful Mary Miller poem.)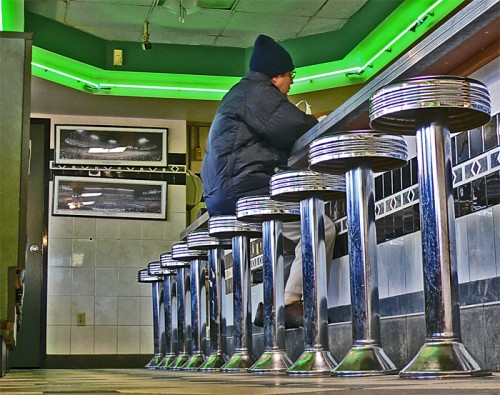 1. Diners fascinate. They seem archetypal to me. I think of Hopper's Nighthawks or Hemingway's "The Killers" and naturally Hollywood's many diners. It is your title and setting. Could you knock around this idea of the diner?
Author Spotlight
&
Random
/
5 Comments
January 12th, 2011 / 4:30 pm
Sean Lovelace
3. Mud Luscious Press goes all web update, all Heidi Blair Montag with a touch of Birdman. It detaches the retina in a kind way. Go look.
3. A get-off-my-plot-of-lawn-quote:
The others aren't that much fun to describe: somebody gets into trouble, and then gets out again; somebody loses something and gets it back; somebody is wronged and gets revenge; Cinderella; somebody hits the skids and just goes down, down, down; people fall in love with each other, and a lot of other people get in the way; a virtuous person is falsely accused of sin; a sinful person is believed to be virtuous; a person faces a challenge bravely, and succeeds or fails; a person lies, a person steals, a person kills, a person commits fornication.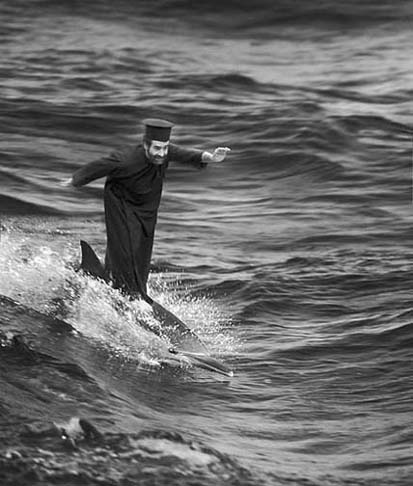 55. Harmony Neal uses repetition at January 2011 Hobart. You know, repetition, like this, via BHR:
3. The Girard Perregaux 925 Silver / Celluloid "Tourbillon" Fountain Pen goes for $1785.
14. Off The Internets for 8 days and what does that do? Doesn't make you write, I say. I didn't, sans two checks and an entry in a running journal. But it do refill the synaptic bathtub, me thinks, possibly with bubbles. Things brighten, shard, slow. I would like to write today, I'm saying. So. I ponder what happens when you leave The Internets?
Random
&
Roundup
/
8 Comments
January 3rd, 2011 / 9:29 am
Sean Lovelace
5. There is a new Hobart. It be quench, yo.
17. Seventeen Andy Warhol audio files (thanks, test)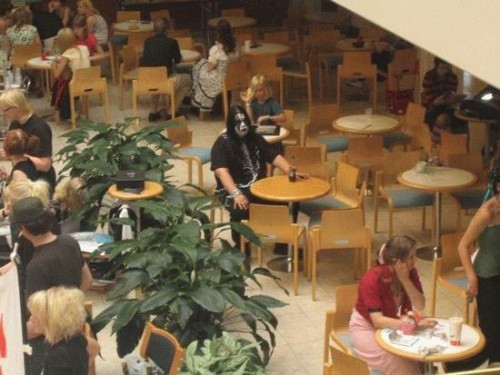 33. Fascinating:
I wouldn't push it too hard, but the experimental novel is actually the main river. The conventional novel is a popular sidetrack.

There's crazy, avant-garde, weird, experimental novels going back almost to the very beginning.
7. The Independent asks: Is popular fiction getting more literary, wiser, good?
122. From flash to novel: Tarah Masih reviews Sherrie Flick.
Roundup
/
6 Comments
August 2nd, 2010 / 11:20 am
Roxane Gay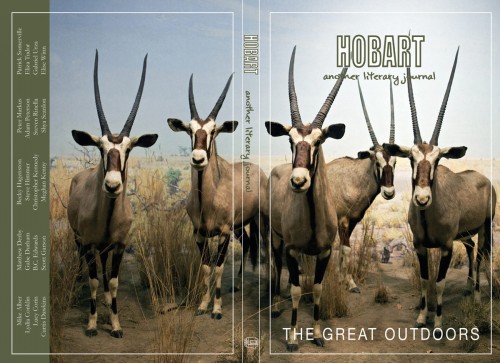 I am not a fan of the outdoors, camping, nature, or the wilderness even though for the past five years I lived, basically, in a forested wilderness and now I live, literally, in a cornfield. It was with a bit of trepidation that I approached Hobart 11: The Great Outdoors for no reason other than that because I don't love the outdoors, I am not likely to want to read about the outdoors. Then a trusted friend said you have to read this story, "Evitative" and so I found renewed enthusiasm for the issue, which, conveniently, happened to be next on my To Read list. I'm glad she gave me a kick in the ass because Hobart 11: The Great Outdoors issue is so damn good. (So is the movie starring John Candy.) I never cease to be impressed by how meticulously Hobart is edited.
Evitative by B.C. Edwards is a post-apocalyptic story that isn't annoying as such stories are sometimes wont to be. There's a man (JoJo) and a woman living in the trees and the man has lost his words and she has lost her food memories and they are being menaced by men in canoes and she's pregnant and there is a whole lot going on in this dense and incredible story. What I found even more interesting than the story was how the narrative voice felt very true to the circumstances and made everything that much more believable. Throughout the story there is a yearning for a different life, for food, for normalcy that is tangible.
Reviews
/
16 Comments
July 21st, 2010 / 11:00 am
Mike Young
From HOBART email:
Happy New Year one and all!

As is pretty much our way, we're running a little late, but the January issue of Hobart web is online now. We're kicking the year off strong, including:

* Fan Fiction in the voice of Kobe Bryant, by Karl Taro Greenfeld
* Sad, Sad, Sad, by Stace Budzko
* Three Stories, by Amy L. Clark
* The Turtle, by Matthew Lansburgh
and the first half of an interview with Laird Hunt, by Jim Ruland.

Dig in and enjoy and thanks, as always!
http://hobartpulp.com/website/
Uncategorized /
4 Comments
January 5th, 2010 / 5:52 pm