Amy McDaniel
Critics on Criticism: Roland Barthes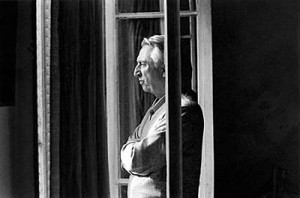 From "Blind and Dumb Criticism" in Mythologies, translated by Annette Lavers:
Why do critics thus periodically claim their helplessness or their lack of understanding? It is certainly not out of modesty; no one is more at ease than one critic confessing that he understands nothing about existentialism; no one more ironic and therefore more self-assured than another admitting shamefacedly that he does not have the luck to have been initiated into the philosophy of the Extraordinary; and no one more soldier-like than a third pleading for poetic ineffability….

The reality behind this seasonally professed lack of culture is the old obscurantist myth according  to which ideas are obnoxious if they are not controlled by 'common sense' and 'feeling': Knowledge is Evil, they both grew on the same tree….

In fact, any reservation about culture means a terrorist position.
Tags: criticism, mythologies, roland barthes
10 Comments