Blake Butler
Heather Christle Week (1): The Fledgling Crocus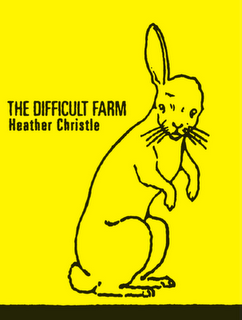 This week to help clean up the blood of last week's mean, we offer you in tidings the wonderful and radical brain of Heather Christle, whose first full length book of poems, The Difficult Farm, has just been released from Octopus Books. Those familiar with Heather's hallucination-within-hallucination language, where life is a constantly updating gift box, if one where objects are suddenly not the things they've always been and bullets can learn to seek your head, will know that this new book is one to wear, one to sneak into local churches and stick into the pew backs with the hymnals. Beyond all that, it's actually fun! Fun poetry, smart poetry, language in tricky tongues: Heather brings it all. So, for your pleasure, here is a poem in offering, and below that, some extra info on the book's release. Each day this week we'll have another.
THE FLEDGLING CROCUS
Soon when I look out the window
there will be light, nothing but.
In Hanover they've detected a weakness.
Thanks a lot, Hanover. This house
is 55 degrees Fahrenheit and frankly
growing colder. Maybe you have
noticed how the saucers of milk
are considering icicles, I think
for the very first time. Who can
resist the call of the inchworm?
Do not even try. Get down
on the floor and get as lucky
as you'd like. Today is the
Holiday of Ill-Begotten Goods.
I stole my pen I stole my land tract.
I am living on someone else's principles.
Hanover, we have greatness
in abundance, we have shivers,
we have fleas. Nest after nest
is abandoned and months from now
when bombed-out children decide
to talk they will each start by reciting
My mother's gorgeous hair…
It is all there. In the short books
of the future. What is here, in this
room, is a small lamp and a vase
that needs changing. Is cubic
space interfered with by hi,
my human form. And there are
other rooms with other forms,
there is a future not prone
to contain me. I am the hundred
and third last telegram. I am sent
with a small degree of urgency stop
please retrieve me from the historic
Empress Hotel. Hanover, let's say
that reading is like grave-rubbing
and the charcoal is your eyes.
Let's say all the things to each other
as if we were two friends chatting
while waiting for the bus. And night
arrives but the bus does not, and a frost
comes on with a mind to disrupt
the fledgling crocus. What can
we spooks do but say thank you—
for our coins and for our progress,
for the kind genetic mutation
that dressed us all those years ago
in warm yet lightweight fur.
Rad no? The book in full is just as magic page by page. During Heather Christle Week, Heather is offering some kind bonus offers at her blog for those who buy the book, including Nor By Press letterpressed broadsides of "Barnstormer," a poem from The Difficult Farm.
Tags: Heather Christle, the difficult farm
17 Comments