Justin Taylor
I ESTABLISH THE CLARITY THEREFORE ALL THIS GOES WITH ME: Ariana Reines Week, Part 5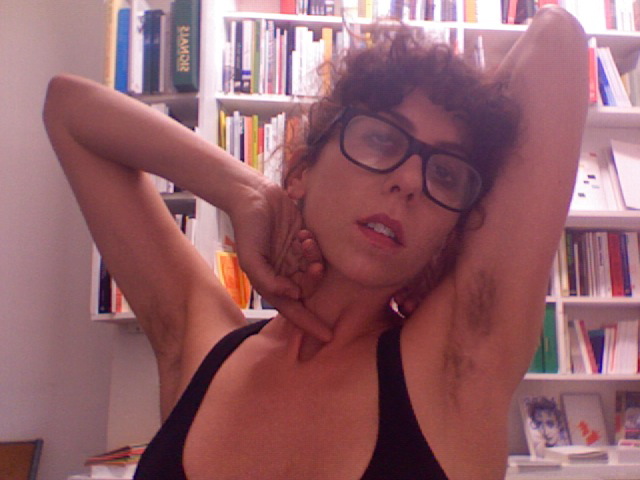 Today we close out Ariana Reines week with a shift from the present to the imminent future, with sneak previews of two forthcoming works by Ariana Reines. The first, Miss St.'s Hieroglyphic Suffering, is based on act two of Reines's highly regarded play, Telephone, and will be performed at a Works+Process show at the Guggenheim this weekend. (I'm going on Sunday. Maybe see you there?) The second is from a book of poems (or is it one long poem?) called Save the World, that seems to be forthcoming from FENCE Books. Pretty not bad, yeah? Fun starts below.
from MISS ST.'S HIEROGLYPHIC SUFFERING

I ESTABLISH THE CLARITY THEREFORE ALL THIS GOES WITH ME
Pupil—books—wisdom—modesty—no words to express this wisdom—not approximate—
THIS is the highest ground-pedestal—his teachings had to die because of wicked men—
AND SO IT WAS TO BE FOR ME—immortality—falsely accused—to be falsely accused
is the highest—sublimest sublimity—self-satisfied—that is all Socrates—the fine learned
world—I ATTAINED IT I never cut a thread—I was the best dressmaker NEVER CUT A
THREAD never dropped a bit of cloth on the floor—fine nimble fingers —fine world of
art—ART is a bluff—they pushed me in my chair up onto the bluff—salt winds—it was the
bluff of art—I knew—they had made facsimiles—their spyings—they thought I had erected
it in my mind—but I am more refined than they are—THERE EXISTS A FINE
PROFESSORSHIP—I hold it—THEREFORE I hold it—the university holds open my
chair—I cannot occupy it—I occupy it but I am PREVENTED—THEREFORE.
NEVERTHELESS. THEREFORE I excel at a petticoat—twenty-five francs—never
another like it—that is the highest—in prison they deserve what they get but I—slandered
by wicked men—halfwits—longshoremen—garbage—I am explaining it to you but you
have to let me because
THIS IS PARALYSIS. THAT WAS. What is. That is BAD FOOD—overwork—sleep
deprivation—machinery—natural causes—consumption—once I coughed and out came a
baby and kittens—now they orchestrate my spine—the paralysis comes from there—wheel-
chair—console—EVERYBODY KNOWS wheelchairs are not the only paralysis nor are
they the worst—my situation expresses itself in UNIQUE pains—IRREPLACEABLE
PAINS—that is the way it has always been with me—woe is never far away—I suffer the
highest woes in the world and I THEREFORE belong to the monopoly, to the payment—
the payment belongs to me—but ONLY liquid— paper—love—paper is like money—
money is therefore an organ—the highest bank notes—shrill to the height of my head—it is
HERE that the suffering is affirmed—inside my—telephone—rubs a part of her body—I
agreed to suffer for them it is my generosity it is why the people love me it is why it is
THEREFORE a just system FOREVER—I agreed to suffer as universal mother—I agreed
to crutches and they followed me with their eyes—I AGREED TO CRUTCHES AND
THEY FOLLOWED ME WITH THEIR EYES THEY HEARD ME DRAG MY BODY
ACROSS THE FLOOR
from SAVE THE WORLD

In
The big sex scene
Those responsible
For the movie elected to play
'Hallelujah" by Leonard Cohen
The scene
Is really about this insane assassination
Of the song "Hallelujah" by Leonard Cohen.
It seemed at first the song was chosen in order to murder the sex scene
By ironizing the fucking
But then it seemed that after all they wanted the fucking to look arousing
But it was so long and revolting
You know
The boring girl, the balding guy
Their pelvic areas
And a bagginess to their faces in spite of this airbrushed feel
So direct, the thrusts, peevish middle-aged dolls trying hard
This therefore led me to conclude that the scene was meant to destroy the song
Its emotions and what it means
But Hallelujah, lounge-era Leonard Cohen
Already performs a distance from
Even a kind of irony against
Itself, enclosing as it does a Biblical grandeur within cheap atmosphere
Basically the song's a lesson
That under any vile sheen a soul or truth can move
Maybe you know what I mean
A lot of people have covered this song
And have rendered it more obviously beautiful
It's not new but it's still around
from SAVE THE WORLD

No no I know.
I totally know.
Woman is natural.
She is natural but not savage.
She is symmetry. She has
Right + wrong
Right there in her body.
All origins are atrocious, are they not?
So hers are.
Even if daddy did not rape mommy
Fucking is bestial and violent
At the end of the day.
What is produced can be a reversal
Is the lesson.
The wrong where she begins doesn't force her to be evil
No. On the contrary.
She can choose to rise above.
Everybody in this movie is somewhat evil.
But not her.
She's normal.
from MISS ST.'S HIEROGLYPHIC SUFFERING

BUT NATURAL END I AM YES I AM THE MASTER KEY because the master-key is
the house key—I am not the house-key but the house—I am most often the master—I AM
ALSO MISTER MASTER the house belongs to me—yes I am the master-key—I affirm the
master-key as my property—it is therefore a house-key that folds up—a key that unlocks all
doors—therefore it includes the house—it is a keystone—monopoly—BECAUSE I AM
THE UNIVERSAL—
from MISS ST.'S HIEROGLYPHIC SUFFERING

POSSESSING A PORTION OF THE UNIVERSAL
IS AS GOOD AS POSSESSING ALL
BECAUSE
SPEECH IS SILVER
SILENCE IS GOLDEN
NOW
I AM STILL SOCRATES
IRREPLACEABLE AND THEREFORE CHINESE
WHICH IS TO SAY
IT IS WONDERFUL TO BE ADMIRED
IT IS WONDERFUL TO BE ON TOP
WHEN ONE IS IN BETWEEN
EVEN WHEN I AM DOWN BELOW I CAN SEE FOR MILES
from SAVE THE WORLD

Anything can pass before the eyes of a person
Tags: Ariana Reines, Miss St.'s Hieroglyphic Suffering, Save the World
14 Comments