Christopher Higgs
More Heroine Talk, Plus Book Giveaway!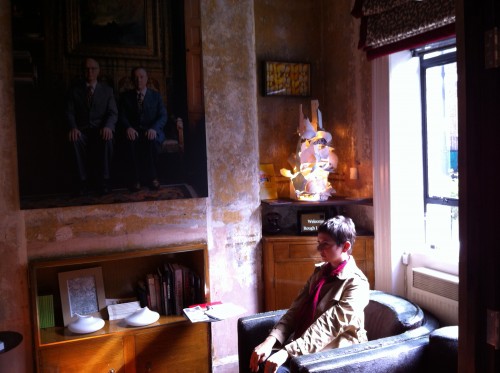 I recently interviewed Kate Zambreno about her new book Heroines
(Semiotext(e) Active Agents, Nov. 1st) for The Paris Review Daily; but before we got to the conversational style of that interview, we began our discourse differently: more theoretically, I guess you could say. After the jump you can read this earlier version of the interview. In addition, Kate has generously offered to give away one of her author copies of Heroines to one lucky person who answers the question at the end of the interview.
(And for those of you in Philly, Kate will be reading at Penn Feminism/s November 1, and then in New York sponsored by The New Inquiry at BookCourt November 2 and Segue series November 3, Meghan Lamb's reading series with Suzanne Scanlon November 4, and many other readings you can find out about on her website katezambreno.com)
Ready, set, go…
CH:  In one of my all-time favorite essays, "The Laugh of the Medusa," Hélène Cixous argues, "Woman must write her self: must write about women and bring women to writing…Woman must put herself into the text—as into the world and into history—by her own movement."  I find a strong affinity between Cixous's battlecry and Heroines.  Does this comparison resonate for you as well?
KZ: Absolutely. I've thought of Heroines as a vulgar, angry, American sister to her "Laugh of the Medusa." Cixous is extremely important to me, especially her work as a performative & experimental philosopher. In Heroines, I wrangle with how she valorizes Freud's hysterics as heroines, which is perhaps similar to what I've done for the modernist women I am  writing about.  And especially urgent to me is how she talks about "coming to writing" as being a vital stage of identity-formation and dawning of political consciousness for a woman, which means writing is not only about crafting texts, but it's also an attempt to write back at a culture, to reclaim the voices that have been muted, including one's own. Heroines is a small attempt at this "archaelogy of silence," to quote Foucault on the history of madness.
CH:  There's a passage early on in the book where you write, "This idea that one must control oneself and stop being so FULL of self remains a dominating theory around mental illness, and, perhaps tellingly, around other patriarchal laws and narratives, including the ones governing and disciplining literature."  Could you say more about how you approach the relationship between writing about the self, or memoir, and the writing of criticism?
KZ:  One of the main philosophical currents in the book is how historically people have been trained to discipline themselves (their behaviors, their bodies) to pare away the emotional or excessive. I connect these moral attitudes to the dawn of modern literature, and the theories espoused by the men writing this literature. Flaubert and Eliot were both suffering nervous men, who cultivated their hysteria in their  amazing works  (Madame Bovary and "The Waste Land"), all while writing theories that great literature should be impersonal, transcendent.  They punished the women in their lives for being so excessive (Flaubert patronizing his mistress Louise Colet for her operatic emotions, Eliot's disgust of his first wife's undisciplined moods and body), while channeling and fetishizing their muses' hysteria.
Zelda Fitzgerald explicitly drew from her own autobiography for her first novel, and it's been historically regarded as unliterary, for being too  "confessional," "naked," "indulgent," also too "messy," "untrained," pathologized for flowing out of her too fast, all of which is still language to dismiss women writing, still ways women censor themselves, for fear of policing, in its many forms. Something about the female first-person is still seen as dangerous in our culture especially if written from a site of oversized emotions. This has been allowed in literature often when the great men write it—Henry Miller's work, Fitzgerald's totally emo "Crack-Up" essays, Bataille's spiritual memoirs—I mean, they were still given a hard time in their contemporary (Dos Passos and the rest wanted to have the bro-genius equivalent of an intervention with Fitzgerald for  publishing such oozey breakdown pieces, Sartre deplored Bataille's Guilty for being too "fleshly") but their more memoiristic works are now regarded as great literature. Somehow more taboo when women have written the fleshly, confessional, oozy, sickly self. I guess in some ways I'm writing a criticism borrowing from the aesthetic of blogging—the diaristic, the daily, the diarrhea, a mixture of the banal and profound.
CH:  Combining the aesthetics of blogging with the historical tradition of literary criticism seems very provocative at a time when the boundary between those two forms is so hotly contested, but the way you describe it makes the combination seem both familiar and fruitful.  Could you say more about this formal choice and perhaps a word or two about other texts you see as being in conversation with Heroines on a formal level?
KZ: Well, I wasn't really aware of blogging while working on the project that became Heroines for many years, that was originally a novel called Mad Wife. I began a blog only months before Chris Kraus approached me about writing about my meditations with these wives of modernism that I was incubating online. In the process of rewrites, I became more aware of looking at blogging as a contemporary aesthetic which borrows from the notebook, as well as having as its ancestry automatic writing. I remember a review of Maggie Nelson's recent book on cruelty critiqued the book for reading too much like a Tumblr—and even though it was meant as a dismissal I read it the opposite way. I thought instead of potential for a new criticism, one that's as associative and playful with theory and autobiography as so many of the feminist Tumblrs that I have recently been reading.
Free Book Giveaway: For a chance to win a copy of Heroines, tell us in the comment section below, "Who is your favorite literary heroine, and why?"  Kate will pick her favorite by Friday at midnight, and will send the book directly to the winner.
UPDATE: Semiotext(e) has graciously offered to sweeten the pot by offering 3 copies of Heroines…so now there'll be three winners!
UPDATE – WINNERS: from Kate: These were all so so good! I really wished I could have given each of you a copy of Heroines! It was a really hard call – but can Ellie (for Ida Bauer/Dora), ags (for that short sweet Emma B. answer), and Grant M. (for that wonderful May Sarton consideration, who I have not read and I want to) email me your addresses at francesfarmerismysister@gmail.com?
39 Comments