Melissa Broder and Ryan Call
Twitter MFA
In which we do a close-reading of a Tweeter's Tweet draft and assess its tone, theme, synecdoche and narrative arc, among other things. Today's Tweet draft was written by Daniel Bailey. Join us next Friday for a discussion of a Tweet draft written by Colson Whitehead.
The Tweet draft:
i will gain street cred by shit-talking all streets in my hood on yelp.com. current mood: ti holding a baby. future mood: unstoppable
In reading Daniel Bailey's Tweets, the reader imagines that Bailey is binge-Tweeting drunk from his bathtub. If he were a reportage-style Tweeter, or (god forbid) a promo-Tweeter, these excessive Tweetouts wouldn't work. But Bailey's laissez-Tweet style is like messy hair that looks really fucking good. So we've often wondered how 'hard' is Bailey 'trying'? Is he a pre-drafter? An off-the-cuffer? A hybrid? Regardless, the Tweet draft that Bailey sent us, to use academic jargon, is 'da bomb.'
We like the retro mood of this Tweet. It has enough dated elements (the conjuring of Yelp, the allusion to Livejournal) to let the reader know that its datedness is intentional. What's more, we were particularly inspired by the speaker, presumably a white dude, juxtaposing 'street cred' with the very not-street Yelp and LJ.
Yet Bailey's use of a lowercase, unpunctuated 'ti' is a hindrance to the Tweet. Did you read 'ti' as the rapper T.I.? We didn't. We read it as 'tit holding a baby.' In the dog-eat-dog cosmos of Twitter, such a misstep could be disastrous to one's brand. A Tweet-hungry reader will simply glaze over and move on down the feed.
What's the solution? Well, Bailey is that rare gifted Tweeter who can employ punctuation without sacrificing casual style. One idea is to punctuate t.i. and leave it in lower-case. This will eliminate any ti/tit confusion. Another alternative is to substitute a different rapper entirely; one who possesses the same metric feet as T.I. While this swap might alter the connotations of the Tweet, sometimes when we let rhythm dictate meaning (see Richard Hugo's The Triggering Town) we surprise and excite ourselves textually.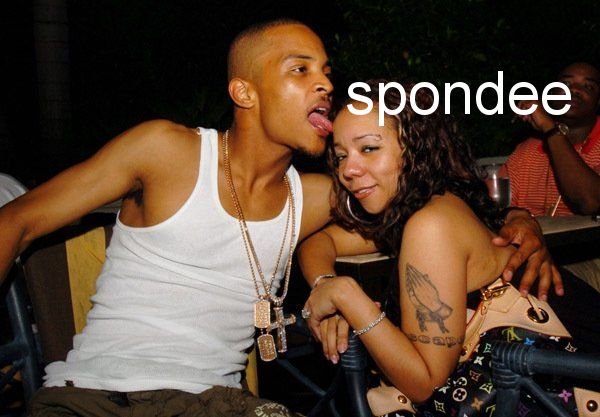 Below is a glossary, for public use, of various rappers and their metric feet.
Q-Tip – trochee
Big Daddy Kane – spondee + iam
Missy Elliott – trochee + dactyl
Bun B – spondee
MC Lyte – molossus
Dr. Dre – amphimacer
Fat Joe – spondee
Kool Keith – spondee
Young Jeezy – antibacchius
Yung Joc – spondee
Gucci Mane – amphimacer
Lil Wayne – iamb
Kanye – trochee
Lisa "Left Eye" Lopes – trochee + spondee + trochee
2pac – trochee
Busta Rhymes – amphimacer
The Game – iamb
Eminem – amphimacer
Method Man – amphimacer
Snoop Dog – spondee
Ice T – iamb or spondee
Ice Cube – iamb or spondee
Rakim – iamb
50 Cent – amphimacer
Ja Rule – iamb
Eskiboy – dactyl
Ludacris – antibacchius
Chamillionaire – iamb + pyrrhus
P. Diddy – antibacchius
Soulja Boy – dactyl
Nicki Minaj – pyrrhus + iamb
Queen Latifah – trochee + trochee
Aesop Rock – molossus
Earl Sweatshirt – antibacchius
Bang Em Smurf – amphimacer
Dizzee Rascal – trochee + trochee
Jadakiss – anapest or dactyl
Trick Daddy – antibacchius
Eazy-E – amphimacer
Slick Rick – spondee
Jam-Master Jay – spondee + iamb
KRS-One – spondee + spondee
Grandmaster Flash – spondee + iamb
Lady Sovereign – trochee + dactyl
Project Pat – amphimacer
Tags: daniel bailey, t.i., twitter mfa
14 Comments