Adam Robinson
We Are All Susceptible
On Twitter, Michael Kimball asked why zombies are so hungry. Maybe he's doing research for a new book? Maybe it's for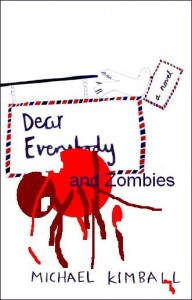 HAHAHAHAHA:
Dear Sara,
I'm sorry I came back to life and ate you and your new husband, Carl. It's just that I can't stop eating people. I suppose it isn't all my fault, though. You should have known that I would be a fast zombie, after how good I was at track. Anyway, I have to go now because I hear there are some humans hiding out in the mall. Hey, maybe I'll see you there?

Dear Dad,
Thanks for being so terrible all my life. Now I have something to be undead for. That's right, something's been gnawing at me, and pretty soon it's going to be gnawing on you, too.

Dear What's-Your-Face that I hit with my lunchbox,
I don't care if it looked mean inside your head. All that blood must have been delicious.
Also see: How Much Of Us There Was to Eat, in which the grandmother pulls through . . . or does she?
Tags: dear everybody, michael kimball, ny tyrant
20 Comments