HTMLGIANT / kylem
Kyle Minor
Kate Bernheimer's Complete Tales of the Gold sisters is a a trilogy of novels published over a ten year period. It is also part of a broader project, a life's work, that includes not only the practice of reviving and revivifying the fairy tale, but also the tasks of developing a contemporary theory of the fairy tale, of identifying the ongoing subterranean influence of the fairy tale upon the work of writers not ordinarily associated with the fairy tale, and of championing and legitimizing and de-ghettoizing the fairy tale as a literary form.
Bernheimer is probably better known in her critical and editorial roles than as a writer. Her Penguin-published anthology My Mother She Killed Me, My Father He Ate Me: Forty New Fairy Tales (co-edited with Carmen Gimenez-Smith), which includes fairy tales by the likes of Kelly Link, John Updike, Neil Gaiman, Lily Hoang, Michael Cunningham, Kevin Brockmeier, Joy Williams, and Ludmilla Petrushevskaya, is the most prominent of these efforts. In her introduction, Bernheimer invokes a line of Nabokov's: "All great novels are fairy tales." Then she makes a broader claim: "all great narratives are fairy tales . . . READ MORE >
Random
/
8 Comments
June 19th, 2011 / 1:37 pm
Kyle Minor
The Necropastoral is a chapbook by Joyelle McSweeney. It proceeds in five parts. First, "Necropastoral, or, Normal Love," an essay that sets out McSweeney's idea of the Necropastoral by examining Jack Smith's film Normal Love. Second, a series of poems, all titled "King Prion," which may be read as individual poems, as a cumulative poem, or as parts of a longer poem which isn't present in its entirety. Third, "Arcadia, or, Anachronism: A Necropastoral Effigy," an essay or possibly a story in the form of a list which is also in the form of an effigy. Fourth, "Infernal Tributaries of the Necropastoral," which is an acknowledgements section that we might also read as a deletion of the boundaries of the chapbook. Fifth, ten blank white pages. There are also pages between sections illustrated by black-and-white collage.
The task of the first paragraph of these notes was to describe the contents of the chapbook, but already the reviewer has had some trouble, because questions of genre and form and the place of each section have been blurred in a manner that requires the reader to rethink each how each element works and what each element is.
For starters: The chapbook form. What is a chapbook? READ MORE >
Random
/
17 Comments
June 18th, 2011 / 12:57 pm
Kyle Minor
Garth Greenwell is the author of Mitko, a novella of sexual passion and transaction in Bulgaria, which calls to mind the richly textured fictions of Imre Kertesz, W.G. Sebald, and Marguerite Duras. Greenwell grew up in Kentucky, studied poetry at Harvard, and taught high school in Michigan, before settling (for now) in Bulgaria, where he teaches at the American College of Sofia. Mitko is available in bookstores, and also through Small Press Distribution, Amazon, and the publisher. We corresponded last week by Facebook messaging.
MINOR: I first became acquainted with you through your poetry, but your first book, Mitko, is a work of fiction, a novella, which reads in some ways like that variety of fiction that hews close to autobiography.
GREENWELL: Until coming to Bulgaria, all of my creative work was in verse, and in some way I don't fully understand I think that moving to a place so free from things I recognized or understood READ MORE >
Random
/
16 Comments
May 29th, 2011 / 11:23 pm
Kyle Minor
Best Deal on the Internet:
If you send your mailing address to notknott@gmail.com, Bill Knott will send you a one-of-a-kind staplebound edition of his poems, with handmade cover art.
James Wright on Bill Knott, from Wright's collected letters:
New York City
September 6, 1975
D. Groth,
You kind letter made me happy. Poetry is a strange adventure: at crucial times it is––it has to be a search undertaken in absolute solitude, so we often find ourselves lost in loneliness––which is quite a different thing from solitude. America is so vast a country, and people who value the life of the spirit, and try their best to live such a life, certainly need times and places of uncluttered solitude all right. But after the journey into solitude––where so many funny and weird and sometimes startlingly beautiful things can happen, whether in language or––even more strangely––in the silences between words and even within words––we come into crowds of people, and chances are they are desperately lonely. Sometimes it takes us years––years, years!–to convey to another lonely person just what it was we might have been blessed and lucky enough to discover in our solitude.
In the meantime, though, the loneliness of the spirit can be real despair. A few years ago, when I lived in St. Paul, Minn., I received unexpectedly a short note from a young poet* who was bitterly poverty striken in Chicago. READ MORE >
Random
/
3 Comments
May 6th, 2011 / 12:26 am
Kyle Minor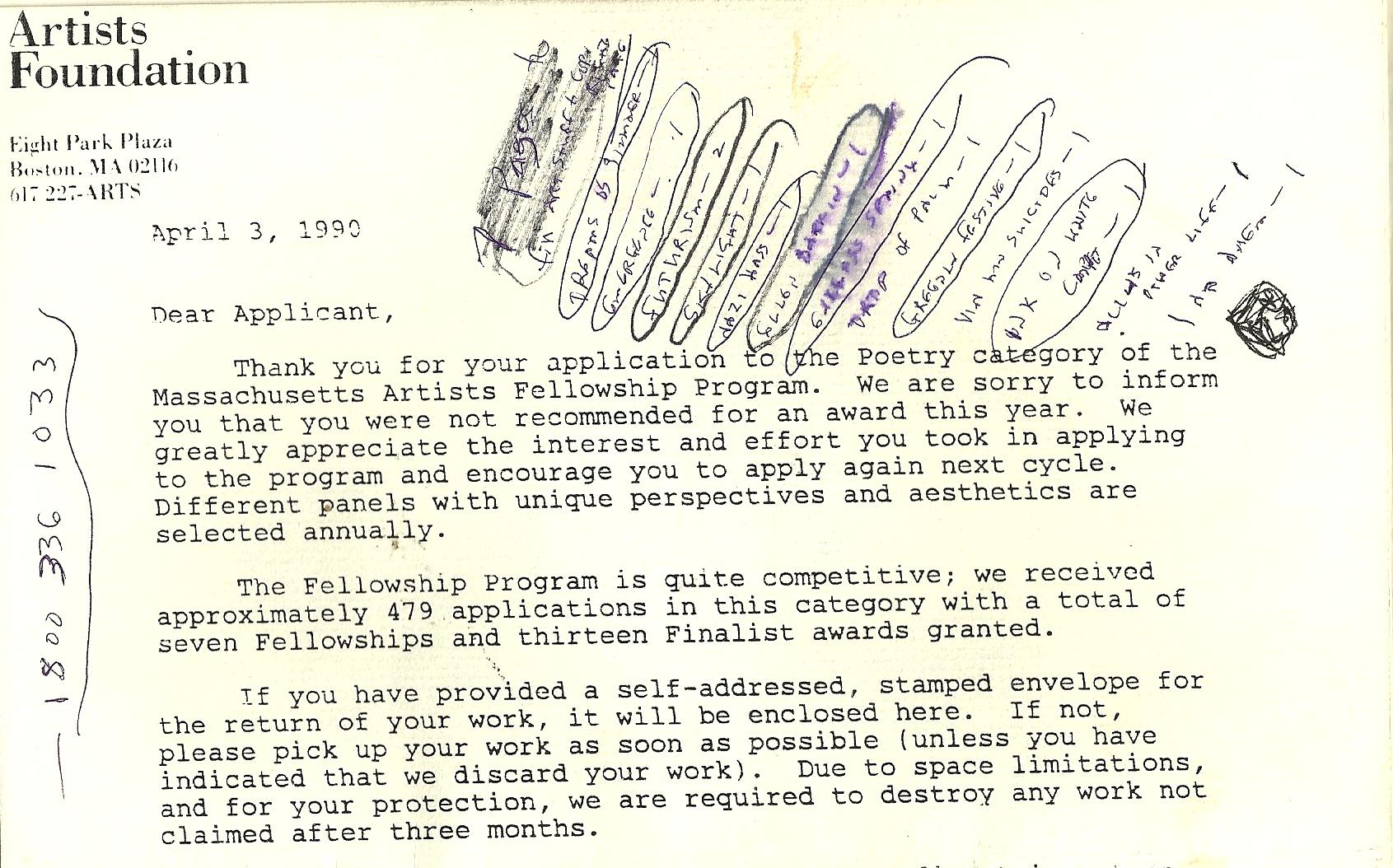 Some notes on Knott from Peter Jurmu:
When What You Really Really Want Is To Cover Territory
Sex on Quicksand: Collected Short Poems 1960-2009, like Breccia (or An Incomplete Inventory of Dorian Gray's Closet—cover pictured above—that phone number is the request line for a Boston-area oldies station, WODS— READ MORE >
Random
/
10 Comments
May 5th, 2011 / 2:02 am
Kyle Minor

Another Knotty thing worth snagging for your e-reader: Bill Knott is offering (again, for free!) what he's calling a "first step" toward a long-awaited New and Selected Poems edition. From the introductory note:
This volume is a selection of poems I've written through
the years, from 1960 to the present.
My choices are personal, though in some instances I'm relying on what other people have indicated they liked,
deferring to their judgement.
Farrar Straus & Giroux marketed my book "The Unsubscriber" in 2004, and then foolishly, considering what a critical and financial failure that book was, proposed to publish as a follow-up my Selected Poems, and suggested I should prepare a 240-page ms. for that purpose. Luckily wiser heads prevailed, the Selected was quashed and never appeared.
This is the shadow version of that stillborn book.
Random
/
8 Comments
May 4th, 2011 / 1:42 pm
Kyle Minor

Bill Knott, perhaps in response to a suggestion on this site that he make his already-free digital editions of his books available as text files for convenience of e-reader types, published a first draft of mythkitty, a new selection of his poems, on his blogspot site. I copied it immediately to a text file, and sent it to my Kindle.
From Knott's introductory notes to mythkitty:
Philip Larkin urged poets to refrain from rummaging in what he called the "myth-kitty" and to instead take their themes and images from the immediate daily life around them, as he himself did so brilliantly and with such genius.
Random
/
2 Comments
May 3rd, 2011 / 6:05 pm
Kyle Minor
Steven Breyak lives in Osaka, Japan. He writes:
Late in the summer of 2006, I had finished my MFA and was drained from it. With the last of my thesis off to the printers and no agents or potential employers calling, a long empty future seemed to lay before me and my art; it had seemed that we'd lost purpose for each other and it was best I consider a career change to reader. Then Bill Knott asked me if I would rent a car in Boston and drive out to the Poconos to pick him up along with a few of his belongings. In a desperate attempt to establish myself in some medium, I decided to buy some professional recording equipment (on credit) and interview Bill on the drive east.
READ MORE >
Random
/
6 Comments
May 3rd, 2011 / 4:36 am
Kyle Minor
Matthew Salesses is author of the forthcoming novella The Last Repatriate, and two prose chapbooks–Our Island of Epidemics (PANK) and We Will Take What We Can Get (Publishing Genius). You can find some of his stories in Glimmer Train, Witness, Mid-American Review, Pleiades, The Literary Review, and Quarterly West. He is also a columnist and fiction editor for The Good Men Project. He lives in Boston.
I asked him to write a few words about Bill Knott's poem "The Enemy." Here is the poem:
THE ENEMY
Like everyone I demand to be
Defended unto the death of
All who defend me, all the
World's people I command to
Roundabout me shield me, to
Fight off the enemy. The
Theory is if they all stand
Banded together and wall me
Safe, there's no one left to
Be the enemy. Unless I of
Course start attack, snap-
Ping and shattering my hands
On your invincible backs. READ MORE >
Random
/
5 Comments
May 2nd, 2011 / 11:45 am