Melissa Broder
WTF Is Happening In My Shower?
Inspired by Adam Robinson's riveting expose of his own shower, a poet takes us on a journey through hers…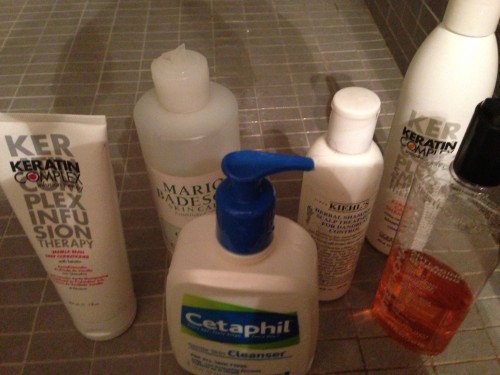 All of my products are on the floor, because I shower sitting down.
Peter Thomas Roth anti-aging cleanser – No. I am still aging. Time and death. Death and time. Don't really use this anymore. Smells like peach.
Keratin Complex shampoo and Keratin Complex Infusion Therapy Vanilla Bean deep conditioner – Every 2-3 months I get a keratin treatment done on my hair, which makes it less course, huge, Jewy. I had straight hair till I was 12, when I started having nightmares about fires and The Holocaust, and it grew in wavy. Jewish kids have The Holocaust beaten into our heads so that we may never forget.
I remember one evening at Hebrew School we were all corraled into the assembly room, where the lights were shut off and the principal started throwing things and breaking glasses in order to 'simulate' Krystallnacht. Another time on a youth group retreat we were shown the shower scene from Schindler's List, then locked in a cabin together so that we could 'experience' a concentration camp. But I don't blame anyone for my nightmares. I was always a scared kid.
Keratin treatments def cause cancer, and they might end up being the beauty treatment that finally kills me (though there are others in the running). But I won't give them up. This shampoo and conditioner make the treatments last longer.
Mario Badescu citrus bodywash – I'm not brand loyal when it comes to bodywash. I just like how this one smells. The poet Elaine Equi uses all Mario Badescu products.
Kiehl's Herbal Shampoo and Scalp Treatment for dandruff – Yeah I get da flakes.
Cetaphil gentle skin cleanser – After all these years I've gone back to the 'phil. It's been a hellacious few months of chinzits (chin-ne) for me and none of my usual tricks were working. As a teen I never had any zits. Then when I turned 21 something changed in my hormones and my chin went crazy. Since then I've grappled with  adult acne (just on the chin), which comes in cycles related to stress and 'being a woman'. This most recent round started around AWP. The acupuncture/facials/Sephora Clarisonic electronic face brush that usually keep things under control weren't working (I think the Clarisonic was actually spreading the zits around). So I recently started a new regimen, inspired by an acne website for teens, which is very simple:
Morning: Wash face with gentle facewash (like Cetaphil), pat dry with clean towel, apply thin layer of benzoyl peroxide 2.5% to affected area (must be 2.5%–anything higher makes you red and flaky and then when you apply coverup your chin look like tundra) (Neutrogena 'On The Spot' is a good, cheap drugstore 2.5% Benzoyl Peroxide), apply thin layer of non-comedogenic face lotion (I go with Cetaphil face lotion), dassit.
Evening: Repeat morning regimen–then after the lotion dries apply a salicylic or glycolic acid serum to the zits themselves.
Seems to be working, which is a relief, because multiple large chinzits suck and make you avoid well-lit places and I'm already inclined toward isolation anyway and don't need any more excuses not to be around people.
Writer and internet It Girl Lorian Long has another regimen that worked for her adult onset zits, which simply involves washing your face with jojoba oil once a day, but I'm scared to try it.
That's my shower.
Tags: jews, time and death, trying to stop the unknown, zits
14 Comments