Ken Baumann
GIANT's Backwards Birthday Party!!!!!!!!!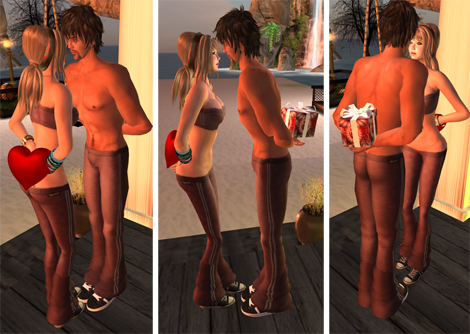 We're giving away some free stuff to you, our birthday party guests. We already ate the cake, so we can't give that back (well, we could…), but we do have books & other stuffs. How this works:
We're going to award a few random winners, and split up the stuff randomly. To throw your name in the hat, email us at our house (htmlgiant@htmlgiant.com) by October 10th!
If you'd like to add stuff to the prize pool, list it in the comments and we'll add it below. THE GIFTS:
1/2 rotation in one of the top book cover ad spots for the month of November
1 copy of From Old Notebooks, by Evan Lavender-Smith
1 SIGNED copy of the new Light Boxes, by Shane Jones
1 copy of Everything Here Is The Best Thing Ever, by Justin Taylor
1 copy of AM/PM, by Amelia Gray
1 copy of The Complete Works of Marvin K. Mooney, by Christopher Higgs
1 audiobook version of The Complete Works of Marvin K. Mooney
some random back issues of The Believer
a couple of new books from HarperPerennial
1 copy of The Evolutionary Revolution, by Lily Hoang
1 copy of Changing, by Lily Hoang
a random assortment of random books from Lily Hoang's bookshelf
1 copy of In the Devil's Territory, by Kyle Minor
5 collector's itemish backissues of Frostproof Review #2 (includes Kevin Wilson's story "Tunneling to the Center of the Earth," novellas by Christopher Coake and Jennifer Spiegel, excerpt from Mark Svenvold's book-length poem Empire Burlesque, a Molly Peacock sonnet, and reading lists from Stephen Elliott, Jim Shepard, Lee K. Abbott, Steve Almond, Aimee Bender, a water witcher, a Methodist minister, etc., etc., etc.)
1 copy of The Show That Smells, by Derek McCormack
3 copies of PANK 4
2 copies of Our Island of Epidemics, by Matthew Salesses
1 copy of DURING MY NERVOUS BREAKDOWN I WANT TO HAVE A BIOGRAPHER PRESENT, by Brandon Scott Gorrell
1 copy of SOMETIMES MY HEART PUSHES MY RIBS, by Ellen Kennedy
1 Email About Something Vaguely Important-Seeming written by zusya
1 Cajun-themed cookbook
1 copy of Agaat, by Marlene van Niekerk
1 copy of WE TAKE ME APART, by Molly Gaudry
1 copy of AN ISLAND OF FIFTY, by Ben Brooks
1 copy of WHEN ALL OUR DAYS ARE NUMEBRED, by Sasha Fletcher
1 copy of Letters Journal #4
5 copies of The Dwell, by Eleanor Johnson
1 copy of The Late Work of Margaret Kroftis, by Mark Gluth
1 copy of Pop Serial #1
1 IOU for a potential book darby may write/publish in the future, if ever, and he will sign it, too
Daniel Bailey's firstborn
2 copies of TRNSFR 2
1 copy of The Birdwisher, by Anna Joy Springer
1 copy of  Blood and Jasmine When I Dreamed Her, by Christine Vi-Van Nguyen
issues 2 and 3 of Correspondence and a copy of This Pose Can Be Held For Only So Long, by Caroline Gormley
CINEMA/TELEVISION/PASSION, by Mike Kitchell & a copy of the next two SOLAR LUXURIANCE releases
1 copy of RAMPAGING FUCKERS OF EVERYTHING ON THE CRAZY SHITTING PLANET OF THE VOMIT ATMOSPHERE, by Mykle Hansen
1 copy of the Hint Fiction anthology
1 copy of a limited edition broadside from Coffee House Press
1 copy of Everything Ravaged, Everything Burned, by Wells Tower
1 copy of Big Bill and the Lonely Nation, by Cassandra and Cody Troyan
1 signed copy of WILD LIFE RIFLE FIRE, by Paul Siegell
1 signed copy of JAMBANDBOOTLEG, by Paul Siegell
1 copy of Dies: A Sentence, in which Vanessa Place will insert something vaguely pornographic
Tags: birthday, contest, free books, giveaway, htmlgiant
31 Comments