Blake Butler
Win Diana George's DISCIPLINES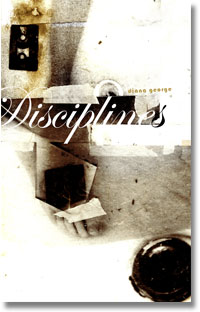 I have an extra copy of Diana George's DISCIPLINES, an amazing fiction chapbook from Noemi Press, who continues to do more and more amazing things.
I read this chapbook and couldn't shake the verbiage from my head, still haven't really. It is in the Lish-mind (the chapbook has a Gary Lutz blurb), and is about rooms and weird ritualistic behavior, and modes of study. The stories are kind of hard to describe, but they are amazing, have appeared in 3rd Bed and Denver Quarterly etc. A really amazing little book that reminds me in certain ways of Evenson's 'The Wavering Knife' and maybe some Ben Marcus thrown in there, but really of a whole new mode all its own.
To win the chapbook all you have to do is read the new issue of Lamination Colony, pick one piece on the site, and say something about it in the comments here. A response, a review, a comment (though more than 'I liked this.' please, show yr work), something that shows you thought about the piece in some way. A response can be a few words or a longer thought or words it jarred from you in another mode, whatever you want. Don't forget to include which you are responding to.
I will choose a winner Friday. The winner will get the Diana George chapbook. The author whose piece is reviewed by the winner will receive a gift too, also from Noemi Press: Joanna Howard's In the Colorless Round, which is an insanely cool large-format chapbook of connected prose and drawings by Rikki Ducornet.
While you are thinking, go check out the rest of the work from Noemi Press. They are putting out important texts worthy of vast attention.
Tags: diana george, noemi press
38 Comments