noemi press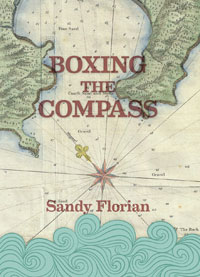 Boxing the Compass
by Sandy Florian
Noemi Press, 2013
114 pages / $15  Buy from Noemi Press or Amazon
If Sandy Florian's novella Boxing the Compass is the answer, then the question might be: is the era of climate change spawning a specific literature? Some exploration of this question will lead us into the astonishing work of mourning Boxing the Compass is.
Ironically, the phrase Homo sapiens is Latin for "wise man." Like all species, the existence of Homo sapiens has always been finite. No divine favor, cognitive privilege, or technical fix has ever exempted Homo sapiens from eventual extinction. None ever will. Climate change just promises to turn this "eventual" extinction into an uncomfortably close event. In 2010, the renowned Australian microbiologist Frank Fenner hypothesized Homo sapiens will go extinct within a century. Entertain Fenner's hypothesis, and then try to write a book for the ages: for at most two or three generations more.
Whatever else climate change is, it is an event in language. The extinction of myriad species of fish should make writers differently aware of the biotic referents of tropes such as "to spawn a literature." Extinctions bring about irreversible absences. The prospect of the extinction of Homo sapiens draws language into a hurricane swirling words up and away, or down and out, from anthropic referents. What happens to words as their referents irreversibly disappear? In becoming bereft of their referents, words may kindle mourning. Within language, climate change is metamorphosing frighteningly many words into words of mourning.
Imagine a novella catching intimations of the oceans in their terrible fragility as sustainers of life by narrating a daughter in mourning for her mother. Imagine that, through the daughter's grief, this novella allows the mourning climate change solicits in language to find articulation. With these imaginings, we arrive at Sandy Florian's uncanny work of mourning, Boxing the Compass.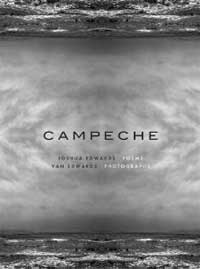 Campeche
Poems by Joshua Edwards
Photographs by Van Edwards
Noemi Press, 2011
112 pages / $15  Buy from SPD
In the national artistic dialogue, there are usually but two coasts: East and West.  The Gulf Coast barely enters the radar screen and, when it does, it's normally because of a great tragedy like Katrina or the BP Horizon disaster. A chance for artists to express their solidarity or disgust or anger or sadness or pity.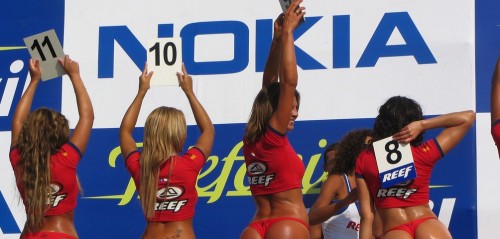 A while back, I posted a link to Les Figues Press's very first book contest. Whereas all I did was post the submission information, many commenters responded, asking questions and giving opinions about contests in general. To clear up any questions about motivation, profit margins, etc, I have assembled four small presses – Les Figues Press, Starcherone Books, Noemi Press, and Fiction Collective 2 – to discuss their contests. I hope you find this conversation as illuminating as I do.
Bios for the presses can be found after the conversation. The publishers representing the presses are as follows:
Les Figues Press (LFP) – Teresa Carmody
Starcherone Books – Ted Pelton
Noemi Press – Carmen Gimenez Smith
Fiction Collective 2 (FC2) – Lance Olsen
Note: You may notice an exclusion in the conversation here, that is, I didn't ask anyone to represent a press who doesn't have a contest. I had considered asking a few people, but ultimately, I wanted to focus on why presses have chosen to run a contest. Expect a post within the next few weeks with presses who have chosen not to run a contest, for whatever reason. Hey publishers: if you have a press that doesn't run a contest and want to participate in a conversation like this one, email me: Lily [dot] Hoang [dot] 326 [at] gmail [dot] com.
LH: How long has your press run a contest, and what was your rationale in starting it? Do you require a submission fee? With the submission fee, does the applicant get any other goodies?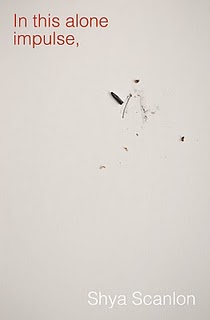 Released earlier this year from the magnificent Noemi Press, Shya Scanlon's full length print debut In This Alone Impulse, is truly of thing of many things. Using 7 line blocks of language to evoke a sublimely confounding string of styles, voices, jokes, murmurs, machines, Scanlon has truly forged from a seemingly simple set of building blocks a highly tuned and deceptively challenging machine of language and idea.
For a taste, check out Shya's YouTube feed, which features short videos of a wide range of folks reading sections from the book. Here's a rather rad one by A.D. Jameson, performing, 'Hansom':
Over the past few weeks Shya and I talked some about the construction of the book, its influence, becoming, tone, approach, as well as some of his other forthcoming works.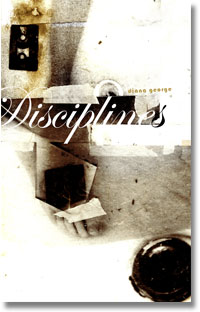 I have an extra copy of Diana George's DISCIPLINES, an amazing fiction chapbook from Noemi Press, who continues to do more and more amazing things.
I read this chapbook and couldn't shake the verbiage from my head, still haven't really. It is in the Lish-mind (the chapbook has a Gary Lutz blurb), and is about rooms and weird ritualistic behavior, and modes of study. The stories are kind of hard to describe, but they are amazing, have appeared in 3rd Bed and Denver Quarterly etc. A really amazing little book that reminds me in certain ways of Evenson's 'The Wavering Knife' and maybe some Ben Marcus thrown in there, but really of a whole new mode all its own.
To win the chapbook all you have to do is read the new issue of Lamination Colony, pick one piece on the site, and say something about it in the comments here. A response, a review, a comment (though more than 'I liked this.' please, show yr work), something that shows you thought about the piece in some way. A response can be a few words or a longer thought or words it jarred from you in another mode, whatever you want. Don't forget to include which you are responding to.
I will choose a winner Friday. The winner will get the Diana George chapbook. The author whose piece is reviewed by the winner will receive a gift too, also from Noemi Press: Joanna Howard's In the Colorless Round, which is an insanely cool large-format chapbook of connected prose and drawings by Rikki Ducornet.
While you are thinking, go check out the rest of the work from Noemi Press. They are putting out important texts worthy of vast attention.