A D Jameson
Art's a Fucking Mess
My friend Tadd over at Big Other has a post up about why Plato wanted to kick all the poets out of his ideal republic. And I'm no philosopher. But my understanding has long been that Plato's problem with poets/art (besides the whole mimesis "copy of a copy" thing) is that art is messy, uncontrollable.
Like, consider this: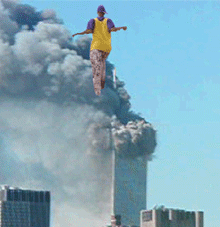 Someone—some artist somewhere—decided to make this. Is it good? Bad? Funny? Sick? Evil? Juvenile? Calculated? Hip? Clever? Stupid? Immoral? Amoral? Sure—it's all those things, and more! It supports a variety of readings. In fact, the better an artwork is (I think this is a pretty OK one), the more irreducible it tends to be (at least, according to certain lines of aesthetic reasoning that I think Tadd would agree with).
Good art disrupts the social order. It wakes you up, shocks you, makes you feel alive—it makes you see the world again, differently. Bad art is boring, predictable, prescribed, a weak illustration of what you've already been thinking. (That's my problem with so many depictions of September 11th, Roxanne—they reduce that day into something so digestible, so mundane, it's as though it never happened.)
This doesn't mean that all good art is shock art, or that all shock art is good. As Curtis White likes to put it: in June 1967 he walked into a record shop expecting to see all the records he'd grown accustomed to seeing, but saw instead the cover of Sgt. Pepper's Lonely Hearts Club Band—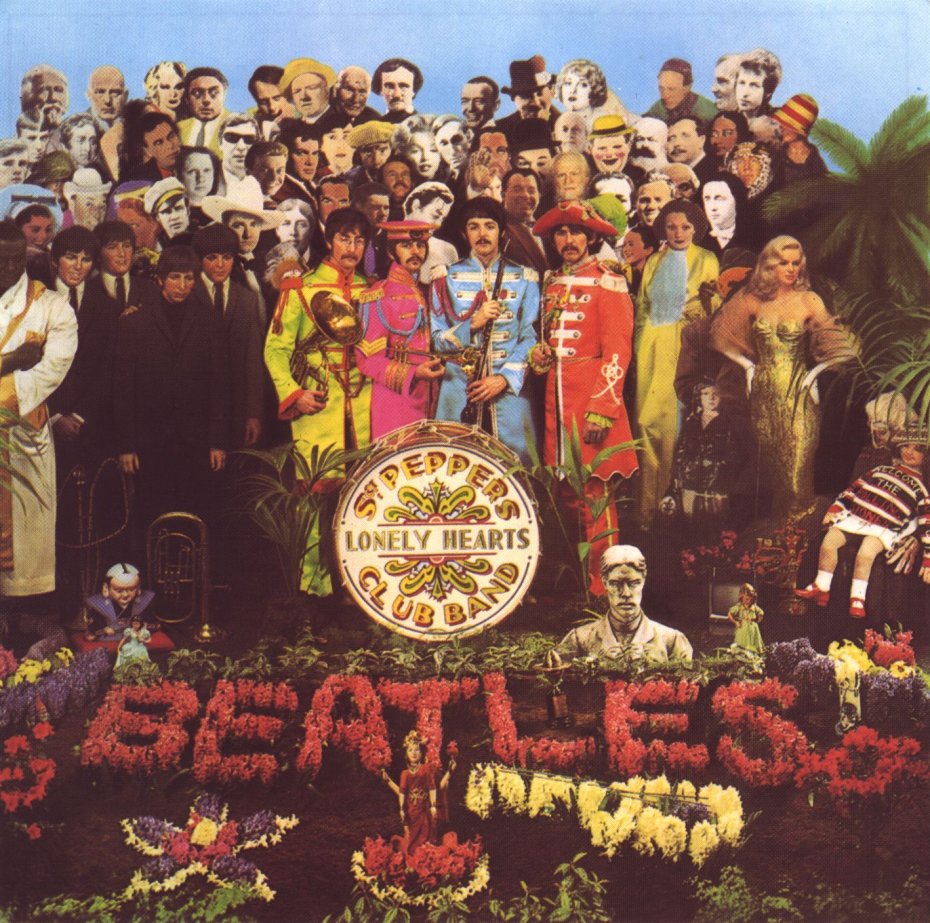 —which blew his mind. So he bought and listened to that record, which made him realize that music didn't have to be the way he thought it was—and what's more, that life didn't have to be the way it was.
We all have art experiences like this. I remember seeing Federico Fellini's 8½ for the first time, in 1996 in a film class. It was like no other movie I'd ever seen. Before that class, I had no idea that anyone would even think of making a movie like 8½. And as I watched it, I could make very little sense of it; the thing just seemed totally alien to my life up till that point.
And yet I liked it. Indeed, I loved it, and knew immediately that I would have to keep watching it over and over again—which I did—until, if it didn't make sense to me, I made sense to it, and 8½ had become my new understanding of what a great film could be. Which is to say, of course, that Fellini totally changed me.
Which is why poets have to go, if you're trying to organize an ideal republic—because the very nature of their work (if it's any good) will pervert, subvert, challenge, and reimagine the social order. And what's worse, they may not know or understand a single thing about what it is that they are doing! Did the Beatles know anything about politics, or how an economy should be organized? Probably not. Did they know that, for reasons they couldn't explain, they simply utterly had to make crazy, exciting music that didn't sound anything at all like the boring music they heard everyday all around them? We know that they did. Did their strange exciting new music convince millions of youngsters to stop listening to their parents and run around screaming and have sex and experiment with drugs and stop taking baths and grow their hair long?
They sure didn't discourage them!
Tags: 8½, 9/11, animated gifs, big other, Curtis White, federico fellini, James Tadd Adcox, Plato, poets, Roxanne Gay, Sgt Pepper's Lonely Hearts Club Band, The Republic
63 Comments