Reynard Seifert
English to English Translation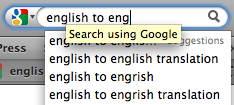 Slate has this sick new tool called Plain English which NPR used to translate the Fed's legalesed-up statement (re: their $600B inflation experiment) into something those of us without a law degree can wrap our heads around.
Are you the author? Julie asked.

Oh no, said Peter. I am the translator.

From what language was it translated?

It was translated from English, he said, into English.

You must have studied English.

Yes I did study English.

Is it long? Thomas asked, looking at the thin book.

It is not long, Peter said, and at the same time, too long.
— Donald Barthelme, The Dead Father
Writing is translation. Translation is mistranslation. Missed connections are writing is translation.
Tags: donald barthelme, mistranslation is translation, NPR, plain english, Slate, translation
8 Comments