Slate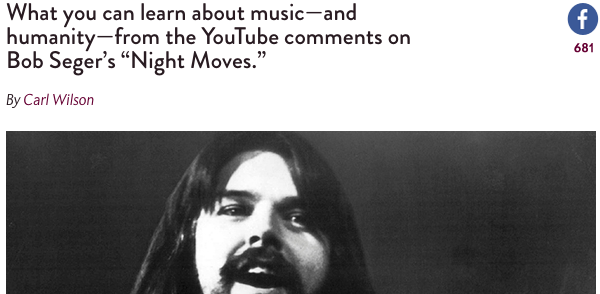 At Slate, Carl Wilson wrote brilliantly about Youtube comments and Stephanie Barber's book, Night Moves, a transcription of the Youtube comments to Bob Seger's song "Night Moves." Here are the comments from that article:
Youtube aside, Bob Segar is truly one of the greats. Soulful, rockin' and a great songwriter. One of the few who is equally believable as an all out rocker and as a tender, wistful balladeer. One of the greatest singers ever. He deserves to be mentioned in the same breath with Sam Cooke, Sinatra, Ella, Elvis and Aretha.
Coincidentally, Bob Segar was my very first real rock concert. I was 15 and I was blown away.
Side point to address the old vs new music conversation downthread: It is true that I will never experience music like I did with my 15 year old heart and all my musical memories are filtered through that 15 year old head that I lived in.
But now, I can listen to music with a knowledge and an understanding that I didn't have then.
And I love that old stuff, but there is great new stuff too!
The Shins, Blind Pilot, Death Cab, Bob Schneider, Uncle Lucius, Black Keys, fun. and lots of others. Some will say that some of these are too derivative, but all music is derivative.
Sinatra, Thelonius Monk, Abba, Segar there are many, many more great musicians, singers, producers and songwriters in every generation.
To dismiss the current or the old as crap is the mark of a philistine who doesn't really love music. They only love what music represents to them. Their youth,
And that applies equally to the fogies and the kids.
***

See, I always heard this on the radio as night NEWS.  I knew what the song was about. I just figured he was banging the girl working on the school newspaper with him.
***
Blake Butler
—
Q: How much distance is there between David Foster Wallace–the narrator–and yourself?
DFW: I don't understand the question?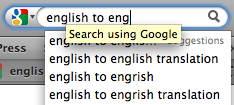 Slate has this sick new tool called Plain English which NPR used to translate the Fed's legalesed-up statement (re: their $600B inflation experiment) into something those of us without a law degree can wrap our heads around.

As I'm occasionally forced to point out to the otherwise-savvy HTMLGiant readership, the Grateful Dead are awesome, and anyone who doesn't understand that should be put to shame. (Some people don't understand why they're awesome, which is a different story; you should ask me to explain it to you some time.) Today, Slate helps us celebrate the band's much-belated laureling by having John Swansburg offer a run-down of what your favorite GD tune says about who you are, and what your corresponding yearbook quote is/was/will be. Here are a few of my favorites. Click through anywhere for the full article.
It should go without saying, but you are all heartily encouraged to name your own favorite Grateful Dead songs, and corresponding descriptions and quotes, in the comments thread. Mine is probably their cover of Buddy Holly's "Not Fade Away."