February 24th, 2011 / 1:01 pm
Events
Impossible Mike
An Interview with Cassandra Troyan about the EAR EATER Reading Series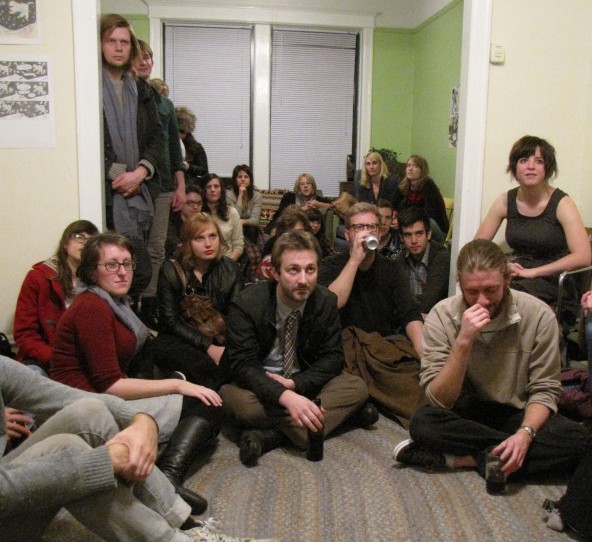 Cassandra Troyan & Sara Drake run a (somewhat) monthly reading series out of their apartment in Chicago. Having attended a few of the readings myself, I found myself particularly interested in what Troyan & Drake have accomplished: each reading series brings together (mostly young) people from various backgrounds (though mostly related to the arts/humanities) into an enclosed space to hear 4 or 5 readers. The events straddle the line between house party & art opening (and indeed, at one event there was art displayed on the walls), but it's the words that get center stage here. I sent Cassandra a few questions through Facebook about the reading series, and hey here they are:
M: I am always interested in the way that people who take a D-I-Y approach to life manage to turn private spaces (the home, for instance) into public, communal spaces. Living in a "college town," as I've spent my entire life doing, it seems more likely to find people at a huge house party than a bar or "club." When it comes to event spaces, I also often find the non-affiliated to be more comfortable, even more rewarding. People have art shows in their apartment to escape the realm of an institutionalized sense of curation, people have bands play in basements to crowds of many to avoid booking agents and dealing with venue crap, and now you & Sara Drake have opened up your apartment as an area for readings, something that seems to happen most often at bars or academic spaces. What circumstances found you guys deciding to start the Ear Eater reading series?
Cassandra: Much of the circumstances you mention are similar to the experiences and situations shared by Sara and I, which all influenced the desire to create EAR EATER. I went to undergrad at the behemoth institution, Ohio State University, in the notoriously college-run town of Columbus, Ohio. I think precisely because of this, most of my social interactions turned more traditionally private spaces into sites of collectivity.
Sara and I both came from a specific mid-west DIY/punk mentality, based in communal living or punk houses. We often say we don't trust anyone who didn't go through a "punk stage." I've spent a lot of time in basements.
I think much of our desire was precisely to find a way to bridge across the realms of stilted boredom in more traditional academic settings, or the kind of distracted drunkenness of readings in bars. People are often more interested in getting their next drink rather than the reading itself. And yet, I don't think trying to ignore the social register by inserting the situation into a lecture hall with a podium helps either. Having it in our apartment allows us freedom in creating an appropriate structure and atmosphere. There is still drinking, where one particularly infamous EAR EATER was kind of curated around this drink that Megan Boyle invented called "the Tully Bomb," a shot of tequila dropped into a glass of Four Loko named after Stephen Tully Dierks, dear friend of mine and editor of Pop Serial. What happened after that is a bit hazy besides eating numerous bananas with Sam Pink and talking about Lacan and waking up in a pile of Dada books, but basically what I'm saying is that the home provides a space for experiencing the lived-in chaos of the everyday. It becomes a space that is auto-poetic, in that through its' organizing it also continually produces and reproduces itself.
M: In a sense, you (& Sara) are "curating" the authors that you have read during the Ear Eater events. In my experience, a majority of readings that are held tend to be tied to either presses or magazines, and, in a sense, they serve (whether indirectly or directly) as promotional events. Do you feel like having carte blanche to try to get whoever you want to read allows more of a focus on the communal aspects of literature? Do you think it helps to highlight the individual authors themselves as opposed to presses or magazines (not that drawing attention to presses or magazines is an inherently bad thing)?
Cassandra: Yes, I do believe the carte blanche aspect is simultaneously freeing and challenging, yet that is the fun of it. The particular curating guidelines I see as getting increasingly specified, or allowing them to provide an alternative perspective to the work itself. Such as for the last EAR EATER, which existed within the concept of "performance," I was intrigued by readers applying their own definition of the term, and possibly even taking it upon themselves to do something truly performative in the truest sense of the word. Yet, for someone like Jac Jemc, I wanted her to read for the sheer performativity of the language in her poetry. I think investing in intensities provides a much more exciting dynamic for viewers, myself, and even the reader. I think seeing one's work in a new context is beneficial in a communal sense, in terms of connectivity, and bridging something basic, like the overly specific terms of even allowing poetry and fiction within the same reading event. I am a fan of the anything goes model, yet within a certain frequency, if that makes sense.
For example, I read at the first EAR EATER, and during the event, it was also Mexican Independence Day, and as we live in Pilsen, there was a festival that basically went non-stop on the street right in front of our apartment for three days. I felt I didn't want to fight against the Mariachi music, so when I performed/read I used a megaphone and went outside and had children read the poetry through the bullhorn to the audience inside. I also played a T.I. song and carried in a light-up Virgin Mary statue with a broken head that Tao Lin put his hand inside. Opening up the aperture for absurdity lets authors explore outside their comfort zone by changing the framework of what is expected of them, and expanding beyond the specific aesthetics of a journal, or the type of work they normally produce. For future EAR EATERs, I am thinking of guiding the curatorial choice with more abstract decisions. Such as, an evening based on the idea of stuttering or stammering without just mimicking the tropes, but rather thinking of what language could sound like that, potentially anything resonating in the historical mode from Thomas Bernhard to Gertrude Stein.
M: And to continue with the idea of a "total freedom" in terms of inviting authors, you guys also regularly have readers attend the events via Skype. This allows a sense of exposure across the country (hell, even the world is possible), and in a way, mediating via digital technology, we can "hang out with" and "interact" with someone who could not physically attend. I feel like this is something that an event organizer who felt like she had to take herself "more seriously" or "professionally" would never do. What made you decide to incorporate readers via Skype?
Cassandra: Well, you have nothing to lose when you have no one to impress. I feel there is no investment of potential failure for myself in my endeavors in this community. I am currently in graduate school at the University of Chicago studying Visual Art, so even though I have been writing for years, my practice has always been a multidisciplinary jumble of video, performance, poetry, curation, music, sound, etc. I am always drawn to the wrong thing to do. It feels strangely more comfortable. Or at least I feel that the art world proper where I am expected to reside feels so stilted, and limited sometimes, that to make EAR EATER happen is the release. I just want to share the work of all these brilliant people through the U.S. and potentially beyond, and this is the most financially feasible way to do so. Plus, it is also engaging in a kind of fantasy hour, or indulgence. Some of the people I have asked to read via Skype I might have had slight internet interactions with, but had never really talked to, or let alone met in real life. It brings admiration into a new space, as the assemblage of the indie lit community is not spatial localized, so why should the presentation or readings be either? And for the Skype readers, if possible we let them hang out for the entirety of the evening as well. At EAR EATER #3 Christopher Higgs stayed for the entire evening, and many people commented on how they loved going over to the laptop and talking to Chris if he looked bored on his couch, and they were able to talk to him as if he were there.
M: The Ear Eater events have traditionally maintained the comfortable feel of a small house party, yet when people are reading the crowd is very attentive & quiet. This is something rare, as even in bars there is often a surplus of white noise brought to the room via customers who are present just to drink, or even from the staff of the bar itself. Similarly, six years ago or so, when I lived in a party house, we actually invited a puppeteer to perform at one of our house parties, and much to our surprise, a group of 50-60 drunk college kids sat down and stayed quiet throughout his entire performance. Do you think the casual environment that a cozy apartment offers helps people to focus?
Cassandra: Absolutely! I think it helps that since I usually serve as MC, I am not shy in telling people to shut the hell up, or sit down, or put out their half smoked cigarette on the back porch and come inside when someone is about to read. If people are on good behavior they do get breaks in between for drinks or snacks. The intimacy makes you responsible in a different way too. Even if you just come to listen it is never passively. Everyone is an active participant just by the fact of their being there. Plus, what is better than live, personal entertainment? Hearing poetry in someone's living room, you can't help but feel that it's actually for you. Or that the pleasure of reading or being read to is so much a part of that.
---
If you're in the vicinity of Northern Illinois this Saturday, check out Ear Eater #4: The Apocalyptic Absurd, featuring Lindsay Hunter, Blake Butler, Richard Chiem, Emily Jones & Me. Cassandra & Sara's apartment is located in Pilsen in Chicago, click the link to the Facebook event for more details!
Tags: Cassandra Troyan, ear eater, Sara Drake
58 Comments