Jimmy Chen
Haut or Not: An Assortment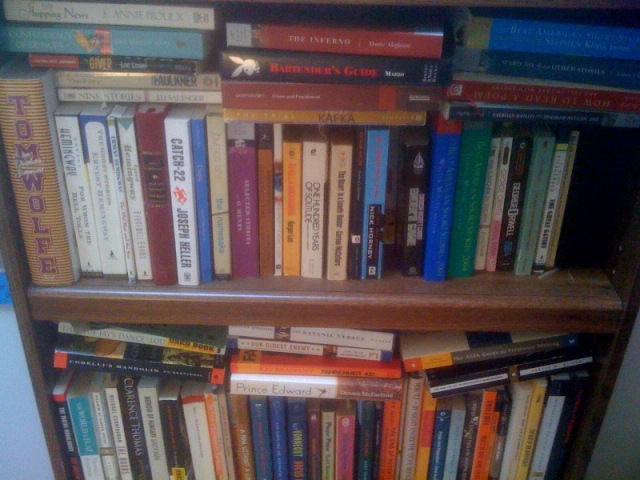 David Hodges
Heller, Kafka, Orwell, Vonnegut — welcome to class kids. This semester Mr. Hodges will be teaching us how horrible society is and how to maintain a negative attitude. Then we're gonna read A Confederacy of Dunces and all kill ourselves in hopes of also being posthumously published. And don't forget, you can use Tom Wolfe's book as an ottoman. Lastly, we'll finish off with a biography of Clarence Thomas, cuz there's nothing that says justice more than a pube on a can of Pepsi.
Rating: not.
—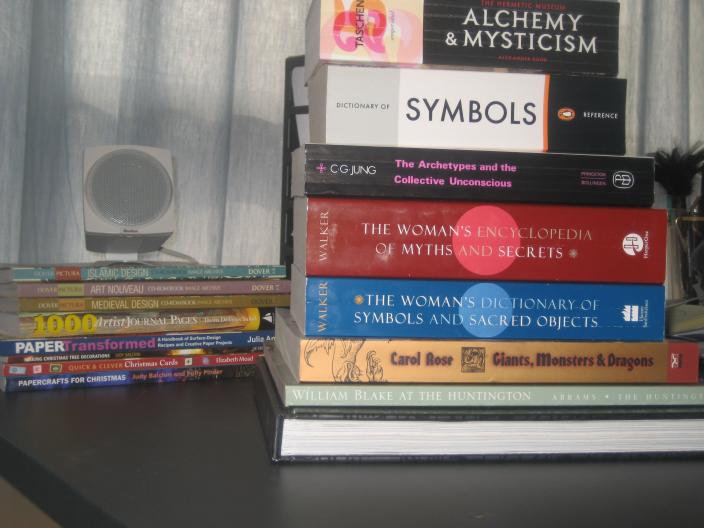 Reb Livingston
Despite the gayish start of all that art nouveau and origami shit, I must say the stack of books on symbols is intriguing. (Here's my entree for The Woman's Dictionary of Symbols and Sacred Objects: UU===D ~  ~   )  The collection is borderline goth chick, but there's something austere about it all. Now stay forever Jung and use that feather duster on yourself.
Rating: Haut
—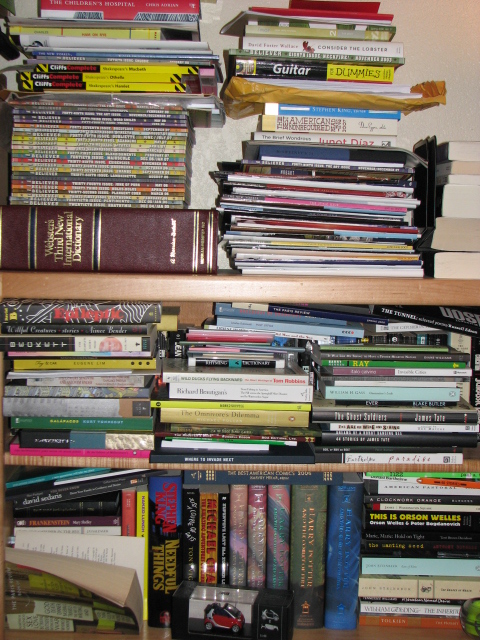 Darby Larson
I wanna say 'not' just to piss off Darby, but this shelf screams haut. Gosh: Paris review, McSweeney's, The Believer, William Gass, Beckett, Barthelme, Brautigan, Sedaris. I even see Butler's 'Ever.' Darby obviously has good taste, sans goatee. (Let's let the Harry Potter and Cliffsnotes slide.) It's endearing to see his Guitar for Dummies. I imagine him in his boxers on his bed, struggling over 'Bombtrack' by Rage Against the Machine, wondering if the revolution already happened. Darby, the only revolution you've experienced is the earth around the sun on your belated birthday. Suck it.
Rating: (reluctant) Haut.
Tags: Darby Larson, David Hodges, Haut or not, Reb Livingston
44 Comments