Reb Livingston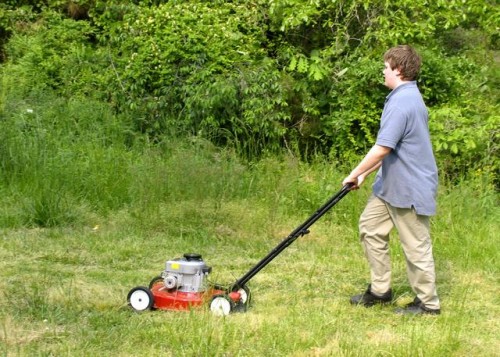 No Tell Books is offering a psychic special this weekend. Buy a title from No Tell Books and with proof of purchase, receive a Tarot reading or interpretation of your dream from editor/publisher Reb Livingston.
Buy one No Tell Books title between now and Sunday, August 9, 2009 and receive a FREE tarot reading or dream interpretation! (One free reading or interpretation per customer)

If you buy a No Tell title this weekend, not only do you receive a stellar collection of poetry, you also receive FREE PSYCHIC ADVICE from me, poet and editor, Reb Livingston. This psychic advice will be dispensed via either a tarot reading or dream interpretation. BUT WAIT, THAT'S NOT ALL, if I receive any clairvoyant nuggets while I'm doing your reading or interpretation, I will share them with you AT NO EXTRA COST.
Been having a recurring dream that's been worrying you? Then you might want to take advantage of this offer. Oh, and books and stuff.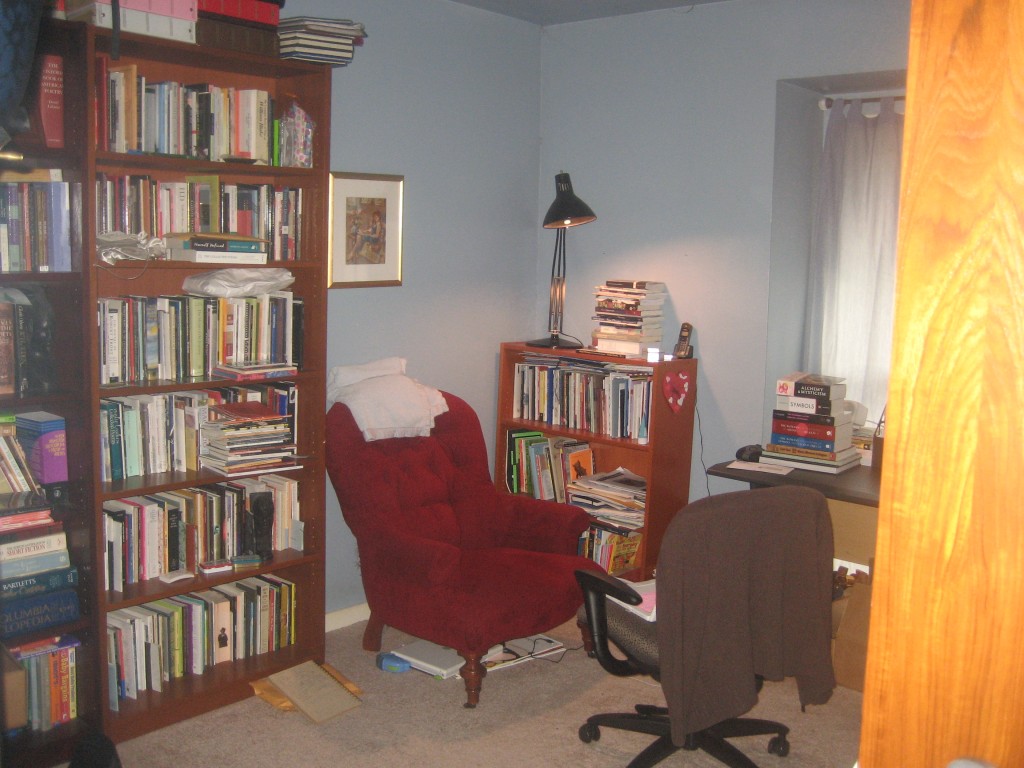 Reb Livingston recently posted over at her blog a tour of her office where she does a lot of her work on No Tell and other things. I asked her if I could link to that post here, and she said yes.
Anyhow, above is one of the pictures she posted. If you'd like to take the tour and see more, click on over to her blog.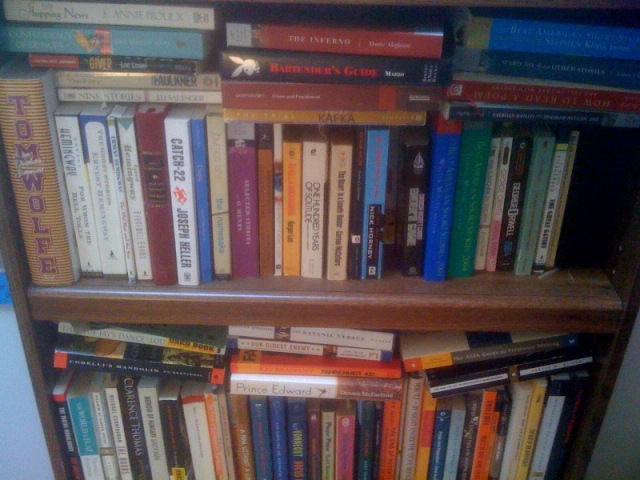 David Hodges
Heller, Kafka, Orwell, Vonnegut — welcome to class kids. This semester Mr. Hodges will be teaching us how horrible society is and how to maintain a negative attitude. Then we're gonna read A Confederacy of Dunces and all kill ourselves in hopes of also being posthumously published. And don't forget, you can use Tom Wolfe's book as an ottoman. Lastly, we'll finish off with a biography of Clarence Thomas, cuz there's nothing that says justice more than a pube on a can of Pepsi.
Rating: not.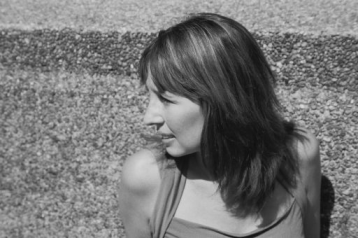 Reb Livingston is a MASSIVE person for two reasons: 1) I have a crush on her and 2) in an interview with Orange Alert in February of 08, she said, "I believe every 'serious' poet should, in some way, assist and cultivate other poets." Reb lives by that belief. She co-edits No Tell Motel, in which appear a great variety of poets; she runs No Tell Books, a micro press that follows the print on demand model; she is very active online and off when it comes to supporting the community; and she is the author of Pterodactyls Soar Again (Coconut 2006), Wanton Textiles (w/ Ravi Shankar, No Tell Books 2006), Your Ten Favorite Words (Coconut 2007), and God Damsel (forthcoming No Tell Books 2009).
A personal bit from her website:
Born and raised in Pittsburgh, Pennsylvania, she now resides in the greater Washington, D.C. area with her husband and son.  Once she worked for America Online. Although that was a long time ago.
After the break begins the email interview. All pictures are taken from her own site or from her blog. I encourage everyone to check out her blog, as there are some great posts in the archives about the starting a journal, starting a press, publishing that first book, etc (look for the 'publishing' label). Also, don't go away: there's something special at the end of this post. The something special is FREE BOOKS.