December 15th, 2010 / 12:54 pm
Presses
Blake Butler
Poor Claudia 4 ++
The fourth issue of Portlandian magazine and press Poor Claudia is alive: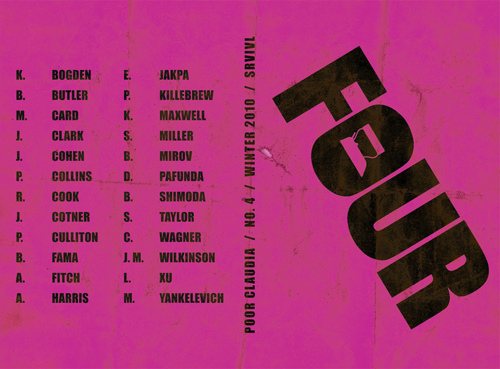 More specs and info and purchase points are available here.
Or, if you are smart and thrifty, you can involve yourself in the PC Subscription Package, which includes for $30 everything PC will release in 2011, including two issues of the journal, chapbooks, nonbooks, broadsides, and more.
While you're at it, the back catalog is teeming, and all beautiful crafted objects: James Gendron's Money Poems and Emily Kendal Frey's Frances are both in particular fantastic.
Tags: emily kendal frey, James Gendron, Poor Claudia
3 Comments
December 15th, 2010 / 5:05 pm Scs—

Off topic: why did I get an advertisement through the elfster gift exchange? I understand hustle and flow, but please no more advertisement emails.

December 15th, 2010 / 11:56 pm Brianfoley—
August 15th, 2011 / 2:57 pm POOR CLAUDIA 5 | HTMLGIANT—

[…] chapbook by Justin Marks & Paige Taggert), HEROISMS by Dan Beachy-Quick & the incredible POOR CLAUDIA 4, which rents out my favorite poem of 2011 – "Spasmodic Tragedy" by Macgregor Card […]