January 19th, 2012 / 1:28 pm
Random
Adam Robinson
Blog Post 2012
I saw Contraband last night and thought it was okay. See what happens is Mark Wahlberg's brother-in-law effs up with smuggling so even though Mark gave up the life he has to do one more run to save his family. And he does, and it's some tricky stuff, and I liked the movie.
But I missed the beginning because I was talking to Zach and Gene about Literature Party 2012, which will be at AWP and will include not just a killer dance party but some amazing performances including puppets and cameras.
Early yesterday I was playing disc golf, which Sean Lovelace got me started on, and Michael Kimball keeps me going at. I am not so good at it, but whatever, it's fun. Kimball is great at it. He can really fling those things. He's usually somewhat below par. Here's a photo of me pointing to how bad I am.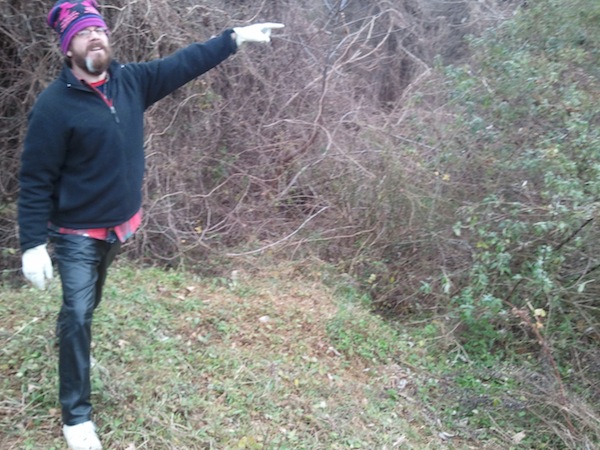 I started a book club, thinking book clubs are the new readings. It was great. There were ten of us in my living room and we discussed Emily Pettit's A Goat in the Snow. I wondered how people felt about the relationship between the titles and the poems. Of course we wondered about the line breaks. Before long we wondered what the poems were but one said thing was the poems "are machines to do things, not objects to be things." Something like that. Many interesting points were made. We discussed several ways into the book, like the poem "How to Find Lost Objects," which says "chalk is chalk" and "Don't have an epiphany" and "chalk is a moose." Some people read the book straight through and some people read it in several sittings. Some people's copies hadn't arrived yet. Some people wanted more stanzas and some people thought the single-stanza form was an event and had urgency. We wondered what do the poems know, so we read "Go Airplane, Sway Tree" which talks about what's to know anyway, not why airplanes go but "why the weather changed when the door killed the cricket." The book preserves the mystery. My friend the Ghost thought he recognized some Dylan references. When we closed up the discussion with a reading of the title poem, I felt like I had a new appreciation for the what the poems did, and "A Goat in the Snow" really has a sublime effect which if I just heard it at a reading I might not have noticed, so I think book clubs are the new readings.
I've also been reading IQ84, just so I can read this review of it. If I don't read that review it will be probably the only post I haven't read at htmlgiant. Or one of very few; I'm not systematic. I read some of Murakami's stories. Talk about flat! But one thing that's interesting about 1Q84 as a big book is that there aren't very many characters. I always think big books will have 200 characters, from the Oblonskys to the Karenins, but this one has just a handful.
I've been wearing those leather pants (pictured) all winter. I'm starting to think they are real leather. I'm starting to get a little tired of them but they are warm and it's cold in my house in the morning. For the last couple weeks I keep sleeping till 10am. Funny, I don't feel depressed. In college I wore the same pair of pants, beige corduroys, for a month and it freed up a lot of mind space to read Heidegger. Heidegger said "A thing is a thing insofar as it things," which I wrote down somewhere and haven't looked back. My mom asked me how I wash my pants and I didn't know because I don't and she said "with a damp cloth?" and I said, "yeah, yeah, that's right."
Are you getting pumped about the new issue of Hobart? From what I have seen, it's going to be amazing. In it is one of my own favorite stories but made ridiculous cool by an illustration by Tom Giesler. But wait, there's more. If you subscribe or re-subscribe you will receive Elizabeth Ellen's book for free. WHAT? Sum fave wow.
The fourth printing of Joseph Young's Easter Rabbit will be delivered today.
Is The Tiger's Wife any good? Why did they put the power button on the Kindle Fire on the bottom edge, where it is too easy to accidentally turn it off? Buck Downs wrote a poem in Marijuana Soft Drink called "Turn Off the Pickle" that ends:
I found a magic
vessel on the stone
beach and the liquor
there inside it I knew
could restore me
to what I had once
been and so I took
off the plastic lid
and poured it in
the water
But I'm not changing my pants.
Tags: buck downs, emily pettit
One Comment
January 19th, 2012 / 3:27 pm Blog Post 2012 | Publishing Genius Press—

[…] at HTMLGIANT] I saw Contraband last night and thought it was okay. See what happens is Mark Wahlberg's […]