July 2nd, 2012 / 1:10 pm
Random
Melissa Broder and Ryan Call
DeAtHbOoK rEvIeWs: Reviews of Books with Death in the Title that We've Never Read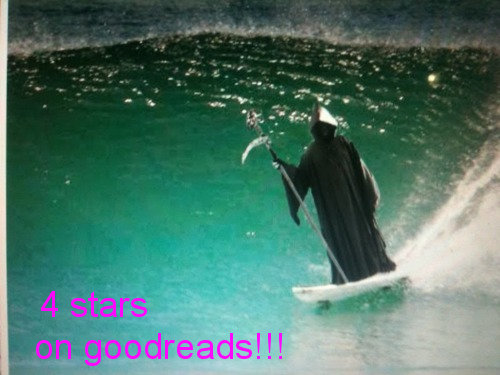 The following are REVIEWS OF BOOKS WITH DEATH IN THE TITLE THAT WE'VE NEVER READ. We've done our best to highlight some of the best classic and contemporary books with death in the title that we've never read for your very own reading pleasure. Please enjoy (while you still can)!
THE DEATH OF PRINGLE by Justin Katko
The Death of Pringle is a journey through the infinitely depressing matrix of trying to eat less than 10 grams of carbs a day for the rest of your fucking life.
DEATH IN A BOX by Alta Ilfland
Who hasn't dreamt, on a mundane Monday or frowzy Friday, of starting a tumblr? Tumblrs entice, but is it really all a golden road to viral? Alta Ilfland answers that question with wit, warmth and wicked candor in the chronicle of her own foray into tumblr. Beginning, appropriately enough, on New Year's Day with a divine idea, Ilfland sets the scene and pits her poetic sensibilities against tumblr. "I had talked about it / during the long gray winters / and the damp green summers…" she writes, "looked / with an addict's longing / at film stills, dreamed / of waking up in the middle of the night / to reblog." Indeed, not 10 pages into the book, reality comes crashing into conflict when no one follows her. In verse that skips along lightly, Ilfland records the highlights of each month, from no followers in February to one follower in March to the loss of that follower at Christmas—all the while trading her irl existence for the glow of the screen.
DEATH ON THE INSTALLMENT PLAN by Louis-Ferdinand Céline
This is a book about monogamy.
STAR WARS: DEATH TROOPERS by Joe Schreiber
If Ernest Becker married Elisabeth Kübler-Ross and they had a child, and if that child went to a mid-level low-residency MFA program in the Midwestern United States, and if that MFA student interned at LucasArts one summer in order to gather 'life experience,' and if that internship gave way to a smug sense of entitlement, and if that—nevermind, I'm pretty sure Alien vs. Predator is on Instant Netflix.
THE DEATH SHIP by Bernard Traven
When they are stranded alone together on a desert island, two phallocentric HTMLGIANT commenters attempt to convert each other's viewpoints on contextual criticism. In this war of sexual desire versus intellectual certitude, one will have to give in, because the passion between them is impossible to withstand.
DEATH IN THE AFTERNOON by Ernest Hemingway
This is Papa's book about tweeting at 3 PM and not getting a retweet.
DEATH ON THE NILE by Agatha Christie
In slightly more time than it takes to write this review, the main character of Death on the Nile, Joan Wilder, who is so timid that she would find a Bloomingdale's white sale an adventure, is up to her neck in the book's potboiler of a plot. In an attempt to ransom her kidnapped sister, she lands in the middle of the jungles of South America in the company of a handsome American adventurer, Michael Douglas, searching for buried treasure and dealing with a murderous Colombian policeman and two doltish American con men. You might get some idea of what this book is like when I tell you that Agatha Christie's funny bone is exposed when someone hauls off and swats the bloody stump of the villain's just-amputated right arm. How sad, mademoiselle.
DEAD SOULS by Nikolai Gogol
In his latest collection of lyric essays, Brooklyn-based writer Nikolai Gogol answers once and for all the question that has ripped through the 2012 literary landscape: what exactly is alt lit?
ON DEATH AND DYING by Elisabeth Kübler-Ross
The 7 stages of grief are:
1. Handcuffing yourself to yourself with a child safety leash.
2. Eating a can of turkey noodle soup and falling through a sofa.
3. Therapist begins to resemble a cheap hairbrush.
4. #yolo
5. #yolo
6. #yolo
7. #yolo
THE TIBETAN BOOK OF THE DEAD
A lot of Tibetans die in this book. You're not a Buddhist. Next.
THE DEATH OF ARTEMIO CRUZ by Carlos Fuentes
In this short novel Carlos Fuentes chronicles the murder of one Artemio Cruz in a small unnamed South American village—a murder everyone in town knew was coming, yet no one wanted to occur. "Never," says the novel's narrator, "was a death more foretold." This narrator, a friend of Cruz's, is recounting the events of that fateful day, years after the fact. This spare book is thus an examination of the nature of complicity and fate, and of how a searing event can alter many lives over time. It is not nearly as wild and mysterious as "One Hundred Years of Solitude," or as experimental as Cruz's other novel, "The Autumn of the Patriarch." It is probably not a major work at all. Yet it is an exquisite performance, for its evocation of a frontier village ethos if nothing else. It makes novels about midlife crisis and divorce in Manhattan seem like whining, not writing.
DEATH BE NOT PROUD by John Gunther
Predicted that in 2011 a 19 yr old from Ohio would attempt to pull his dick off online…and succeed.
DEATH IN THE ANDES: A NOVEL by Mario Vargas Llosa and Edith Grossman
In 2017, a young soldier returns to the mountains of Afghanistan to rejoin the family he first met there during his first tour of duty. In 1917, a young Frenchman travels to Chile to escape the calamities of war that had begun to ravage his homeland. Garcia Marquez does not at all connect these two storylines in Death in the Andes: A Novel. :(
A DEATH IN THE FAMILY by James Agee
Aging parents from Ohio go visit their son, who is white and wears a dashiki, in Brooklyn. They go to brunch. This novel arcs the trajectory of that brunch.
DEATH WITH INTERRUPTIONS by Jose Saramago
The Nobel Prize in Literature is a confusing gift. The glamor, the affirmation, the open invitation to publish—these are not always healthy for a writer. One hoped José Saramago, the Portuguese author who became a laureate in 1998 at the age of 75, would emerge unaffected. He is a writer of great discipline who became well known only in his 50s. But the skinny novel "Death With Interruptions," following on the heels of the equally uncertain "Seeing," suggests he is not immune. In fact, like many of us, it appears that Saramago, too, has suffered the indignities of having his mother walk in on him masturbating.
DEATH COMES FOR THE ARCHBISHOP (NSFW) by Willa Cather
The bestgore.com of its time, Death Comes for the Archbishop is required reading for anyone alive, especially Catholics.
THE MELANCHOLY DEATH OF OYSTER BOY AND OTHER STORIES by Lemony Snickett
Girl named Rebecca takes a Gender Identities class and becomes a boy named "Tucker" for a year. Eventually she changes her name back to Rebecca, adopts a high femme persona and abandons fried foods–including Oyster Po'Boys. A comedic romp through life that takes its reader from the highest highs of the ivory tower to the lowest lows of the mysterious Bourbon Street sex dens, The Melancholy Death of Oyster Boy and Other Stories will certainly upend our stodgy notions of sexuality in the 21st century.
THE DEAD ALIVE by Wilkie Collins
One of the most revered novelists in the art of seduction, Collins teaches poet bros how to attract the ladies. Chapters include:
— Your Beard: Care and Maintenance
— Is Wiccan Jewelry for Me?
— Play Guitar Instead
— At Least It's Not Spoken Word
And more…
EXPERIMENTS I SHOULD LIKE TRIED AT MY OWN DEATH by Caryl Pagel
Controversial meta-text, which posits that experimental literature (whatever that is) (what is it?) is best understood* in a corpse state.
* 'understood' meaning 'embalmed with' rather than 'comprehended'
Tags: Death
9 Comments