Sean Lovelace
Pull Up!
I was watching a small child play indoor soccer and honestly it had its moments but I was feeling that inevitable weight, boredom. I mean the kid was falling down, sort of tumbling, and I just wasn't feeling that, so I walked about a block in a type of cold, hard rain (like smoke on the sidewalks) and across two streets and into the library. I selected a novel by James Salter. It was one of those old yellowing hardbacks that smell like my grandmother's hallway where she used to keep a bottom drawer of 'toys' for when the kids dropped by. (The toys were a wooden block, a rock, an ancient, battered lunchbox, and one leather shoe.) I love those types of books. And it was about rock climbing and lyrical and plot-driven, as is often the way with Salter and, you know, reading is odd, some odd, inevitable chain—this book leads to this book leads to—and I started thinking about fighter pilots (Salter was one) and way leads to way and I finished Salter's wonderful little novel and got online and bought Once a Fighter Pilot…by Jerry W. Cook. This was a mistake.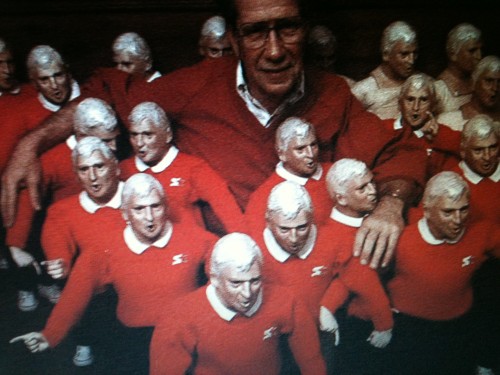 You ever been in a conversation where the person finds out you write (Oh Jesus, here we go…) and they cough up some variation of, "Yeh I'm going to write a book when I get the time." Hmmm…that sort of gives me mixed feelings. I first think, Fuck off. But that's just a harsh thing that kicks in. I relax and think, "Go right ahead" in this sort of drawl-type thinking, still a tinge of acid. One time over beers my recently retired dad, a dedicated and experienced organic gardener, said "I should write a book about my life as an organic gardener." I answered, "Good idea. Bring me the first three pages tomorrow." He did not. Another response I feel is, "Just because you have material doesn't mean you have a book." Or I might think, "When you get the time, why not try brain surgery, too?" I have other responses but I'm rambling and I wanted to get to my point: not everyone should write a book.
I should have known. There were warning signs:
1. Way glossy cover. Once a Fighter Pilot… had that sickly sheen you see in the type of nacho cheese served at ballparks and circuses. You know that cheese, Ricos? It glistens. I've read an occasional glossy covered book that worked out, but there's just something about these covers. To squint into the glare, and then the stomach is stirring. You know something awful waits. A lot of times you see those covers and pick up the book and then the book feels like it is going to break apart in your hand, something about the glue or binding or whatnot, you just get this stomach thing, alongside the spleen, I don't know. Life is weird.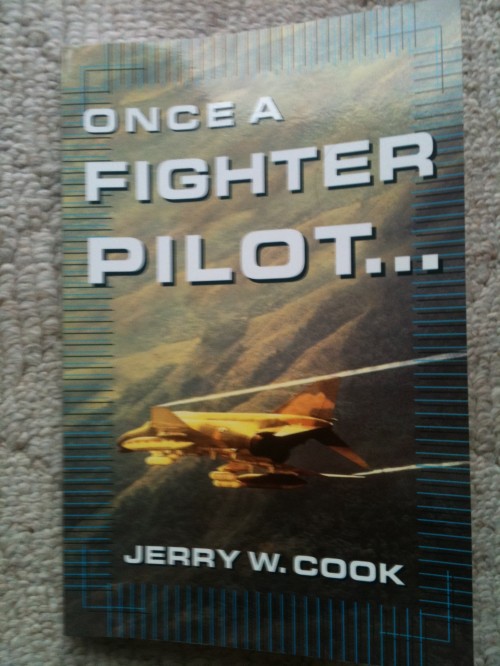 2. Three dimensional shadow lettering. Unless you're in high school and just sort of playing around with basic art software (playing around with these programs can lead to real knowledge; I encourage fiddling with all software), you shouldn't be using 3D "shadow" fonts and other silliness. I mean it looks like you asked your kid to design the cover, and while that's sweet and thoughtful of you, the kid is going to want to go BIG and SHADOW and, you know, just sort of Power Ranger meets the time mom drove the van into the side of the garage, etc.
3. Font craziness. Bold headers. Bold sub-headers. God, the table of contents reminded me of years ago when I was Nurse Coordinator for this psychiatric hospital in Tennessee. I was in charge of hiring registered nurses, and occasionally I'd receive some  résumés that screamed, "Hello, I am an RN and I am CRAZY." One  résumé a young lady sent me was purple (yes, it was on purple paper) and included a paper-clipped photograph of the job candidate. She had a winning smile. Her cover letter mentioned something about her two cats. I did not hire this young lady.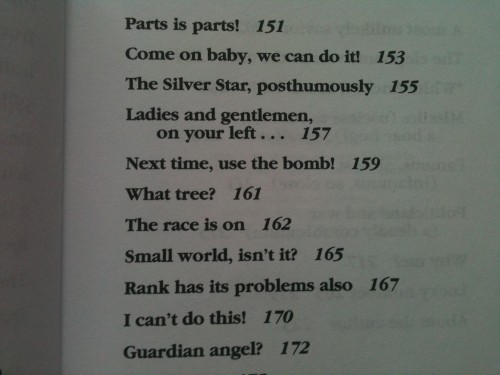 4. The Introduction is sort of apologetic. "This book began as a project suggested by my wife, Linda. She thinks that there is a time…" Cook writes. I respect the tone of this introduction as it continues, a variety of "I didn't really want to write this thing, but Linda kept going on about…." At least Cook is smart enough to think, "I might have been one hell of a fighter pilot, but should I be writing a book?" It's a valid question. Sir.
5. Exclamation marks. You know, there's a saying in writing: Use three exclamation marks your entire life. This isn't to be taken at face value, of course. It's a saying about writing that is to be pondered—it wants you to think about an aspect of the craft. Cook is an excitable writer. He fires off exclamation marks; he bombs us with them; it's a nose-mounted Gatling gun of…oh never mind.
Opening sentence:
The Lockheed P-38 was absolutely beautiful!
In zoology class, dissecting frogs or slicing open a sheep's eyeball, I especially wanted to be a pilot!
(We're on page one)
That must have been a burden for them!
(We're still on page one.)
Was I in for a rude awakening!
(We're still on…oh, never mind.)
So, anyway, I stopped reading the book at page two. Maybe it improves later? (It might; a lot of Amazon reviewers love this book. Why do I know that? Because I read several reviews before deciding to spend $14.95. I am an idiot.) I don't know. While I am confident Mr. Cook was one hell of a pilot, you're talking to the wrong guy. Eject! And so on.
Sorry, Linda.
Tags: Dogs will walk, Salter that, Salter this, Thank you for your service
5 Comments