May 5th, 2011 / 10:04 pm
Random
Ryan Call
"The Balloon" by Donald Barthelme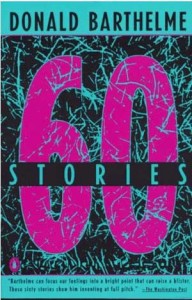 In college I went through a stage of searching for and printing off as many David Foster Wallace interviews as I could find. I remember printing of the interview he gave to Larry McCaffery and reading it and stumbling into the passage wherein he speaks of 'the click.'
At some point in my reading and writing that fall I discovered the click in literature, too. It was real lucky that just when I stopped being able to get the click from math logic I started to be able to get it from fiction. The first fictional clicks I encountered were in Donald Barthelme's "The Balloon" and in parts of the first story I ever wrote, which has been in my trunk since I finished it. I don't know whether I have that much natural talent going for me fiction wise, but I know I can hear the click, when there is a click.
Of course, I had to go find a copy of "The Balloon." I had never read and Barthelme, had only vaguely heard of him and for some reason thought he was an author writing in the 1800s.
So I found a copy of "The Balloon" and began reading quickly; I really wanted to find out what 'the click' was all about. In my haste, I committed what I've long thought of as one of my most egregious misreadings of a story.
Here's what my hurrying brain read the first time around:
The balloon, beginning at a point on Fourteenth Street, the exact location of which I cannot reveal, expanded northward all one night, while people were sleeping, until it reached the Park. There, it stopped;
Of course, the real version goes like this:
The balloon, beginning at a point on Fourteenth Street, the exact location of which I cannot reveal, expanded northward all one night, while people were sleeping, until it reached the Park. There, I stopped it;
As I read on, I was so excited by what I was reading–a story recommended by David Foster Wallace–that I missed several other subtle references to the narrator's control over the balloon. You can imagine my surprise at the final paragraph. I remember thinking to myself, "That's it?"
I am a reader who must constantly remind himself to slow down, or else I'll miss 'the click.'
Tags: david foster wallace, donald barthelme, the balloon
15 Comments