March 18th, 2011 / 11:47 am
Random
Lily Hoang
The Public Performance of Art
Yesterday, I went to this really amazing performance art thing.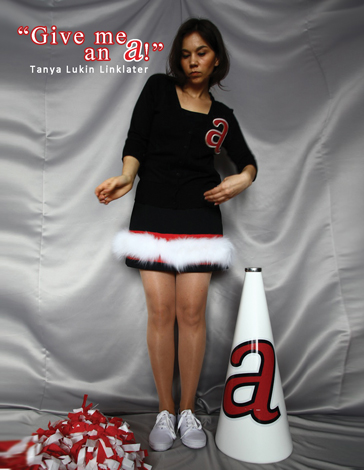 Yesterday was also St. Patrick's Day, an international day of drunken publicly-performed assholery.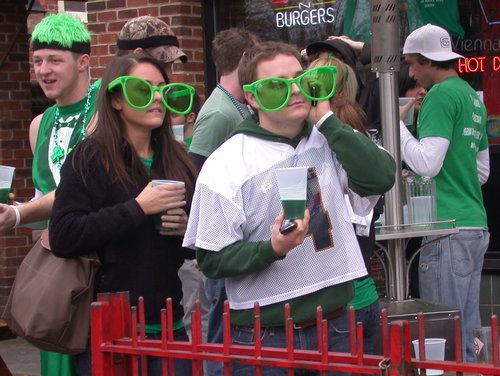 Both are public performances, but only one is considered art.
Is the art one considered art because it is intentionally performed? Isn't drunkenness also intentionally performed?
Let me "set the stage" for both performances, which happened simultaneously yesterday.
For Aboriginal Awareness Week, Tanya Lukin Linklater performed "Give me an A," which used the artifice of cheerleading as a way of speaking of/about/towards/around indigenous identity and its co-optation:
The cheerleader is an intermediary or conduit, rallying a crowd through chants, cheers, dance routines & jumps, directing the attention of the crowd to sports-related spectacle. Similarly, Alutiiq (Alaska Native) dancers are conduits who rally community members through song, dance, and Alutiiq language to engage with cosmology.
She wore a modified cheerleading uniform. She had a two megaphones, pom-poms, a loud speaker, and a snare drum. She began the performance by standing in silence. Then, she did something like an interpretative dance. Her movements were fluid, nothing like cheerleading, which is focused on the beat and the creation of lines and perpendiculars. Then, she breathed into a megaphone. When she spoke, she spoke in her native language, mostly through the loudspeaker. The only time she spoke English was at the very end, when she yelled through the loudspeaker, "Give me an A!" repeated several times. Then, she prodded us, "What does that spell?" The obvious answer was "A." She incorporated components of cheerleading in order to highlight her performance of indigeneity.
The performance took place at an intersection in the heart of campus. On any regular day, she would have attracted the usual Lefty crowd and any walker-by. The walkers-by would be interested for a few minutes. Then, they would've gone about their day. But yesterday was not any day: it was St. Patrick's Day.
Having come from South Bend, Indiana, I didn't think any performance of drunkenness would surprise me, much less on St. Patty's Day, but yesterday, the display of public drunkenness seemed more severe than the most rowdy Notre Dame football game (a space that requires constant and extreme intoxication). As Tanya performed, drunken undergrads heckled her. Several tried to "interpretative dance" with her. Her silences were interrupted with bellows and chides. (Before the performance began, one poor guy dropped a whole container of poutine. In front of maybe ten people and a few cameras, the guy started eating it off the sidewalk. Then, he scooped it back into the container and went on his way.) At the height of her performance, Tanya engaged a group of drunkards by yelling at them through the loudspeaker across the street. She was clearly chastising them. They yelled back something about how they didn't deserve her witchcraft voodoo. They yelled something back about how they never did nothing to their mamas. Although there was a firm "line" around Tanya during her performance, many people tried to run through to interrupt her. Or, maybe, just to get a little attention.
I don't think anyone was being racist. No one was trying to interrupt her performance because she's indigenous. The drunk students would have acted the same way to anyone doing any kind of performance.
Drinking and being drunk is a bonding experience. No one would dispute this.
What I'm curious about is the way these two forms of performance were documented and experienced. Is drunkenness is a public performance? Or, rather, is the extreme drunkenness displayed on St. Patty's Day a public performance? Is it art? The public performance of drunkenness pushes the boundaries of what is socially acceptable. By intentionally becoming drunk, there seems to be an active choice in losing control. Maybe "losing control" is too harsh, but you get what I mean.
Can public displays of insobriety be considered performance art?
I have to admit: Tanya's performance made me uncomfortable. I'm hyper-vigilant against anything I consider "New Age"ish, and the swaying of body is something I often equate with the New Age. At the beginning of the performance, especially as drunk people were walking by and interrupting her, I was super uncomfortable. But let me tell you, the moment she spoke, I was hooked. I don't want to sound cliché, but I actually got chills. At one point, she began singing. It was beautiful. Almost transcendental. (It was really cold yesterday, and for a few minutes, she had me so captivated that I forgot to be bitter about the wind and temperature.)
There were three video cameras there, professional-ish. It was a big deal. Tons of people were taking pictures. Here's one: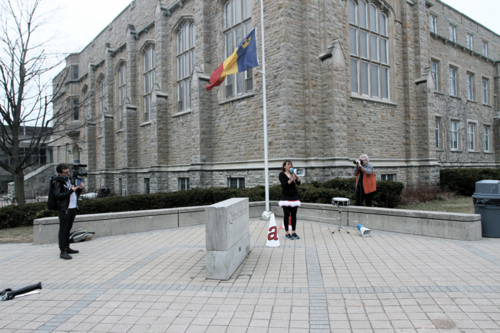 (photo credit: Jeff Barbeau)
So what Tanya was doing was legitimately called "art."
But is there a difference between her performance and the performance of a group of drunken students, who caught up in the herd mentality enact a version of drunkenness that is more extreme and more performative than what they actually feel?
Or, maybe I'm just jealous because I don't drink. (I can't drink. I'm allergic. But if I weren't, I imagine I'd make an excellent drunk.) I will never feel the camaraderie that the students felt yesterday. The most I can do is fake it, which is what I often do in party situations. Of course, isn't that as much an act of performance art as anything else? Who and what sanctions certain things as art and certain things as deviant or improper behavior? I don't know. Someone help me out here.
Tags: performance art
33 Comments