performance art
My wife is performing today as part of Low Lives 3, an online international performance festival. It's going on from 3-6 ET today on UStream, so if you've got some time and you're just like hanging-out and eating a sandwich or watching your cat sleep, you should tune in here.
Yesterday, I went to this really amazing performance art thing.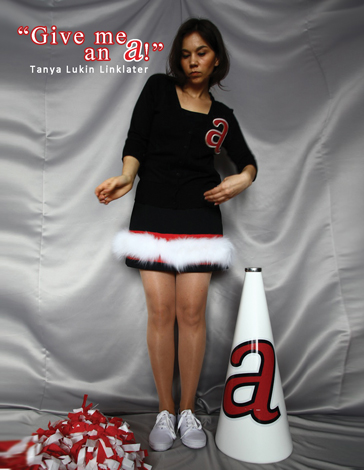 Yesterday was also St. Patrick's Day, an international day of drunken publicly-performed assholery.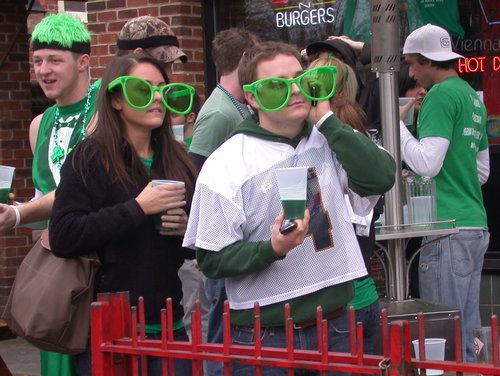 Both are public performances, but only one is considered art.
Is the art one considered art because it is intentionally performed? Isn't drunkenness also intentionally performed?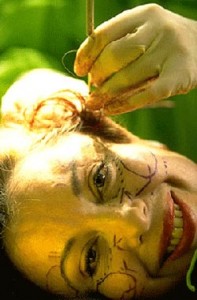 The French artist Orlan works in various mediums and has been prolific and provocative for years. Her most notorious work uses her body and surgery as an expression of art.
"I am the first," Orlan claims, "to divert plastic surgery from its aim of improvement and rejuvenation."
These are called "operation-performances."
She took a digitized version of the "idealized feminine" face (her source material: Leonardo's Mona Lisa, Botticelli's Venus, Francois Pascal Simon Gerard's Psyche, Gustav Moreau's Europa) and then surgically altered her own face to create this image.
Nine plastic surgeries. She considers her works "sacrificial." These performances were painful and potentially fatal.
Orlan's website.
A new essay from Unzipping of Images…Orlan's Operative: Provocation, Performance, Personhood
Roxane Gay
—
Conceptual artist Richard Whitehurst is creating a "rape tunnel" which will go live on October 30th. I struggle to take this kind of thing seriously. And yet, I have no doubt someone will enter this sad little tunnel just to "see what happens." Under such circumstances, were they asking for it?
above via Matt Bell
'Everybody has a book.'
I'd like to know, by a show of hands, who here as a longer manuscript(s) (novella-to-novel length) either in submission or on your computer.