Adam Robinson
Wack Bible Stories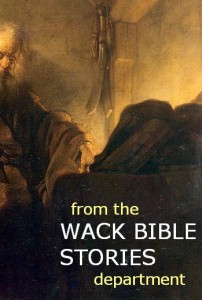 You know Jonah – God sent him to Ninevah but he didn't want to go, so God made a whale eat him. Then Jonah had a change of heart and God made the whale barf him up.
Here's the rest of the story: in Ninevah, Jonah told everyone that God was going to wipe them out in 40 days. They panicked and dressed themselves in burlap and the king said no one should eat anything. He said no animals should eat anything either, so God spared them. This irked Jonah because he looked like he didn't know what he was talking about. Surely thinking about the Mediterranean storm, this time he fled into the desert. That night God grew a plant to shade Jonah.  Then God sent a worm to eat the plant.
It's in the Bible:
Jonah went out and sat down at a place east of the city. There he made himself a shelter, sat in its shade and waited to see what would happen to the city. Then the Lord God provided a vine and made it grow up over Jonah to give shade for his head to ease his discomfort, and Jonah was very happy about the vine. But at dawn the next day God provided a worm, which chewed the vine so that it withered. When the sun rose, God provided a scorching east wind, and the sun blazed on Jonah's head so that he grew faint. He wanted to die. . . .
So what are you working on?
Tags: jonah, wack bible story
27 Comments