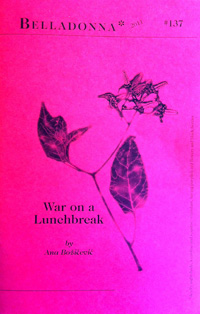 War on a Lunchbreak 
by Ana Bozicevic
Belladonna Material Lives Chaplet Series, #137
Belladonna Collaborative, 2011
17 pages / $4.00 each; $6.00 signed   Buy from Belladonna
 
Croatian-American poet Ana Bozicevic's new Belladonna chaplet, War on a Lunchbreak, is a short, intense collection both carefully and carelessly written, working against the confines of time in an always clocked-in environment, where we can't afford to lyricize.
"I'd like to have time to type this,
but all day long they're looking over my shoulder.
I dofeel sorry for them. What's it like
to care so much? Talking morning and night
to a proctor-god, tidy your toy box before bed:
to get degrees, have interests —
is that the anti-war?" (7)
I love this: writing about not having the time to write, and so positioning the poem as a reclamation of stolen time, founded in its own impossibility, embodying its own disembodiment. That is to say she completes the poem stealthily under the panoptic gaze of the boss, the clock, and so performs what French social theorist Michel de Certeau in The Practice of Everyday Life (University of California Press 1984) calls "la perruque"—"the worker's own work being performed at the place of employment under the disguise of work for the boss. Nothing of value is stolen; what is taken advantage of is time" (Weidemann 2000). Bozicevic's work speaks to this need to write in a society that has no need for poetry, and negatively appropriates the surveillance-productivist logic of our laboring culture into the content of the poem, informing us of the circumstance both preventing and, thru la perruque, producing the poem.
"I travel to sing my song that there is no song
 About my bombed body as the site of abandonment" (9)

Woe to Whitman's "I celebrate myself, and sing myself," for not anticipating the "casual terror and pain" of being gendered, where the female in Greek mythology is so often "that white herd of cows / gliding like brides / to the small green island in the middle," where they will be spectacularly raped. With Bozicevic, the "I" ironically identifies with these archetypes, liquidated into brand names for capitalism, and offers no definitive moral closure on any such reconciliation between her and mass culture. It does, however, leave one overall uplifted, with the sense of an ultimately loving sentiment behind the poem, wanting to form a private to public connection by way of confession.
Throughout the collection the poet's voice unpredictably turns on itself, glides into pastoral melodies—the motif of the apple ripening—and then on a whim more of dissociation than caprice, is seized by violence and cynicism— "the other dark pearl earring."
I should say here she's no anti-Whitman, no pure uppity downer, but an interrogator of such politics as his poems suggest, from the standpoint of a (post)feminist confronting, with no lack of sass, her imagined audience— "difficult adult bambies" (lol):
"Oh I'm too tired to worship at your kittenish emptiness.
For years my emptiness echoed into yours: Oh Hai!
For years I've been your pony, and I wanted to fuck you
without your pink dress, the glitter and the organs,
all colorless—"
Moods of revenge, jealousy, and lust—perhaps an outrage that we've been manipulated into finding such culture attractive—turn into a dream that's hollow but still arousing. Meanwhile deep consciousness images and meditations on Nature (di Prima) lead us into more elemental and empowering territory, where the spirit finds itself in the earth: the body and the mind as one. However, how such a spirit is embodied in reality when in a marginalized social position (as woman, immigrant, lesbian, commodity, wage-laborer, etc.) is a constant negotiation, something Bozicevic does both callously and carefully with exquisite limberness.
Belladonna Chaplet #137 is published in an edition of 126–26 of which are numbered and signed by the author in commemoration of her performance with Caroline Crumpacker and a screening of The Poetry Deal, Melanie La Rosa's film about Diane di Prima on September 13, 2011 at Dixon Place.
Belladonna is an event and publication series that promotes the work of women writers who are adventurous, experimental, politically involved, multi-form, multi-cultural, multi-gendered, impossible to define, delicious to talk about, unpredictable, dangerous with language.
***
Work Cited: Weidemann, Jason. Some Words on de Certeau. The University of Minnesota, 2000. Web. 9 May 2012.
***
An earlier version of this review originally appeared at http://nickytiso.blogspot.com/.
***
Nicky Tiso received his BA in English from The Evergreen State College in 2010. He recently finished an internship with Siglio Press, a new, independent press in Los Angeles dedicated to publishing uncommon books that live at the intersections of art and literature. He's about to move to Minneapolis to attend The University of Minnesota's MFA program. He blogs at nickytiso.blogspot.com.
Tags: ana bozicevic, belladonna, Nicky Tiso, War on a Lunchbreak