belladonna
A couple of days ago Baby Adolf, the first Bambi Muse baby despot, and I met up at a McDonald's near a Germanic bakery located somewhere on the Upper East Side.
My outfit featured, among other things, sunnies. As for Baby Adolf, his deck was brown.
Both Baby Adolf and I ordered vanilla ice cream cones. And after we ordered second vanilla ice cream cones, Baby Adolf screamed (unlike PhD's, &c, no one at Bambi Muse is captivated by "conversation") about how he wanted to be on HTML Giant quite badly. After all, Baby George III has been and so has Baby Marie-Antoinette. Why should the boy who will one day kill six million you-know-whos and five million other oh-who-cares be denied the chance to appear on the site run by the continually cute-looking Blake Butler?
"Maybe," I said to Baby Adolf, at the McDonald's near the Germanic bakery on the Upper East Side, "if you gave me three Baby Ruths, four Jujubes, and a Coca-Cola then I'll publish your summary of the 5th-annual CUNY chapbook festival on 9 May 2013."
Baby Adolf grumbled his assent. What follows is Baby Adolf's summary:
***
On Saturday Baby Adolf, accompanied by his mommy, Klara Hitler, visited the 5th annual chapbook festival at CUNY. For some time, Baby Adolf believed CUNY was just another way to say NYU. After Saturday, though, Baby Adolf realized that they were two separate entities. NYU is a big ugly college that's usurping the West Village, while CUNY is a big ugly building in Midtown.
The festival took place in a plain white hallway, and, according to Baby Adolf's eyes, there wasn't anything particular festive going on. There weren't any military marches or bellicose speeches prophesying global war along with the resurrection of the fatherland. Unfortunately, there were too many boys who looked like they'd just blown in from Bedford as well as a fair amount of girls whose clothes suggested that they had just come here from their weekly Park Slope Lesbian Separatist meeting.
But some commendable creatures were present, like Baby Ji Yoon. She spent most of her time at the festival taking mysterious notes, as if she were spying for a certain country that starts with North and ends in Korea.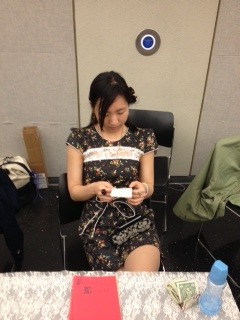 Mean
&
Vicarious MFA
/
Comments Off

on Baby Adolf's Summary of the 5th Annual CUNY Chapbook Festival
May 9th, 2013 / 3:02 pm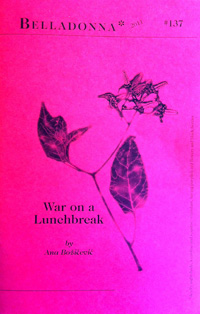 War on a Lunchbreak 
by Ana Bozicevic
Belladonna Material Lives Chaplet Series, #137
Belladonna Collaborative, 2011
17 pages / $4.00 each; $6.00 signed   Buy from Belladonna
 
Croatian-American poet Ana Bozicevic's new Belladonna chaplet, War on a Lunchbreak, is a short, intense collection both carefully and carelessly written, working against the confines of time in an always clocked-in environment, where we can't afford to lyricize.
"I'd like to have time to type this,
but all day long they're looking over my shoulder.
I dofeel sorry for them. What's it like
to care so much? Talking morning and night
to a proctor-god, tidy your toy box before bed:
to get degrees, have interests —
is that the anti-war?" (7)
I love this: writing about not having the time to write, and so positioning the poem as a reclamation of stolen time, founded in its own impossibility, embodying its own disembodiment. That is to say she completes the poem stealthily under the panoptic gaze of the boss, the clock, and so performs what French social theorist Michel de Certeau in The Practice of Everyday Life (University of California Press 1984) calls "la perruque"—"the worker's own work being performed at the place of employment under the disguise of work for the boss. Nothing of value is stolen; what is taken advantage of is time" (Weidemann 2000). Bozicevic's work speaks to this need to write in a society that has no need for poetry, and negatively appropriates the surveillance-productivist logic of our laboring culture into the content of the poem, informing us of the circumstance both preventing and, thru la perruque, producing the poem.
I'm sad I can't make this. Because I don't live in New York.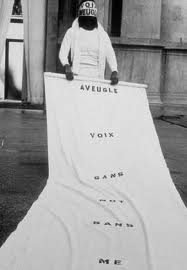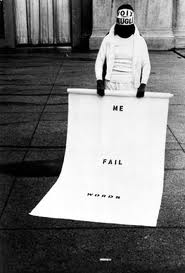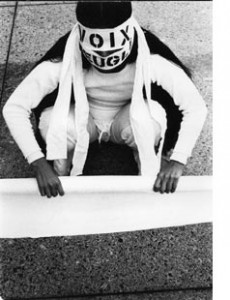 Belladonna* and  Kundiman  Celebrate: Theresa Hak Kyung Cha
Saturday, March 5, 2011; 2 – 3:30 pm
On the weekend of what would have been Cha's 60th birthday (a full life cycle event in the Chinese/Korean lunar calendar), Belladonna* and Kundiman gather nine poets to perform a staged reading from Dictee. Cha's best known written work, Dictee focuses on the life of several women framed with the art of the Greek muses, yet in the cosmos of Shamanism and Daoism. Their struggle to speak and overcome suffering is enacted through a mixture of media which destabilizes the notion of a progressive and seamless history.
Participants to include: Anne Waldman, Tamiko Beyer, Sarah Gambito, Laura Hinton, Cathy Park Hong, Soomi Kim, Nathanaël, Alison Roh Park, Sina Queyras, Jen Shyu, Zhang Er
Join us for an afternoon of projected images, voices, pictorial characters, scholarly contextualization, a birthday cake, and surprises.
Event is being filmed for Woo Jung Cho's documentary on Theresa Hak Kyung Cha, The Dream of the Audience.
Curated by Cara Benson and Sarah Gambito
When: Saturday, March 5
Door: 1:40pm; Show: 2pm to 3:30pm [PROMPT]
Where: Bowery Poetry Club, 308 Bowery, NYC
Cost: $8
Adam Robinson
—
Yesterday I posted the trailer for Eileen Myles's new book. The book looks amazing, although I don't disagree with Steven Augustine's comment that the trailer comes off like a teaser for MTV's 120 Minutes. Still and all, get that book. You can probably buy it from the author herself at next Thursday's Belladonna/Dusie reading at Brooklyn's Book Thug Nation. The reading also features: Cara Benson, Mairéad Byrne, Caroline Crumpacker, Susana Gardner and Kate Zambreno.
Comments Off

on Belladonna/Dusie Reading