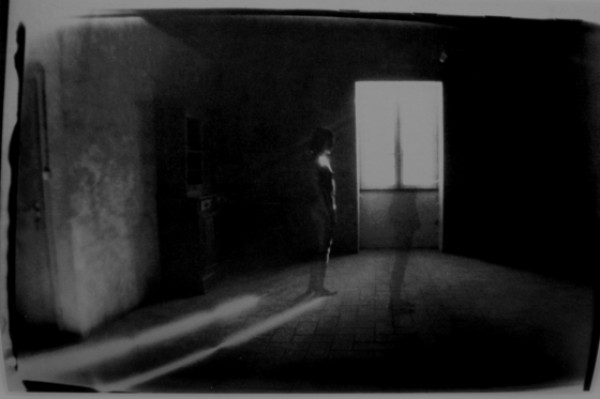 Last week I read Dalkey Archive's somewhat recent release, Alix's Journal. It was written by Alix Cleo Roubaud, husband of the far-more-visible Jacques Roubaud. Immediately upon finishing Alix's Journal, I read Jacques's some thing black. Jacques was a poet, a mathematician, an eventual novelist, and a key player in the OuLiPo. Alix was never sure exactly what she was, other than Jacques wife–which she insisted on her role as with intensity. After Alix died, suddenly, in 1983 of a pulmonary embolism, Jacques began working on some thing black, which took its name from Alix's series of photographic prints, if some thing black.
Both books, independently and intertextually, are fantastic works. But what becomes most interesting for me, perhaps, is the way in which the book interact. There seems to be a similar relationship between the books (the texts, the written words) as that between Jacques and Alix during their marriage. Alix's Journal reveals a woman in a primarily male-dominated intellectual world. This is not academia, this is a realm of existence that I doubt still exists in the same way (though to be fair I live in a small town in Northern Illinois)– people, individuals, that care deeply about their own art and the art of others, with no specific ties to a University funding anybody's motivations. A similar world is exposed in the first volume of Susan Sontag's journals, and to be fair I can't help but find it somewhat Utopian.
But this world is not at interest for the time being, because the world of the text that each book carries is one of sadness and desperation.
Alix was suicidal throughout her life, attempting a few times and lamenting her inability to do so many other times. Her journal implies that she was never unhappy in her marriage, rather, she was unhappy about her inability to be happy. She writes, specifically to Jacques:
I've only ever loved you.

I deserve death.
I deserve death,stupid,uselessly in love.

You will see me dead Jacques Roubaud.They will come looking for you.You will identify my corpse.

You know nothing of God.

ready yourself for my death.

you love me for reasons on the side of life–stupidly you forget the reasons on the side of death.
What's amazing is how beautiful many of the fragments, haunted as they are by depression and sadness, manage to be. Similarly, Jacques's poetry collection some thing black, establishes a tone of pure desolation right off the bat. Narrating the banal events of his days, post-Alix's death, the poem that opens the second section of the book, "The Moment of I Get Up," is crushing in its minutiae. But Jacques, in his complete sadness at the loss of his wife, still manages to do some amazing things. The most astounding point in the book comes with a series of three poems in the book's third section: Photo-Novel, Novel, II, and Novel, III.
Photo-Novel
The novel consists of adventures told in the time they are happening.

The important and meaning of this constraint are not masked. On the contrary, it is stated explicitly that the events told are happening at the time of the telling.

For all that not a newspaper.

Because here the present speaks as present without being resolved in any way. None of the newspaper's gaps of dates, pages, regrets.

There is someone, a man. He has no name. There is his young wife. Who is dead.

The novel takes place in several possible worlds. In some, the woman is not dead.

The time is the present. The time of each possible world is the present.

Sounds, time spans, even savors are written in light, and the clouds. This, more than anything, shows respect for the constraints governing the novel's composition.

When there is only one world left, where she is dead, the novel is finished.
What strikes me as amazing about this poem is how Jacques manages to both distance himself from the trauma while still finding himself squarely rooted inside of it. The final line is uncanny, because if we are reading the poem within the world that is reality, we know the novel is finished. In fact, the novel never began because Alix has been dead the whole time the poem has existed.
Alix's Journal contains many things: notes Alix wrote to herself, declarations, things that must be done, brief bits of the day's events, moments of sadness, direct statements for Jacques to find once Alix is dead, and photographs. Alix's photographs take on a heavy importance throughout both books. Throughout Alix's Journal, Alix's fantastic photographs punctuate entries, mostly dropped in places where they are referenced or alluded to. In some thing black, Alix's entire photographic sequence "if some thing black" is reprinted after Jacques's poems.
The photographs are all black & white. For Alix, the negative was not the photograph: her photographs did not exist until she had printed them, because of how much work/manipulation she did in the darkroom. For Alix, "[e]very memory is the memory of a moment; every image is the image of an event." Alix's events were, generally, physically fictional but emotionally honest. Her events were the result of double-exposures and manipulations of light. Other times, the events are simply memories, mostly of herself or Jacques. Bodies are naked in all of the photos, as if in the events of Alix's diegesis, bodies do not need to be clothed. There is a hyper-presence of light, which Jacques mentions over and over again throughout his poems.
Both works are completely beautiful.
Tags: alix cleo roubaud, jacques roubaud, some thing black