affect
Lost And
by Jeff Griffin
University of Iowa Press, October 2013
174 pages, Buy from Amazon
I've been a big fan of Jeff Griffin's work since he added me on facebook, years ago when I lived in DeKalb, IL and still had an account. I published an excerpt of Luxury Arcana, a collaborative work that Griffin produced with his compatriots Jerimee Bloemeke and Henry Fitch, in an early issue of LIES/ISLE. I became a dedicated fan of Human 500, Griffin & Bloemeke & Finch's press, purchasing everything they put out.
One of my favorite books that Human 500 put out was There's Never Been a Day That Didn't Require Knives Like These (which you can hear Jeff talk about here), which is ostensibly an early version of the beautiful book LOST AND. I read it hung over after I had missed the train leaving Chicago taking me back closer to the shithole of DeKalb, IL which I called home at the time. In the state of being hung over the book carried a heavy affect that resounded through my aching bloodstream. I was astounded by the, perhaps let's say, purity, or maybe even authenticity (though as a friend once said, "Nobody cares about authenticity other than Lorde") that carried the tone of the assemblage. Thick for a chapbook, but totally comprehensive.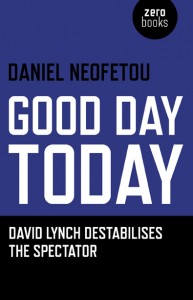 GOOD DAY TODAY: David Lynch Destabilises the Spectator
By Daniel Neofetou
Zero Books, 2012
93 Pages, $14.95 (buy it at Amazon)
The initial conceit of Neofetou's Good Day Today is one that I inherently agree with, and one that I think should be considered in larger terms of not only film studies, but an understanding of how to watch movies in general. As a theoretical construct it was first introduced to me in Cinema and Sensation: French Film and the Art of Transgression by Martine Beugnet, a brilliant study of affect found in the mileu of the "new french extremity," the art house mavericks Bruno Dumont, Philippe Grandrieux, Catherine Breillet, and so on. While Beugnet's book does lose itself to a final chapter devoted to a Deleuzean study of film & embodiment that, in my opinion, adds nothing to the first two-thirds of the study, overall the book presents and articulates, with careful, pointed examples, what cinema can do for the spectator.
Neofetou's book, while seemingly not indebted to Beugnet's book at all (something that I would argue is, in a sense, unfortunate) takes certain theories that have formerly been applied only to experimental (non-narrative) cinema, and looks at David Lynch's films within this context. His thesis is that these modes of cinema, particularly within the diegetic sway of a narrative & representational film, serve to–as the title would suggest– destabilise, disorient the spectator, the viewer of the film. As such, the book offers a very close reading of a number of Lynch's films–though the titles of note are, of course, Inland Empire, Lost Highway & Mulholland Drive–& the scenes therein, showing the reader just exactly how Lynch manages to simultaneously play with affect while still insisting upon the "rules" of narrative/figurative/"realist" cinema to the point where when the rules are broken, we are destabilised not because said scene doesn't make "sense," but because the scene violates the inherent logic of the film & undermines the authority of an omniscient narrative position.
And the book does this well. Neofetou, throughout the book, takes examples from a number of canonical experimental films (Meshes of the Afternoon, Flaming Creatures, Gidal's Epilogue) and compares their techniques to the techniques of certain scenes found in Lynch's films, highlighting both the similarities between the scenes & the differences that arise out of the context of the films as a whole. There's also a brilliant chapter near the end of the book dedicated to the idea of Lynch's use of pop-music, absent dialog, and sound, that is a great chapter in its own capacity in looking at the way audio works toward the viewer in a cinematic exegesis.
Another strong point of the book is that within his examination of Lynch as a filmmaker who works with affect more than representation, Neofetou does an excellent job of both rejecting and explaining this rejection of the idea that Lynch's films are "puzzles" to be solved–closed films where there is a literal solution. This, of course, is ridiculous, and a repeated mode of viewing that I personally find insufferable because, as Neofetou points out that Sontag mentions in her essay Against Interpretation, this mode of viewing "blinds [the spectator] to the work's sensual facets".
The book is not perfect, however, and there are two major faults that certainly don't kill the book, but strike me as perhaps frustrating. The first being a short 7 page look at Lynch's films through the eyes of the 'Bechdel Test,' ultimately considering accusations of Lynch's films as misogynistic. Unfortunately the chapter ends up sounding apologetic instead of actually engaging with the idea, as its idea loses itself in a self-aware politically correct feedback loop that undermines any sort of look, thus rendering the chapter as blank space in terms of critical thought. I'm curious as to its place in the book, as there are repeated comments regarding Lynch's ostensible a-political stance.
Which, in a way, leads to my other complaints–the subtitle of the book, the copy on the back, leads one to believe that after introducing (& proving) the idea that Lynch destabilises the spectator, there is little suggested beyond this in the text itself. There are a lot of directions that this could be taken, and the copy suggests that the book will take this idea in the direction that it helps to shake the politically hegemonic mode of representation, which helps to destabilise the idea of binary, simplicity, homogeneity.
I have been re-watching
Twin Peaks
for, literally, the first time in a decade. I first saw the series when the Season 1 DVD was released, unfortunately long before Season 2 ever saw a DVD release, on December 18th, 2001. I got the box-set for Christmas. I had never seen the series before, but in the midst of my Lynch obsession at age 15, I was pumped.
Since I've been re-watching it, I've been thinking a lot more about David Lynch than I have for years– at least since Inland Empire was released. While I know that Twin Peaks is specifically not exclusively the work of Lynch, in any sort of auteur sense, it certainly maintains a lot of elements that are specific to his aesthetics, and the episodes he himself directed are certainly the best of the series. The point is, I've been thinking about how awesome David Lynch is, and how really he is sort of the only 'dark cult figure' that I can still deal with after decades of obsession & attempting to navigate 'fanboy' culture (which, for the record, any sort of genre-based fanboy culture–actually just make that any sort of fanboy culture in general–is pretty much the most annoying thing in the world; I can no longer deal with the cult of Werner Herzog due to his incessant pandering & the caricature of himself that he's fallen into (and the fact that Klaus Kinski is 100x more awesome than Herzog while Herzog gets all the credit majorly pisses me off)). Anyway, the point is I've made a list of why I will love David Lynch forever.
1. David Lynch understands the idea that films are more than just a representational narrative, rather, they are experiences in their own right.
2. David Lynch is not afraid of unwavering intensity. In fact, he loves it, and uses it to a very strong degree. Within the first season of Twin Peaks, made for prime-time network television, after establish a jovial tone filled with the lower-middle class & hat-tips to coffee and pie ("americana"), there are strobe lights, sexual perversions, and intense screaming & crying. This is not Lynch pandering towards "revealing the dark underbelly of suburbia"– maybe that is what Blue Velvet did, but I'd argue it's more likely that Lynch is just prone to exploring this intensity in various environments (which if you ask me, the rest of his filmography seems to prove).
READ MORE >
John Duncan is an artist that has been working in the realm of art-as-experience since the mid-1970s when he lived in LA. His work has gone through many different forms and mediums as time has progressed, moving from direct actions at the start of his career to carefully articulated audio work as a primary outlet currently. Early on in his career Duncan found himself exiled from LA after performing a specifically transgressive performance piece, BLIND DATE. I find Duncan interesting due specifically to his insistence on art being affective, and how he has moved through and explored this idea throughout his career. The idea of affect is a powerful force no matter what medium it's applied to, and Duncan is a master of transcendence, of reaching new feelings.
A couple weeks ago I emailed John Duncan with the request to ask him a few questions, and he was kind enough to comply and provide fantastic answers:
M. Kitchell:I have an interest in the consideration of "the artist" as a shaman, or the artistic practice as a shamanistic practice. What I specifically mean by this refers to "the belief that shamans are intermediaries or messengers between the human world and the spirit worlds," and the idea that "the shaman also enters supernatural realms or dimensions to obtain solutions to problems afflicting the community" (wikipedia). You have specifically expressed the idea that much of your praxis is geared towards learning, in a sense a self-education. It seems that an extension of this, in the presentation of the work itself, is the interest in a mode of communication, a way to share the experience and the knowledge learned. In some of your performance & installation work, it could be said that you are subjecting the audience to as much stress, or, perhaps, negativity, as you have submitted yourself to. There seems to be the intent of arriving at, say, a new consciousness, a discovery, an advancement. I think there's generally an expectation of a distance between the audience and the work of art, but much of your work seems to deny that distance, it seems to specifically violate it. This denial of distance is not specifically something unique to your work, but much of your early work (SCARE, MOVE FORWARD, MAZE) seems to aggressively challenge this distance. Can you talk a little about this, how important the communication of an experience is to your work?
John Duncan:The essence, especially now, is not so much the communication of an experience as it is the experience itself. In all the works you mention, the point is to somehow get spectators to at least meet me halfway as participants. To make it clear that the extent the work reveals itself to a participant depends on whether or not the participant allows it to do so, on each person's attitudes and character.
The difference between my earlier and more recent events is that in the past participants were usually trapped and forced to deal with a unique situation that they weren't at all prepared for, which was essential to the event. Once trapped, it was up to the individual to interpret the situation as a threat or as a chance. Now, participants are free to leave at any time. They are given a condition to accept or not. For the person who does accept, decides to follow their curiosity, the work continues to open and develop. If the person refuses, everything stops there for them, the knowledge that they couldn't let go is what they take home.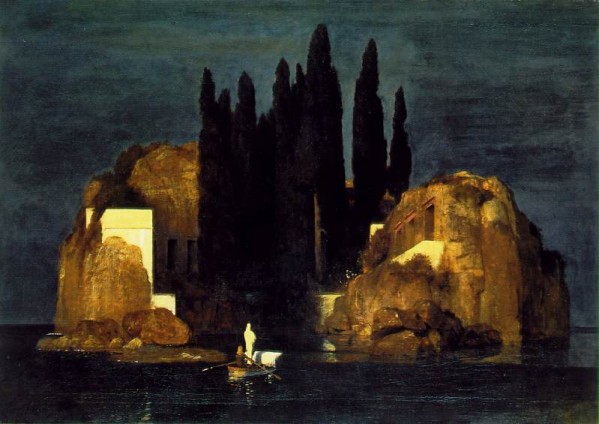 In order to sit down and establish any sort of ideology1 that guides my life, I really have only a single point to consider: art2 is, without a doubt, what is most important to me. Out of everything. I say this without a hint of irony, with a complete presence of sincerity: everything that has ever been important to me has been mediated by art, to some degree.
Perhaps this is easy for me to say because I equate art with pleasure. Or the idea that art is beauty (as a definition from dictionary.com would like to suggest). If this were true then I wouldn't have anything to say here. But, the unfortunate thing is that there is a lot of bad art that makes me furrow my brow and launch into hyperbolic rhetoric or a complete insincerity (read: irony). The other negation to the aforementioned declarations heeds itself to my own ideas in an appreciation of affect over visual aesthetic: i.e., something ugly, terrifying, and evil can bring pleasure.
I am not an overly-depressed person. I am (fairly) high functioning in a pretty normal way. I have no desire to be constantly escaping from reality. Kneeling at the temple of Art is not about escapism for me, and I think that's why I inherently hate the idea of mediating an experience of art (exclusively) through empathy (this is why I will always champion modes of art that lie outside of representation3).
I occasionally feel like when I make this declaration, I am widening a divide between myself & the general public. I say this without elitism. The problem is making a statement like this seems to establish binary opposition: if I don't like representation, I must like crazy non-narrative abstract shit. Right? I mean, that binary presupposes the person who is contrasting her or his own approach to art with mine is able to conceive of an approach to art that is outside of representation (and this is part of why my mother has no idea in regards to what I am interested in and what I am doing when it comes to "art").
But here's the thing: I love narrative. I have no desire to escape narrative. Of course, throughout my experiences with art I have grown mostly tired of archetypal narrative arcs, neatly wrapped up stories, etc etc. But that's not the point. What I look for in art, what I aim for in art, ultimately, as I've said many noted many times in comment threads, is affect.
an audio-visual tour of what I look for, aim for, build towards, in fictional narratives.
AT THE BEGINNING, A NARRATIVE ELEMENT IS INTRODUCED IN ORDER TO ESTABLISH A TONE TO CARRY THE PIECE
http://www.youtube.com/watch?v=vZVk21Pco-c
READ MORE >