Andrea Lambert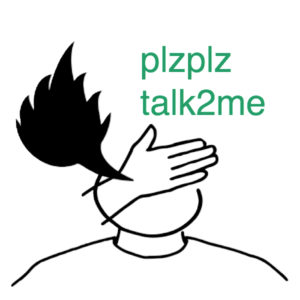 Oh, hello there. Welcome back to plzplztalk2me, a semi-regular feature in which I talk to folks who want to talk to me about stuff they want to talk about.
Recently, I corresponded with Andrea Lambert. Lambert wrote Jet Set Desolate (Future Fiction London: 2009), Lorazepam & the Valley of Skin: Extrapolations on Los Angeles (valeveil: 2009) and the chapbook G(u)ilt (Lost Angelene, 2011). Her writing appears in 3:AM Magazine, Fanzine, Entropy, Angel's Flight Literary West, HTMLGiant, Queer Mental Health and elsewhere. Her work is anthologized in Haunting Muses, Writing the Walls Down: A Convergence of LGBTQ Voices, The L.A. Telephone Book Vol. 1, 2011-2012, Off the Rocks Volume #16: An Anthology of GLBT Writing and elsewhere. Lambert paints in figurative mixed media oils critically referenced as "kitchy maximalism." Her artwork features in Angel's Flight Literary West, Entropy, Hinchas de Poesias, Queer Mental Health and Anodyne Magazine. CalArts MFA. Website: andreaklambert.com. Twitter: @AndreaLamber.
The MAK Center Schindler House, Los Angeles
13 June 2012
Context Note: In April, May, and June of this year, Les Figues Press hosted a short series of long conversations on queer art and literature. Titled Q.E.D., in honor of Gertrude Stein's novel by the same name (and one of the earliest coming-out stories), each Q.E.D. event explored the constructions of speech, art, literature, materiality, and sex.  The conversations were  moderated by Vanessa Place at the historic MAK-Schindler House, L.A.'s original nod to green architecture.
Q.E.D. Part Three  featured Dodie Bellamy, Julie Bamber, and Terry Castle.

***
An evening of Authentic Objects: Julie Bamber, Dodie Bellamy and Terry Castle in conversation.
In the third installment of Les Figues Press' Q.E.D. Series, moderated by Vanessa Place, the initial questions were, "Does an object need a form?  Does an objection? Does anything speak for itself?" Artist Julie Bamber, writer Dodie Bellamy and critic (and writer and artist) Terry Castle assembled in the MAK Schindler House in West Hollywood to discuss questions of object-hood before an excited audience.
Patrons gathered, drank Pellegrino and looked at programs. Grapes and cookies sat on a table on the lawn. The copper of the fireplace was bright, next to the concrete walls of the house, with low beams suspended with small lights. A sliding door opened the wall. Afternoon light slanted across the concrete floor, grey.